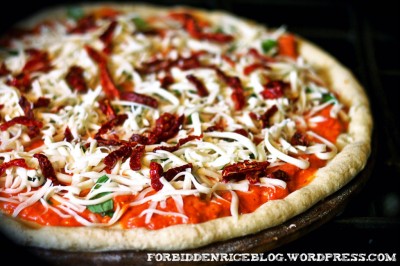 There are times I am disappointed by my own cooking. I mean this in the humblest way, mind you. See, it's hard to go out to dinner around here and spend less than $50, especially if you include drinks (and we like to include drinks on occasion). If it's more than two of us for dinner, the bill is even higher. Generally, cooking is a lot of fun for me. Enough fun to make it not feel like work. Sometimes though, it's equally fun to go out and not have to worry about a sink full of dishes after a meal.  The crux here though is where to go when you still want to enjoy your meal and not feel like you could've made something better tasting with just a bit of energy? Or where to go that doesn't leave you wondering if you could've made the same meal for half the cost?
My  disappointment really only sets in when I'd rather go out than cook, but know that 80% of the time I'll wish I would've just stayed home. The only food that doesn't ever seem to apply to is pizza. Last night though, I made pizzas that I genuinely liked equally as much as the ones we order out. When I realized that I can now make pizza at home that doesn't leave me wishing I'd gone elsewhere, it made me slightly sad. With quick-growing kids and a husband who can eat his share of pizza, one 18-inch pie is never quite enough. By the time we've paid for two, we're looking at $50. I spend less than half that much to make two large homemade pizzas.
Okay, I'm not really too serious about this disappointment thing. Any real dissatisfaction is easily cancelled out by knowing I can create something I and my family actually enjoys eating. Plus my ingredient list of toppings is endless within an affordable realm. Currently I am loving locally made goat cheese from Mama Terra Micro Creamery, nut-free pesto made by Saucy Sisters, and handfuls of fresh basil.  Last night's pizza included creamy marinara sauce, the Chef's Special goat cheese, fresh mozzarella, ricotta cheese, basil, sun-dried tomatoes, and nut-free pesto. My husband's pizza featured creamy marinara, sliced jalapenos, pineapple, and fresh mozzarella.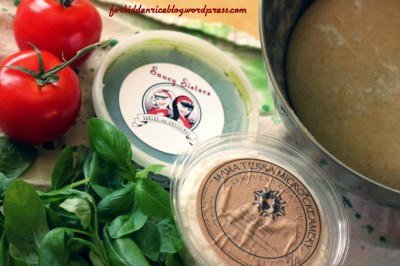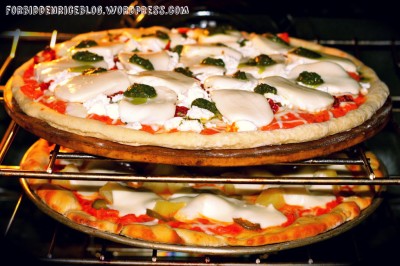 Honestly, this pizza dough is very straightforward and easy. Especially if you've got a stand mixer that will do the majority of your work for you! I've researched recipes from all over the globe and my favorites (I've done lots of experimenting) are the ones that don't include anything fancy in the dough. Not even oil. Don't be scared – this is worth attempting! :)
Sourdough Pizza Crust
Yields approx. 2- 15 inch thin crust pizza crusts 
Ingredients:
2½ cups sourdough starter
1 tbsp. dry active yeast
2 tbsp. cane sugar
1½ tsp. sea salt
2½ cups all-purpose flour
2 tbsp. vital wheat gluten
Directions:
In the bowl of your stand mixer, combine the sourdough starter, yeast, sugar, and half a cup of flour. Use the dough hook to mix the ingredients until they just come together (2-ish minutes). Turn the mixer off and allow the mixture to rest for 15 minutes.
Once rested, add the salt, remaining two cups of flour and vital wheat gluten to the mixture. Use the dough hook to work the dough into a semi-sticky ball. Continue kneading for about 8-10 minutes. By touch, the dough will probably seem really sticky. But lightly dust some flour on it and voila! the stickiness goes away. Lightly coat the bowl with olive oil, turning the dough in it once, to coat. Cover the bowl and allow the dough to rise until doubled (about 1 – 1½ hours).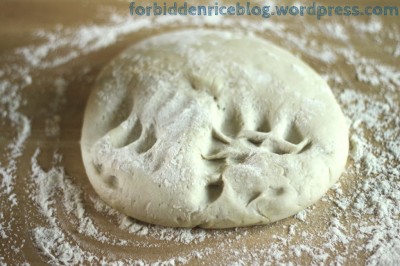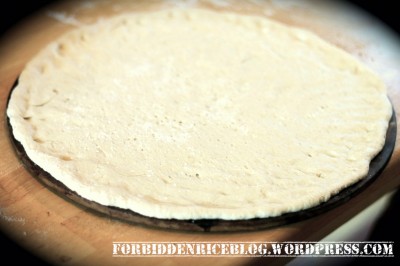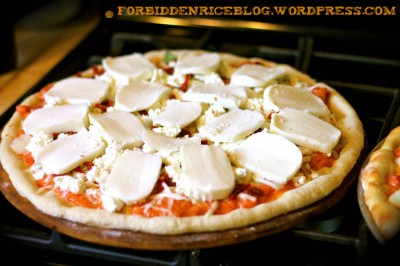 Have all your toppings ready to go. Preheat the oven to 500°F. If you're using a pizza stone, preheat that in the oven too. Turn the dough out to a lightly floured surface. Split the dough up into two equal portions. Working with one ball of dough at a time, use a rolling pin and roll the dough out to about 1-inch thick. From there, I like to place the dough on my preheated pizza stone, working quickly. Start at the center of the dough, working outwards, using your fingertips to press the dough to about a ½ inch thick, gently stretching the dough until it reaches the diameter you want (I got two 15-inch pizzas). You can create a lip, or raised crust, if you want (I prefer not). Prick with a fork about 8 times all over the crust. Bake for about 5 minutes, not long enough to brown the crust.
Put your sauce and toppings on the pre-baked crust, then bake for an additional 12-15 minutes, depending on how done you like your pizza top! Let the pizza rest for 5-10 minutes before trying to cut it.