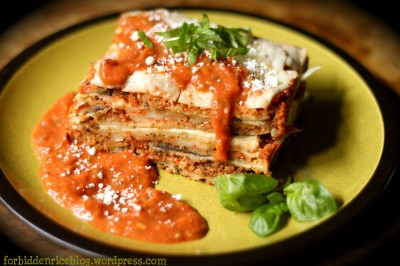 Although there are days where a simple, easy, quick meal is appealing, the truth is most times I prefer cooking something that takes a bit of time, a little bit of time management and planning. Meals that come in steps. Maybe because I'm a little crazy about list making and structure. (Okay, more than a little crazy.) I make lists. Grocery lists, things-to-do lists, book lists, recipe lists, craft lists, music playlists for working out, cleaning, cooking, and for pure enjoyment, lists of where to send various pieces of writing off to. Lists of lists. It's ridiculous.
Every time I make this eggplant parmesan, I tell myself next time, I will bake the eggplant instead of frying it. I haven't baked a slice of eggplant. Ever. Because although I tell myself it'll be healthier, magic happens with each bite of this eggplant parmesan. I fry the slices until they're on the verge of being too fried (i.e. burnt to a crisp). But then when I layer these crisp magical little creatures with my favorite go-to sauce, and ridiculous amounts of mozzarella cheese, they soften right back up. And taste amazing. If I wasn't terrified about my arteries clogging, or the amount of running and rowing I'd need to do to burn off (or even balance out) the number of calories consumed, I'd eat this every day.
This does take a little bit of effort to prepare. You can forego the homemade sauce if you're crunched for time. But if you do have the time, homemade sauce just adds another depth of flavor. And it's delicious.
Eggplant Parmesan with Homemade Creamy Garlic Basil Marinara
Ingredients:
For the sauce:
1- 28 oz. can crushed tomatoes with basil
1- 14.5 oz. can fire roasted diced tomatoes
10 cloves garlic, peeled and roughly chopped
½ cup fresh basil, chopped
¼-½ tsp. red chili pepper flakes
½ tsp. sea salt
½ tsp. fresh ground pepper
¼ cup + 2 tbsp. grated parmesan cheese
2 tbsp. heavy cream
1 tbsp. olive oil
For the eggplant parmesan:
2 medium sized eggplants
1½ cups panko (Japanese style) breadcrumbs
2 eggs
1 cup milk
1 cup all-purpose flour
3 tsp. granulated garlic
3 tsp. sea salt
3 tsp. ground black pepper
¾ tsp. dried basil
¾ tsp. dried oregano
¾ tsp. dried thyme
¼ cup grated parmesan cheese
enough oil to fry the eggplant
sea salt
1 lb. mozzarella cheese, grated
1 recipe of creamy garlic basil marinara sauce
Directions:
Prepare the eggplant: Slice the eggplant into rounds as thin as possible (about 1/8-inch thick). Place the sliced eggplant in a single layer on baking sheets, then generously sprinkle with sea salt. Allow the eggplant to sit for about an hour. The salt will draw out the bitterness of the eggplant and will also keep it from absorbing too much oil. Once an hour passes, rinse each slice of eggplant in cold water. Pat dry with paper towels.
Prepare the sauce: Heat the olive oil in a medium sized pot, over medium heat. Add the garlic and chili pepper flakes. Sauté for a few minutes. Add in the basil, salt, pepper, and canned tomatoes, stirring to combine all the ingredients. Allow the mixture to cook for about 5 minutes, then transfer to a high powered blender or food processor. Blend until you have a smooth sauce (1 – 2 minutes). Return the sauce to your pot on the stove, over medium-high heat. Stir in the parmesan cheese and heavy cream, mixing until everything is well combined. Taste and add more salt or pepper to your liking. Cook over medium heat for about 10 minutes, then cover and set aside until it's time to put the eggplant parmesan together.
Preheat the oven to 375˚ F. You need three shallow dishes. In one, mix together the flour, 1 tsp. granulated garlic, 1 tsp. salt, 1 tsp. black pepper. In another shallow dish, whisk together the eggs, milk, 1 tsp. granulated garlic, 1 tsp. salt, 1 tsp. pepper, ½ tsp. dried basil, ½ tsp. dried oregano, and ½ tsp. thyme. In the third shallow dish, combine the panko breadcrumbs, 1 tsp. granulated garlic, 1 tsp. salt, 1 tsp. pepper, ¼ cup grated parmesan, and ¼ tsp. each of dried basil, oregano, and thyme. Mix well.
Dip each slice of eggplant (both sides) in the flour mixture, then the egg bath, then the panko. I like to gently press the eggplant into the panko mixture, to make sure it gets a good coating. Do this with each slice of eggplant. You can set each the breaded slices on a cooling rack or dry baking sheet until ready to fry.
Fill a large pan (I prefer cast iron) with oil about a ½-inch deep. Heat over medium-high. When you drop a breadcrumb into the oil and it immediately bubbles back up to the surface, the oil is hot enough to begin frying your eggplant.
Fry the eggplant until golden brown on both sides (about 1½ – 2 minutes on each side). Drain on paper towels (or coffee filters if you're lacking paper towels, or brown paper bags).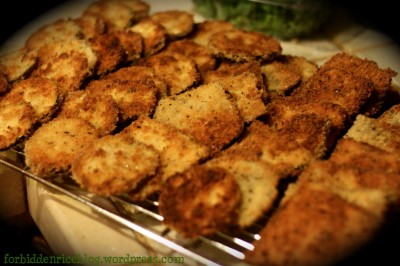 Once all the eggplant is cooked, you're ready to start layering the eggplant parmesan. In a 9×13 inch baking pan, spread about a ½ cup of marinara on the bottom. Layer one fourth of all the fried eggplant over the sauce, overlapping slightly. Spoon on a quarter of the marinara, then top with a quarter of the grated mozzarella. Continue layering with: eggplant, sauce, cheese, eggplant, sauce, cheese, eggplant, sauce, cheese.
Bake for 30 – 40 minutes. If you want, you can broil the top until it gets toasty and brown. Allow the eggplant parmesan to sit for about five minutes before cutting and serving.
Enjoy!