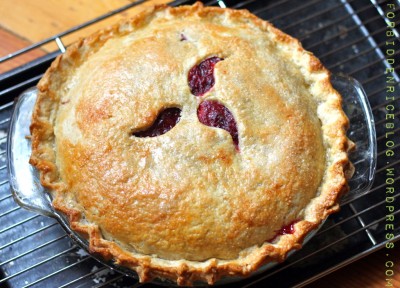 I've been enjoying the flavors of fall incredibly much. While for the past many years I've been intimidated by ingredients that I don't often use, or recipes that require some actual form of skill (and less reliance on luck), I seem to have come across a new attitude with cooking. I actually really enjoy learning, which often seems to include overstepping my own hesitations and trying out new things. When it comes to food and having a family that's open to trying new things as often as I want to create them, kitchen intimidation feels completely unnecessary.
That said, I had never baked a pie before. Yes, I've made mini pies in the mini-pie maker my mom sent as a birthday present. Surely I've purchased pre-made crusts and filled them with puddings, or fruit. And yes, I've made single-crusted pies that were always savory in nature and 50% of the time turned out into nothing more than a melted, gross, mess. A double-crusted homemade fruit pie? No, no.
Seems I've figured out one of the main tricks to homemade crusts, which is simply being sure your butter and/or shortening if you're using it, remains cold. That way it doesn't break down too quickly when you put the crust into your oven, keeping things from turning into the previous melted mess I mentioned. Simple.
I baked up this apple cranberry pie that was nicely spiced, filled with fresh cranberries and Gravenstein apples. The crust worked out amazingly well and looked beautifully crisp, golden, and delicious. When I cut into the damn thing though, what I found was a pie dish full of fruity soup! All the apple slices were still perfectly intact. The cranberry layer had stayed in place. What I had failed to remember though was how much moisture apples will give off. I remedied the disaster pretty easily, which I've included instructions for in the following recipe. I also included notes that I researched which should keep the pie from becoming soupy in the first place. I'm sure they'll both work wonderfully… and the pie itself? It's a great, tasty, reminder of fall. You won't be disappointed by the flavors that come together in this dessert at all.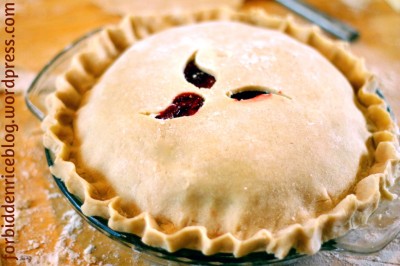 Spiced Apple Cranberry Pie
Recipe adapted from Williams-Sonoma
Yields one 9-inch pie
Ingredients:
For the crust:
2½ cups all-purpose flour
½ tsp. ground cinnamon
pinch of fresh ground nutmeg
¼ cup cane sugar
½ tsp. salt
½ cup unsalted butter, cold
6 tbsp. vegetable shortening
6-8 tbsp. ice cold water
For the filling:
2 cups fresh cranberries
¼ cup cane sugar
½ cup no pulp orange juice
2 pounds apples, cored and peeled
½ cup light brown sugar
¾ cup cane sugar
4 tsp. cornstarch
1 tbsp. fresh lemon juice
1 tbsp. vanilla extract
1 tsp. ground cinnamon
¼ tsp. ground cloves
¼ tsp. fresh ground nutmeg
1/8 tsp. ground allspice
1 egg, lightly beaten
sugar for dusting
Directions:
Prepare your dough for the pie crust:
In a large bowl, whisk together the flour, ground cinnamon, ground nutmeg, sugar and salt.
Cut in the butter and shortening. (My favorite way to do this is by using a box grater to add in the butter. Once the whole stick has been grated, I add in my shortening, then use my hands to mix everything together into what resembles really coarse cornmeal.
Mix the dry ingredients, butter, and shortening together until the mixture resembles coarse cornmeal. Add in the ice cold water one tablespoon at a time. Use your hands to mix everything together until the dough just comes together. (You may need more/less water, but remember to add it just one tablespoon at a time.)
Split the dough into two balls. Flatten, wrap in plastic wrap, and refrigerate for 1½ – 2 hours. (If you're impatient like I was, put the flattened dough in your freezer for 35-45 minutes.
Prepare the cranberry mixture:
In a small saucepan, combine the fresh cranberries, sugar, and orange juice. Cook over medium heat until the cranberries begin to pop (6-10 minutes).
Occasionally stir the cranberries, until all of them have popped and the mixture comes to a low boil.
Stir and remove from heat. Set aside to let the cranberries cool.
Prepare your apples:
Slice the peeled and cored apples into slices that are about 1/8-inch thick. Place in a large bowl and add the light brown sugar, cane sugar, cornstarch, lemon juice, vanilla, cinnamon, cloves, nutmeg, and allspice. Toss gently to evenly coat all the apples.
* I was rushing to get this pie done and didn't bother to let the apples sit. Later when I cut a slice of pie, much to my horror I found the inside of my pie looked like fruit soup. The apples had released a ton of moisture while cooking. Turns out one way to reduce the potential of this happening is to allow your apple mixture time to sit, about 30-40 minutes. Drain the juices that are released into a small saucepan. Cook over medium-high heat, stirring frequently until the sauce thickens (10-15 minutes). Pour the thickened sauce back into your apples, tossing to evenly coat everything. Proceed with recipe.
Prepare your pie:
Remove your dough from the refrigerator. Allow them to sit at room temperature for 5 minutes before trying to work with the dough. Preheat your oven to 400°F. Have a 9-inch pie dish ready.
On a lightly floured surface, roll out one of the disks of dough into a 12-inch circle that's about 1/8-inch thick, then place into your pie dish. Trim the overhanging dough to no less than ½-inch longer than the pie dish.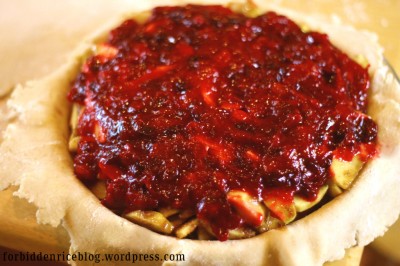 Pour your apple mixture into the crust, spreading it evenly. Gently spoon the cranberry mixture over the apples, spreading it out evenly.
Roll out your remaining pie dough on a lightly floured surface, also to 12-inches around and 1/8-inch thick. Cut some slits or a decorative design in the center of your rolled out dough, which will allow steam to escape from inside the pie while it's baking.
Gently place the rolled out dough on top of the filling. Trim the edges of the dough so they are even with the edges of your pie dish. Create a seal by pressing the top and bottom crusts together.
Brush the top of the pie with your lightly beaten egg. Sprinkle the top of your pie with additional sugar. Place the whole pie on a baking sheet and bake for one hour, until the crust is crisp and golden brown.
Remove the pie from your oven and allow it to cool on a wire rack for at least one full hour before serving.
If your pie is soupy when you finally cut into it, don't throw it out or cry with disillusion. That's precisely where my own pie was at. I removed the first piece, then gently poured all the juice into a measuring cup (there was about ¾ cup in there!). Strain that juice into a small saucepan. Add about ¼ cup of orange juice, ¼ cup of cane sugar, and cook the mixture over medium-high heat until it reduces and thickens. You can slice the remaining pie then drizzle the syrupy fruit sauce over the top. It's actually quite delicious! Don't drizzle the sauce on each slice until you're serving it, just so the pie crust remains crisp!