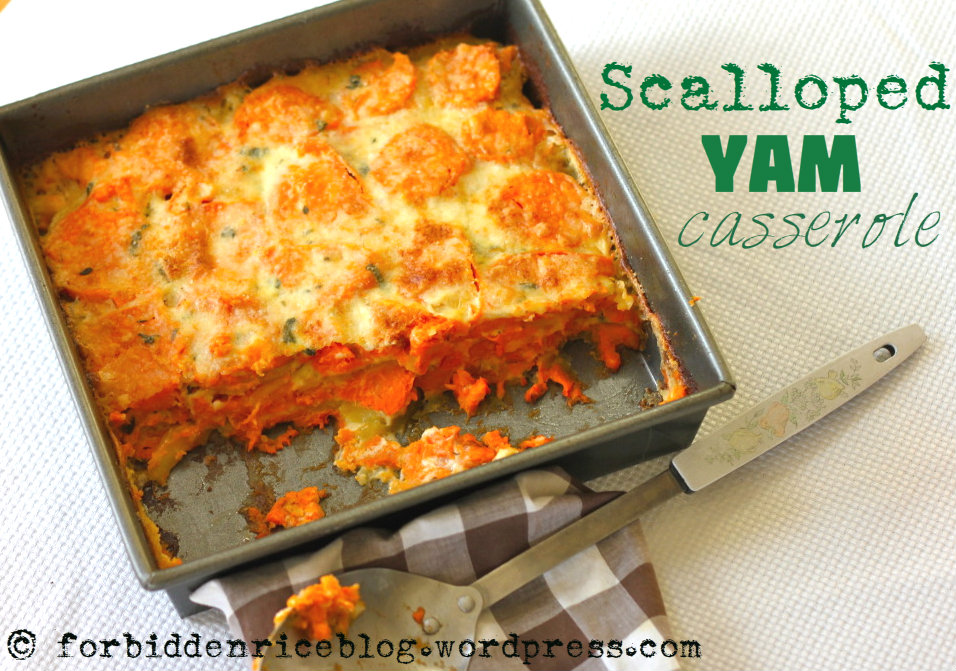 I told you we were back tracking to Thanksgiving. Here's another recipe, in case you thought I was kidding. But the truth is, these sweet potatoes would be good at any time of year. Don't limit yourself to the holidays. When I was trying to think of a dish to include with our Thanksgiving dinner using sweet potatoes, I knew I didn't want to go with mashed yams. We were already having mashed potatoes and I didn't see the need for two mash-y dishes, even if they varied in color.
Growing up, we always had that traditional style of sweet potatoes. You know what I'm talking about. A casserole filled with sweetly smashed yams filled with brown sugar, topped with pecans or walnuts and massive amounts of little marshmallows. I'm not giving this dish a bad rap at all. In fact, if it were on the table at a friend's Thanksgiving meal, I'd gladly have some. But I wanted something texturally different.
I remembered my dad making scalloped ham and potatoes, usually after Christmas. I thought about scalloped sweet potatoes. Had I ever eaten something like that? No. I decided to cook the potatoes ahead of time, which would cut down on the amount of time in the oven. Plus I have a knack for under-baking potatoes, especially in a gratin/scalloped situation. I knew I wanted to make it with a creamy Béchamel (white) sauce that had a sage flavor, but wasn't overpowering. Pecorino Romano is an Italian cheese made from sheep milk, which is quite salty and crumbly. I liked the idea of having that flavor without an overwhelming cheesiness. The result was a creamy, sweet, and rich side dish. The flavors worked well with one another.
That all said, I've got one other thing to talk about. A couple days ago, I got an e-mail inviting me to participate in a food photography contest called Top Dog Food Fight, wherein you have to submit a Thanksgiving recipe/photo of yours for people to vote on. The one catch (there's always something, isn't there?) is that you need to be on Facebook in order to vote; it's how you login to the site to vote. That said, if any of you are on the 'ole FB and would like to help, I posted my cranberry apple pie recipe, which can be voted for here:  I would appreciate it a ton… and thank you for taking the time. I genuinely appreciate any and all of you who take the time to read these posts – without readers, each post means very little at the end of the day.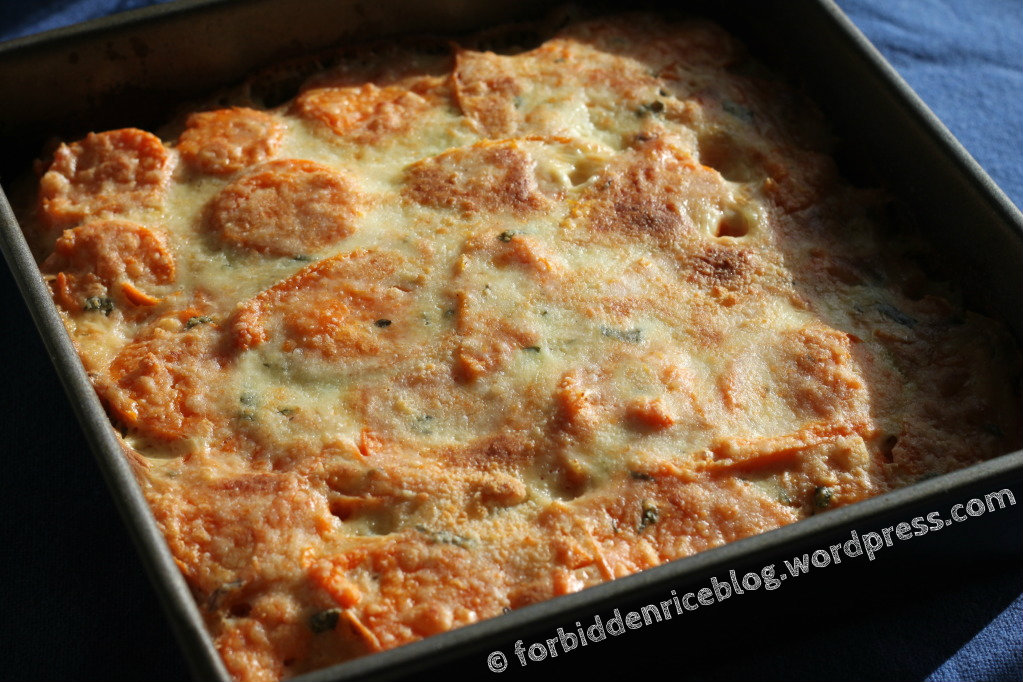 Scalloped Yam Casserole
(Sweet Potato Gratin)
Yields one 9 x 9 inch pan.
Ingredients:
3 pounds of sweet potatoes (yams)
¼ cup butter
¼ cup fresh sage, minced
3 tbsp. all-purpose flour
1 tsp. fresh thyme, chopped fine
¼ tsp. fresh ground nutmeg
1½ cups half and half
½ cup pecorino romano cheese
salt and white pepper, to taste
Directions:
Wash the sweet potatoes in order to remove excess dirt. Place the potatoes in a large pot, then cover them with water. Bring the sweet potatoes to a boil over high heat. Once the potatoes have completely softened (20-30 minutes), enough to easily be punctured with a fork, remove the pot from the heat and drain. Cool the sweet potatoes completely in a colander. Peel off the skins (like peeling a banana). Slice the sweet potatoes into rounds that are about half an inch thick. Set aside until ready to use.
Place the butter in a medium sized pot over medium heat. Once the butter has melted, add the fresh minced sage. Allow the mixture to cook together for a minute or two, then whisk in the flour, thyme, some salt and white pepper (don't go overboard with the salt and pepper – you can always add more later), until smooth. Allow the flour mixture to cook for 2-3 minutes, whisking constantly.
Whisk in the half and half, as well as the fresh ground nutmeg. Continue whisking until the sauce thickens (10-12 minutes). Taste, then add more salt and pepper to your liking.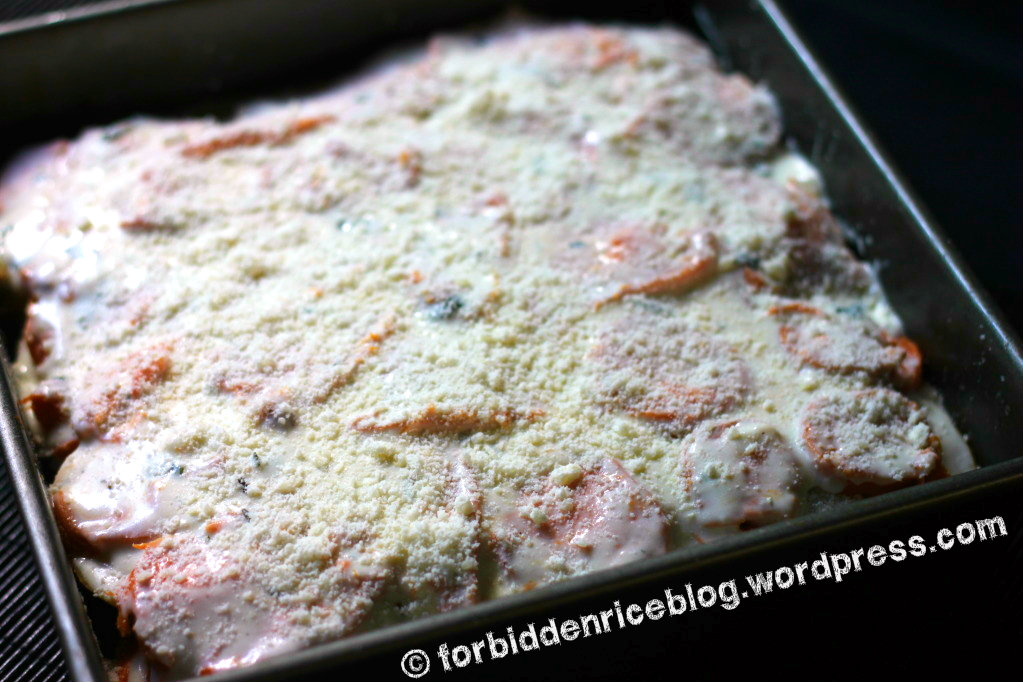 Preheat your oven to 375°F. Lightly butter a 9 x 9 inch square pan. Arrange one third of the sliced sweet potatoes on the bottom of your baking dish, slightly overlapping the edges. Evenly spread a third of the sauce on top of the potatoes, then a third of the romano cheese. Repeat the layer with potatoes, sauce, cheese, potatoes, sauce, and ending with a sprinkling of romano cheese on top.
Bake for 25-30 minutes, until the top is nicely golden brown. Allow the potatoes to sit for five minutes before serving.