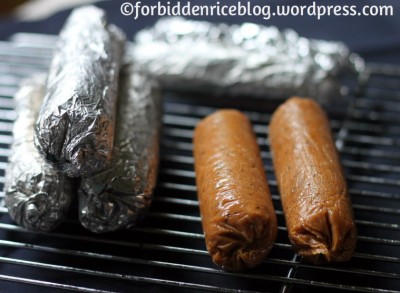 There are a number of vegetarian fake meats available these days. Tofurky makes various sausages, breakfast patties, hot dogs, etc. Field Roast is often my preferred store-bought variety, as they're bold in flavor and texture. I didn't grow up eating a vegetarian diet, nor have I spent most of my adult life eating that way. All of a sudden though, I have found myself interested in creating sausages that don't necessarily mimic real meat, but hold up on their own in flavor and texture.
Seitan has been fun to experiment with. I've made various versions of it, which I've also cooked in various ways. My preferred method is steaming. That way the wheat meat doesn't expand nearly as much and has less of a chewy texture, more of a meaty consistency. And the truth is, homemade seitan is actually really easy to deal with.
I tried making vegetarian andouille sausage a couple weeks ago, which didn't come out as I had planned. The sausages were not nearly as spicy as I'd hoped for, but they were their own sort of delicious. I realized that there aren't any vegetarian hot dogs in the market that I genuinely enjoy eating. Smart Dogs made by Lightlife are about the only veggie dogs I enjoy the flavor of.
I researched all over, looking up recipes for homemade hot dogs. Not veggie dogs, but the meaty version. I wanted an idea of what the spices are that go into these things. Some of the findings were pretty gross and certainly not an option for veggie dogs. However, some spices were similar all across the board: paprika, garlic, mustard powder. The following recipe was a complete experiment. I added tofu into the seitan mixture, merely for another texture and moisture.
These veggie dogs are moist, flavorful, and tasty on the pretzel buns I'll post a recipe for soon :)
Homemade Vegetarian Hot Dogs
Makes about one dozen hot dogs
Ingredients:
1¾ cups vital wheat gluten
½ cup nonfat dry milk powder
2 tbsp. smoked paprika
1 tbsp. sea salt
1 tbsp. granulated garlic
1 tbsp. dry mustard powder
1½ tsp. celery seed
1½ tsp. ground white pepper
1 tbsp. liquid smoke
1- 12.3 oz. container extra-firm silken tofu
¼ cup good quality olive oil

Directions:
In a food processor fitted with the large chopping blade, or a high-powered blender, combine all the ingredients. Pulse until the mixture comes together into an even ball of dough (2-3 minutes).
Working with about 2 ounces (4 tablespoons) of the dough at a time, roll the dough in your hands, to the shape of a hot dog. (Honestly for more of a hot dog sized sausage, use about 1 – 1½ ounces per sausage.)
Tightly wrap the hot dog in plastic wrap, twisting the ends like a candy wrapper. Wrap the plastic-wrapped hot dog in foil, also tightly, and also twisting the ends. (Square pieces of plastic and foil about 6×6-inches should work fine.)
Continue doing this until all of the dough has been formed and wrapped.
Steam the hot dogs in a steamer (I've used just a stainless steam basket over water, as well as a 2-layered bamboo steamer; they both work) for 30-40 minutes. While still wrapped, the hot dogs should not spring back, they'll feel heavy and firm to the touch. That's a pretty good indication that they're ready.
You can serve the hot dogs now, unwrapping them as you need. If you'd like to, you can fry the hot dogs in a little bit of olive oil, to crisp up the outer part of the hot dog.
Store in the refrigerator. To reheat, you can boil the 'dogs or fry them until heated through.
Please follow and like us: