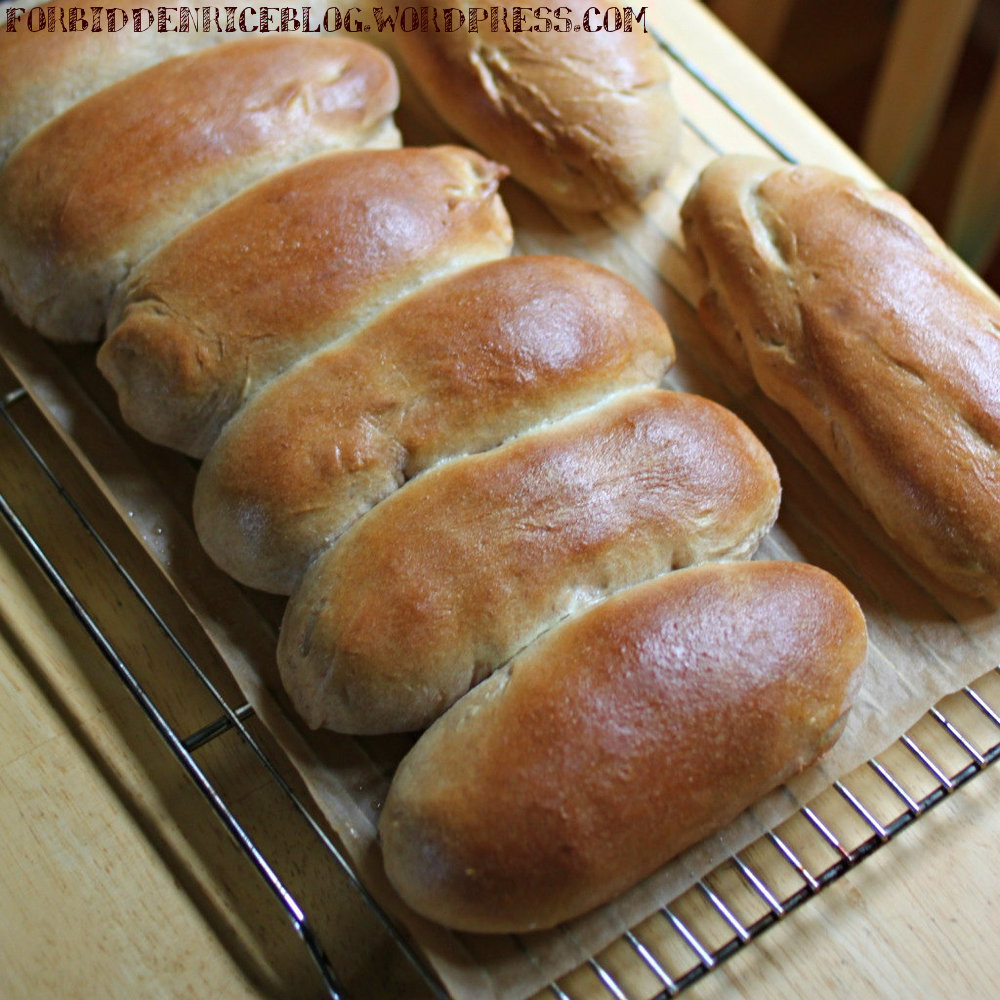 I have been experimenting more and more with making homemade seitan sausages and hot dogs… So I thought, why not homemade hot dog buns? Don't get me wrong, I'm not a crazy lady… or perhaps I am a crazy lady… but that discussion can happen another day. I know you can go to the grocery store and buy a package of soft, fluffy hot dog buns for less than two bucks. Probably less than one. But where's the fun in that?
Homemade bread can be easily intimidating. I grew up in a house where my mom owned a bread machine and it did most of the prep work, along with the baking. I don't own a bread machine. But I do have an oven, bread pans, and keep the fridge constantly stocked with active dry yeast. I think the biggest misconception I had prior to the last few years was that yeast is super finicky and hard to deal with. I would microwave the amount of water called for, then wind up getting it too hot, leaving me with a bowl of murky yeast-smelling water. I'd pull out a thermometer to make sure my water was just right, before adding the yeast…
What I've found is that if you use your tap water, let it run on hot for 40-60 seconds (collect the water in a large pot – use it for plants, your pets, whatever; no point in wasting it though). Add the desired amount of hot water to your mixing bowl and then quickly stir in some honey or sugar, along with the yeast. Let it sit for 5-10 minutes. I have never had issues proofing my yeast by this method.
Anyway. Homemade bread and homemade buns – they're one in the same. This recipe also makes great hamburger buns – the only difference is in how you shape the dough. This dough is really easy to work with and the result? A soft, tender, fluffy bun : )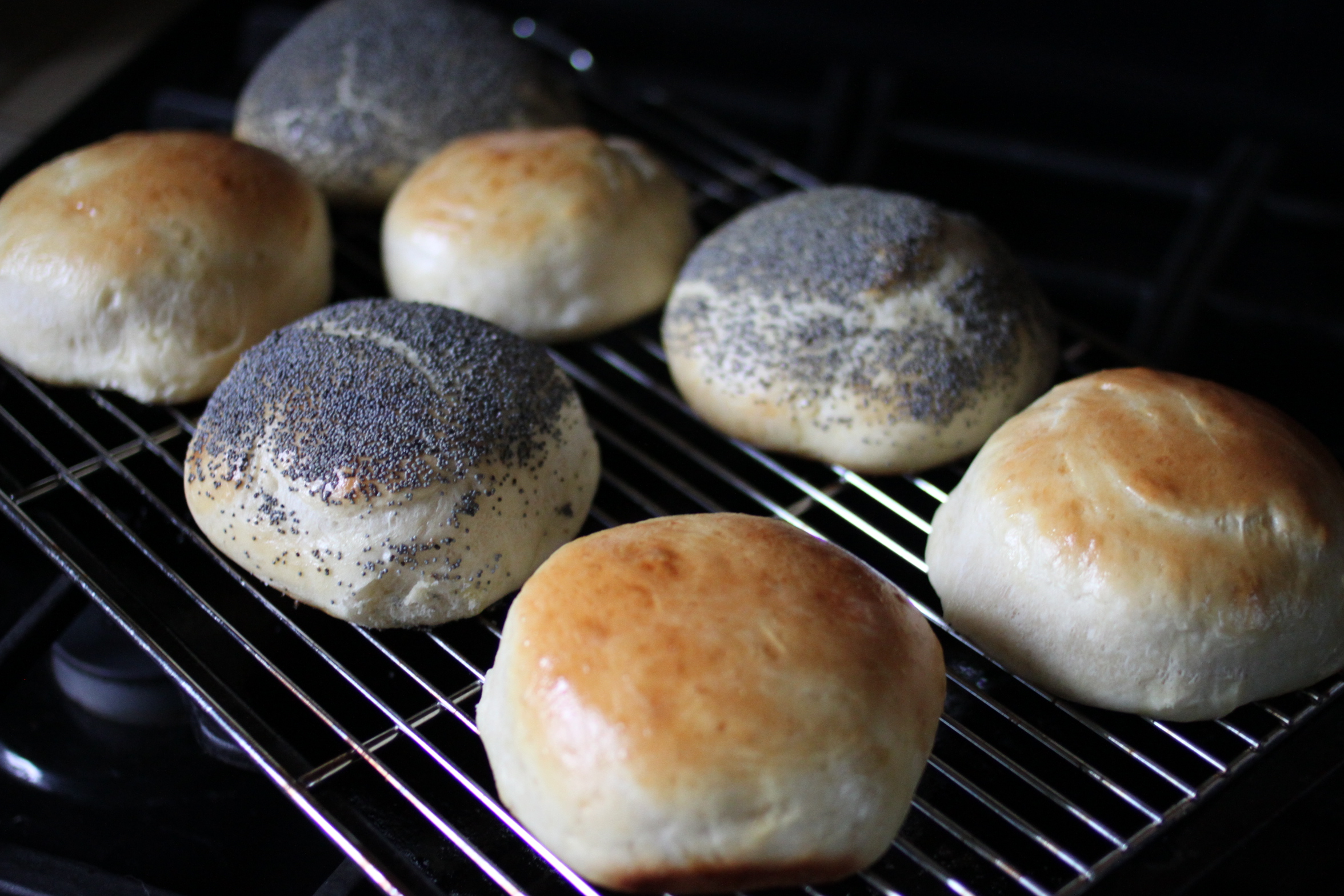 Homemade Hot Dog (or Hamburger) Buns
Makes 8-9 hot dog or hamburger buns
Ingredients:
1½ tbsp. honey
2¼ tsp. dry active yeast (one package)
¼ cup water, warmed to 105°-115°F
1 cup milk, also warmed to 105°-115°F
1 tbsp. olive oil
1½ tsp. sea salt
3–3½ cups all-purpose flour
3 tbsp. non-fat dry milk powder
1 egg, beaten
optional: sesame seeds, poppy seeds, coarse salt, etc. for topping
Directions:
In the bowl of your stand mixer, dissolve the honey in the warm water. Stir in the yeast and allow the mixture to sit for ten or fifteen minutes, until frothy. Add in the milk, oil, salt, the non-fat dry milk powder, and about one cup of the flour. Mix vigorously for 3 – 4 minutes.
Gradually add in about a half cup of flour at a time, continuously mixing until the dough begins to pull away from the sides of the bowl. Attach the dough hook to your mixer and knead the dough until it's smooth and elastic-like (7–10 minutes).
Transfer the dough to an oiled bowl (I just remove the dough from my mixing bowl and oil that quickly), turning the ball of dough once to cover both sides in oil. Cover tightly with plastic wrap or a dampened towel, until the dough has doubled in size (about one hour).
Lightly oil a half-sheet sized baking sheet, or line with parchment paper. Turn the dough out to a lightly floured work surface. Using lightly oiled hands, divide your dough into 8 or 9 equal portions. If you're making hot dog buns, shape each into ovals about 6-inches long, then slightly flatten with your hands. If you're making hamburger buns, roll each portion of dough into a ball and then flatten into 3½-4 inch round disks. Place each rolled portion of dough onto your prepared baking sheet, about 1-inch apart.
Cover lightly with a piece of plastic wrap and allow the buns to rise an additional 30-45 minutes, until they've nearly doubled in size.
Preheat your oven to 400°F. Just before baking, brush the top of each bun gently with the beaten egg. Sprinkle on any toppings if you so wish.
Bake for 15-20 minutes, until the top of the buns are nicely golden brown. When the buns are done baking, remove them from the baking sheet to a wire rack to cool.
Slice in halves and use as needed.