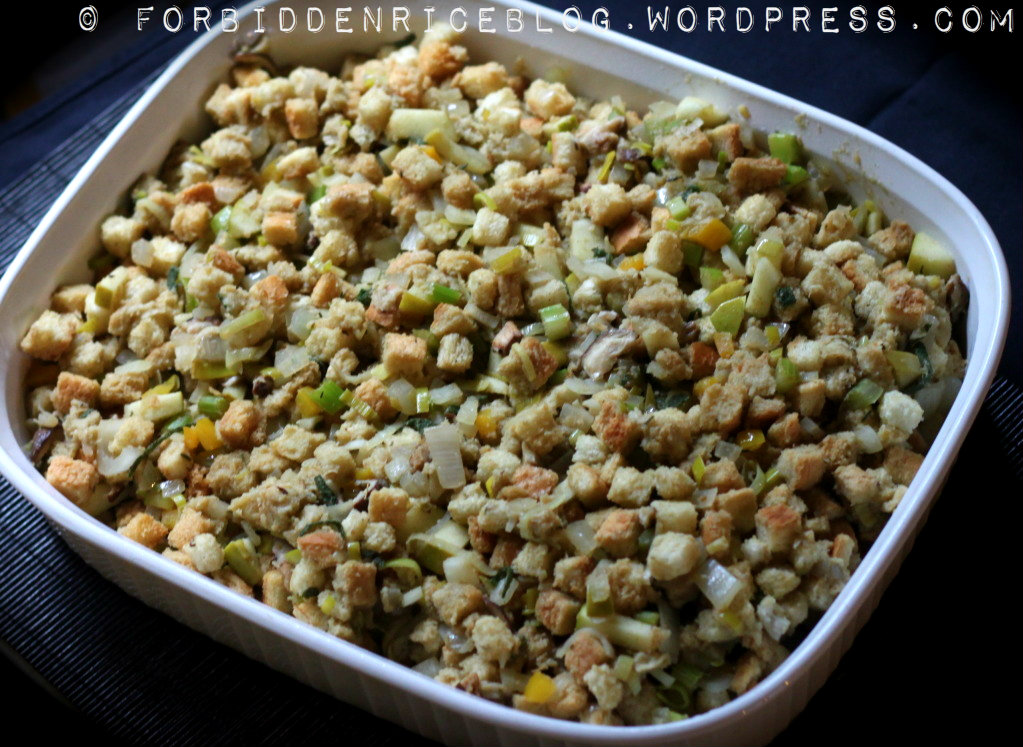 I am deliriously behind in sharing some recipes from… oh, Thanksgiving. We've been busy. My husband and I just celebrated our one year anniversary. Then his birthday, the following week. Not to mention my mister has a band, Cast of Clowns, and we just got back from a four-day run of shows around the Bay Area. Needless to say, there hasn't been a lot of cooking. There have been burritos for many meals. And I've got a number of recipes and photos back-logged, waiting to show up here.
The thing is, from what I remember, my family's Thanksgiving meals and Christmas meals more or less included many of the same dishes. The main difference was that Thanksgiving meant turkey and Christmas meant ham. Sometimes Christmas included both. I figure we weren't the only folks that did that, so I'm actually ahead of the game, posting recipes that can be used in a couple weeks… rational brain.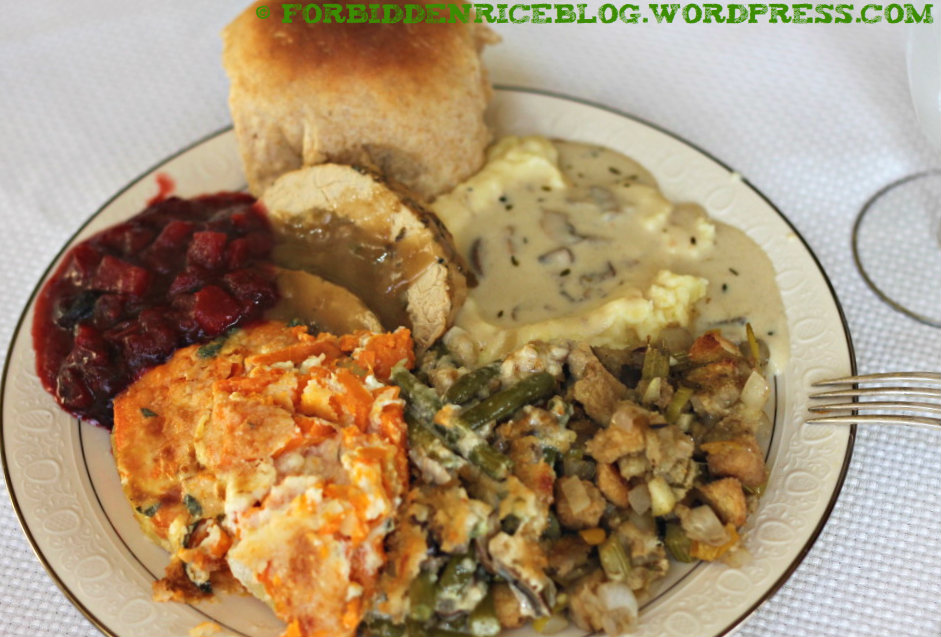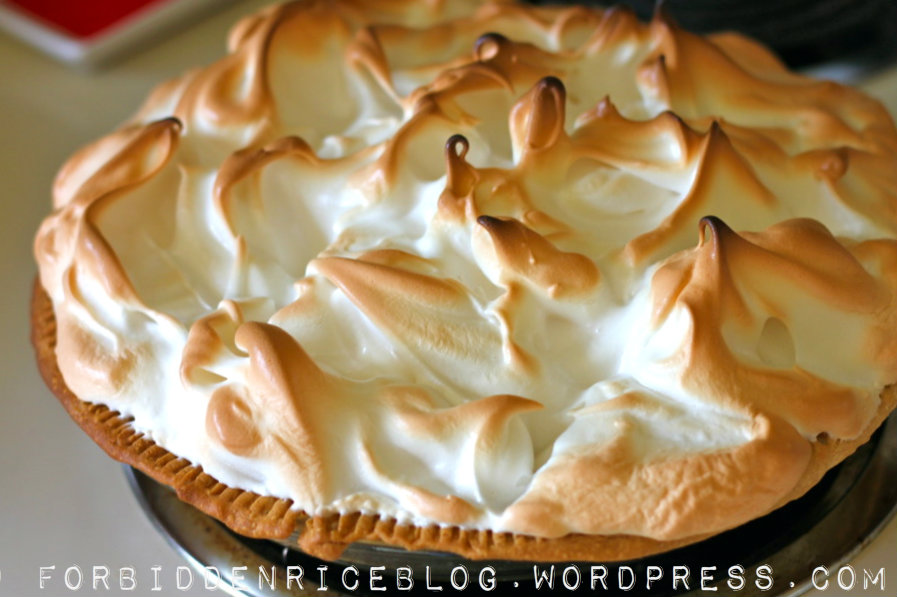 So, let's backtrack. Thanksgiving. We had a small, super casual lunch/dinner with my husband and mother-in-law. She covered the vegetarian "turkey" roast – Trader Joe's variety, since it was a type we hadn't tried before (pleasantly surprising in texture, but lacking a bit in flavor). She also handled making her mother's chocolate meringue pie, as per my husband's request. My contributions included the side dishes (my favorite part of Thanksgiving dinners): sweet potato gratin, cheesy green beans, apple cranberry sauce, garlic mashed potatoes, creamy mushroom gravy, big fluffy whole wheat rolls and shiitake leek stuffing.
I am a huge fan of stuffing. When I was in college, there were numerous times I'd buy a box of Stove Top stuffing mix and call it dinner. I don't think I've gone the Stove Top route since then, thank goodness. While I've made my own bread cubes before (Just use day-old, thick sliced bread. Cut it into cubes and bake at 350° F for 12-15 minutes, until the cubes are golden brown. Cool completely before using.) I opted for a bag of store-bought bread cubes due to ease and availability.
This stuffing is entirely vegetarian. The shiitake mushrooms add little bits of chewiness, much like sausage or bacon does in other stuffing recipes. The apples add just the tiniest bit of sweetness to a very savory dish. I would gladly eat this at any time of year, on its own, or as an additional side dish to another meal.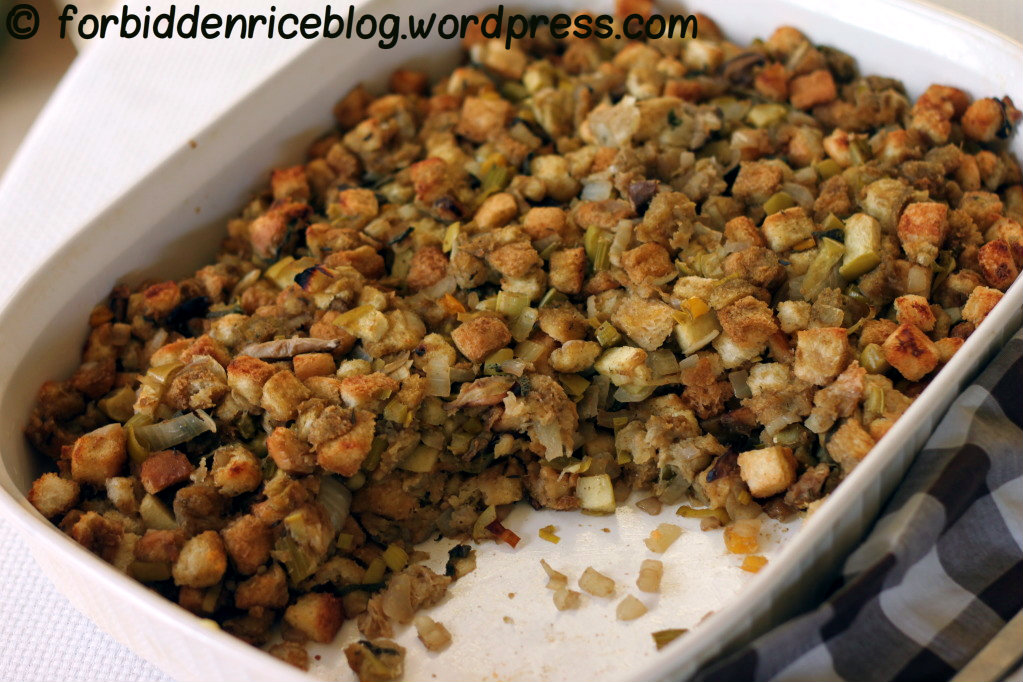 Vegetarian Shiitake Leek Stuffing
Ingredients:
13 oz. dried bread cubes
1 large leek, tough green parts removed
1 large yellow bell pepper, seeds and ribs removed
1 large yellow onion, diced
1 stalk celery, diced small
4 cloves garlic, minced
1 large granny smith apple, cored
4 oz. fresh shiitake mushrooms
6 tbsp. unsalted butter
2 tsp. ground white pepper
3 tbsp. fresh sage, chopped
3 tbsp. fresh thyme, chopped
2 tsp. poultry seasoning
½ tsp. ground black pepper
2½ cups No-Chicken broth (vegetable broth can be substituted)
sea salt, to your liking
butter

Directions:
Preheat your oven to 375° F. Generously butter a large baking dish (at least 9×13-inches).
Once the tough green parts have been removed from the leek, slice the stalk in half lengthwise, then finely cut the leek. Dice the bell pepper and granny smith apple into small pieces. Thinly slice up the shiitake mushrooms.
Melt the butter in a large stock pot over medium-high heat. Once the butter has completely melted, add the diced onion, sliced leek, bell pepper, celery and garlic. Sauté the mixture until everything has softened, and the onions appear translucent.
Add the diced apple, sliced shiitake mushrooms, white pepper, sage, thyme, poultry seasoning, black pepper and salt. Stir to combine everything really well. Remove the mixture from the stove. Add the bread cubes, then add the No-Chicken or vegetable broth, gently folding the mixture together to evenly distribute everything.
Pour the mixture into your buttered baking dish. Cover with foil and bake for 20 minutes. Uncover and bake for an additional 30-40 minutes, until the top is lightly golden brown. Let the stuffing sit for 10 minutes before serving.