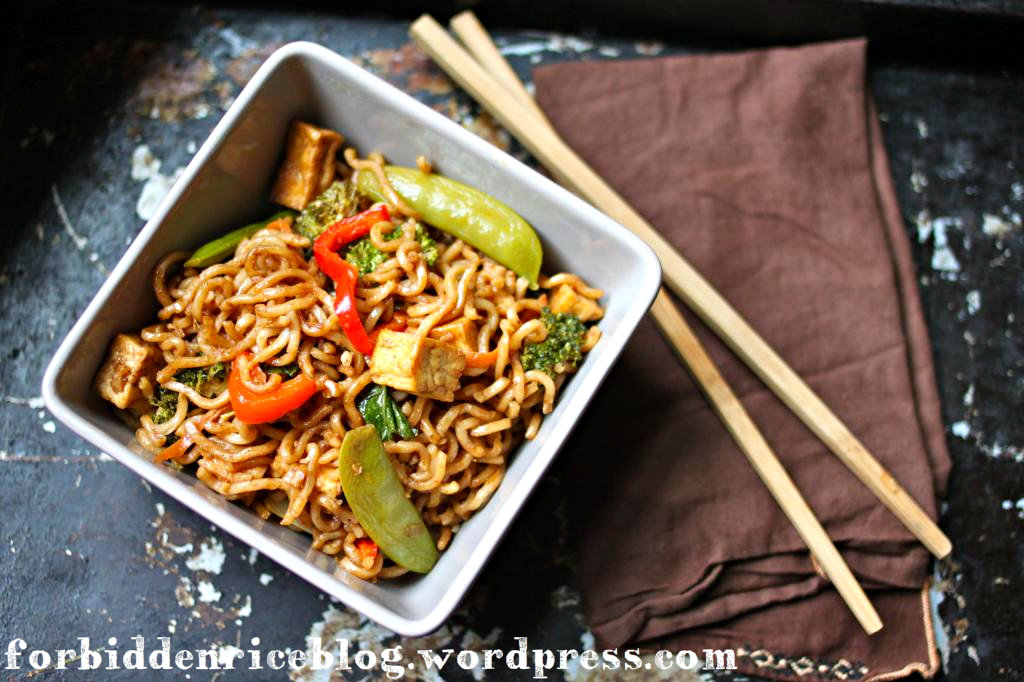 Despite being half Japanese and growing up in a home where we occasionally ate Asian-inspired dishes, the truth is, I don't cook a lot of Asian food. I enjoy eating it. If I had to live on things like nori (seaweed), rice, sushi, noodles in various sauces with tofu and fresh vegetables, I'd be entirely content with my diet. But. My family is often into Mexican food and Southern comfort foods. There isn't a fine line between those and Asian cuisine – it's a big, bold, CAPITAL LETTER kind of line. However, when it comes to the kitchen and meals, my creative license is pretty wide open.
I've been craving stir-fried noodles for a good month. When the simultaneous craving for fresh vegetables hit hard earlier this week, I knew I could combine the two into something that would easily satisfy my food yearnings. After I got home from the grocery store, my husband asked what I had planned for dinner. When I responded with, "some kind of chow mein," he exclaimed, "WHAT?! That's some of that yang food," laughing. "Yang" has been a generalized Asian term in our household since a conversation with my now 14-year-old stepson about currency in Japan. My husband jokingly had said, "You can trade your American dollars for some of that Japanese yang," wherein he meant "yen." So "yang food" merely refers to Asian-flavors and dishes my family isn't often exposed to (and while so very far from being PC, being Asian myself seems to make it more funny than offensive, to me). I hope you aren't offended.
Mostly because these noodles were delicious. The sauce is made up of various flavors that offer depth, intensity, earthiness, sweetness, and spiciness. It all balances with the crisp tofu and vegetables. I enjoyed this chow mein (which simply means "stir fried") for days. First, hot as dinner. Then for three lunches afterwards, cold. And my husband's verdict? Yang-approved.
Vegetable Chow Mein with Tofu
Serves 4-6 people
Ingredients:
14 oz. extra firm tofu, cut into cubes (about 1"x ½")
¼ cup oil
24 oz. fresh chow mein noodles *
1 large carrot, peeled and julienned
2 cups fresh bok choy, chopped into bite-sized pieces (about ¾-pound)
1 cup fresh snap peas, ends cut
1½ cups fresh broccoli florets
1 small red bell pepper, cored and cut into thin strips
3 cloves garlic, minced
one 2" piece of ginger, peeled and minced
2 tbsp. rice wine vinegar
3 tbsp. oyster sauce
1/3 cup low sodium soy sauce
2 tbsp. black bean garlic sauce
2 tsp. fish sauce
¼ tsp. sesame oil
2-3 tbsp. sunflower or peanut oil
sriracha sauce
* I used Annie Chun brand Organic Chow Mein noodles. If you can't find fresh chow mein, dried noodles are acceptable. Just follow the directions on the package for cooking them before adding them to this stir-fry.
Directions:
Prepare your tofu: place the cubes of tofu on a clean dish towel (or a couple layers of paper towel), covering with another towel. Gently press the tofu evenly with your hands. Let the tofu sit for 10-15 minutes. Fill a small saucepan with the ¼ cup of oil. Working in batches, fry the cubes of tofu until they're lightly golden in color (1-2 minutes per batch). Use a slotted spoon to transfer the tofu to clean paper towels to drain excess oil. Continue cooking until all the tofu has been fried. Set aside until needed.
Prepare your vegetables: bring a large stock pot of water to a rolling boil. Add the woodier (stem) part of the bok choy and broccoli florets to the boiling water for about two minutes. Remove with a slotted spoon then quickly rinse with cold water. Add the carrots and snap peas, cooking for about one minute. Again, remove from the boiling water, rinse with cold water, and then set the bok choy, broccoli, carrots, and snap peas aside until needed.
Heat a large wok over medium-high heat. Add the sesame oil and two or three tablespoons of sunflower/peanut oil. Add the garlic and ginger to the oil, stirring around to evenly distribute your ingredients. Sauté until fragrant (2-3 minutes). Add the rice wine vinegar, oyster sauce, soy sauce, black bean sauce and fish sauce, stirring everything well.
Add the red bell pepper to the sauce mixture. Then the noodles, stirring to evenly coat them with the sauce. Fold in the carrot, bok choy, snap peas, broccoli, and tofu. Sauté for 3-4 minutes, tossing to make sure everything is evenly. Add in sriracha to your taste (I added about one heaping tablespoon, which added a good amount of heat). Serve hot.