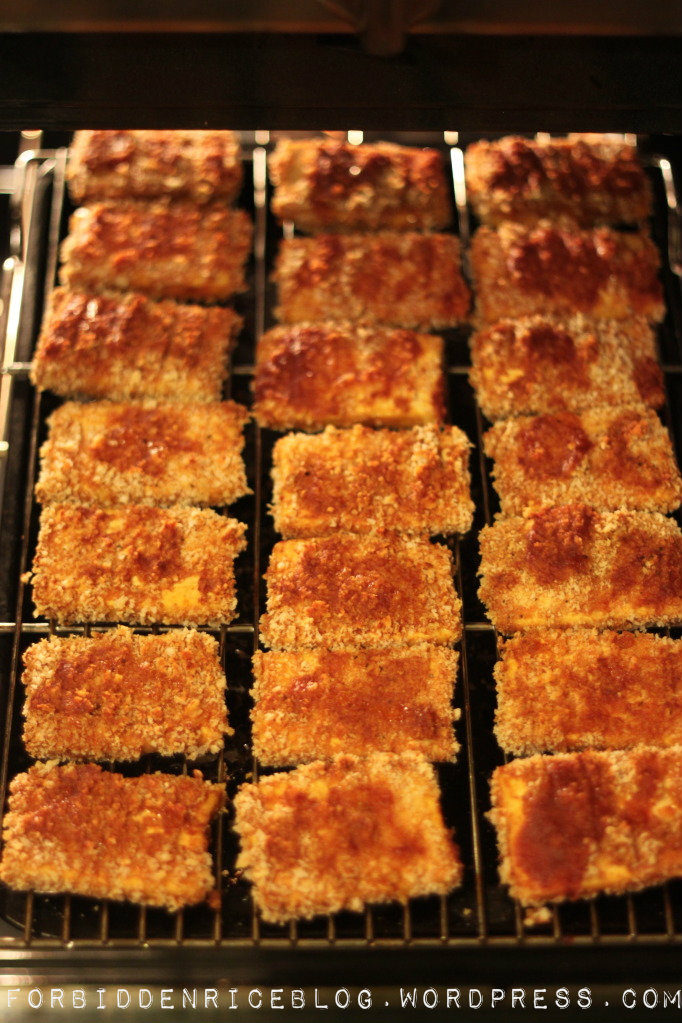 I grew up with tofu around. Little cubes of white bean curd, topped with soy sauce, ginger, and green onion. Pockets of deep fried tofu (aburaage) filled with sweet sushi rice. Stir-fried pork tofu – a dish my mom would make that I don't remember much about except salty pork laden with soy sauce and the same fried tofu as inari sushi (which I'd hunt out at dinner time – less pork, more sweet fried tofu!).
Tofu is low in calories, relatively high in protein, low in fat and high in iron. Quintessentially, it's a dang good option for my family. I try to balance the soy with other vegetarian options week-by-week, including whole grains, fresh vegetables and fruit, or wheat based plant protein. Honestly though, tofu is one of my favorite options for versatility in non-meat dishes.
The following recipe started off with a plan to make baked tofu chicken nuggets, which I love to dip into barbecue sauce when eating. Then my husband stated he was craving barbecue tofu (no breading), which I am not crazy about. I wondered how I could combine both, a crispy baked tofu and the barbecue flavor saturated into the tofu rather than just as a dipping sauce. That's where this experiment came from and the result was quite gratifying. I love crispy tofu and often resort to frying it to get a golden color and super crunchy texture. This baked tofu had a lovely color to it, though, and got wonderfully crunchy and flavorful.
I served this tofu alongside mashed potatoes and roasted asparagus. It made a great sandwich for lunch the following day as well!
Baked Barbecue Panko Tofu
Yields enough tofu for 4-6 people.
Ingredients:
For the sauce:
1 cup ketchup
½ cup water
¼ cup apple cider vinegar
3 tbsp. light brown sugar
¼ tsp. fresh ground pepper
¼ tsp. onion powder
¼ tsp. granulated garlic
½ tsp. fresh lemon juice
1½ tsp. yellow mustard
1½ tsp. vegan Worcestershire sauce
2 tsp. red chili pepper flakes
20 oz. super firm high protein tofu
2 cups panko bread crumbs
1 tsp. granulated garlic
½ tsp. sea salt
½ tsp. ground white pepper
½ tsp. smoked paprika
½ tsp. dried oregano
½ tsp. dried thyme
canola or sunflower oil
Directions:
Slice the tofu horizontally, into rectangular pieces about ¼-inch thick. Arrange the slices of tofu in a single layer on a clean dishtowel or a few layers of paper towel, then add another towel or paper towels on top, to absorb more of the water out of the tofu. Let the tofu sit 45 minutes to 1 hour.
While the tofu is hanging out, get out a small pot. In it, combine all of the ingredients for the barbecue sauce. Whisk together, to combine everything well. Bring to a simmer over medium heat, allowing the sauce to cook for about 20 minutes.
Preheat your oven to 400°F. Lightly brush a large baking sheet with the canola or sunflower oil. In a baking dish, combine the panko bread crumbs, granulated garlic, sea salt, white pepper, paprika, oregano, and thyme. Lightly toss to combine everything well.
Dip the tofu slices into the barbecue sauce, turning them a couple times to coat the tofu well. Now dip the tofu into the panko mixture, pressing firmly, but also gently so you don't break the tofu. Turn and coat the other side with bread crumbs, too. Place the tofu on your prepared baking sheet. Continue to do this until all the tofu is sauced and breaded!
Lightly drizzle a little oil over the top of each breaded tofu slice. Bake for 15 minutes, then turn the tofu over. Return to the oven and bake an additional 15 minutes. Brush the top of each slice with some of the leftover barbeque sauce. Bake for about 10 more minutes, flip and do the same thing for the other side.
Serve hot. You can drizzle on more of the barbeque sauce when serving as well if you'd like!