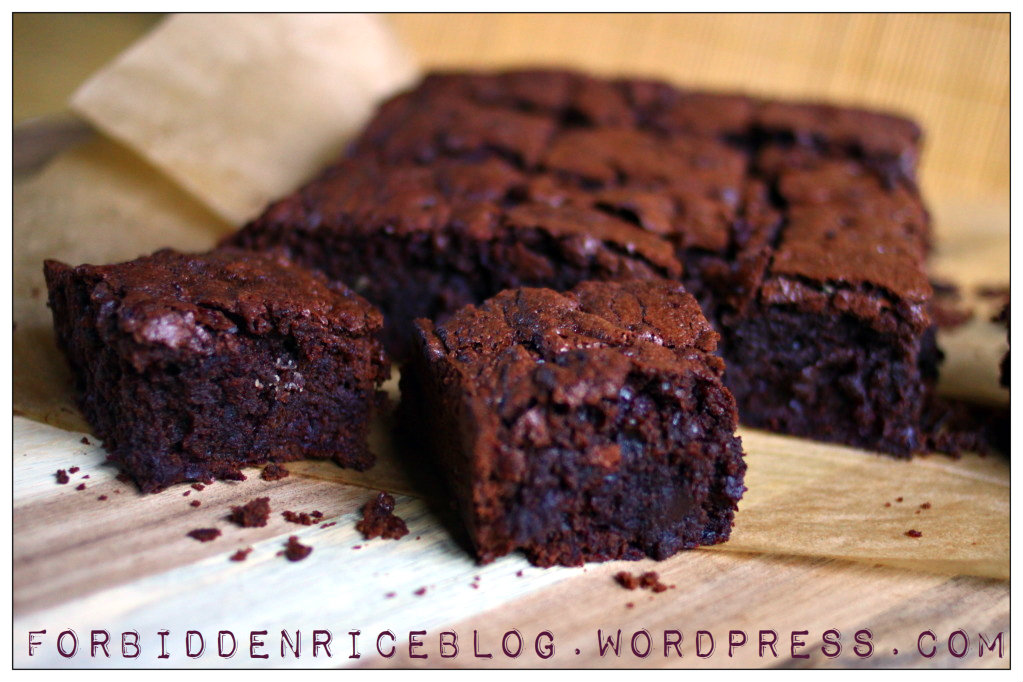 January is one of those months. The kind where cold isn't an exciting snowy winter time adventure. That happened back in December. It's lingering and face-chilling. January is too early into the new year to be hopeful for spring green colors, or flower buds showing up in unexpected places. January means that staying in bed just a little longer in the morning is almost crucial, rather than a mere desire. January tells me to wear long sleeves over longer sleeves, then tie a scarf around my neck, blow dry my too-long hairs, tie them back, put on two pairs of socks and real people shoes instead of slippers. January asks for large pots of soup. It begs to fill our house with the intoxicatingly rich scent of chocolate hot in the oven.
January doesn't take a lot of convincing when it comes to rich, filling food. But January also doesn't cancel out the guilt that comes after eating a whole pan of brownies. The obvious solution? Make your brownies a little healthier so you can convincingly tell yourself there was some nutritional value, not just the satisfying of your sweet tooth. Beets are the not-so-secret ingredient in these brownies. Beets, which are high in fiber, potassium, and folate. Beets that are thought to fight cancerous cells. They keep these brownies ridiculously rich and moist. They're more cakey than fudgy, but delicious nonetheless.
While the original recipe was written entirely in the metric system and my Americanized ass self needed to convert everything, and I fully realize that my proportions are not entirely accurate, at least according to the original recipe. But they created a very tender crumbed, tasty, chocolate-y not so beet-y rich brownie. You won't be disappointed.
As well, since I can, this song is good for a cold January night that in fact calls for both a vanilla pear vodka cocktail, followed by warmed up brownie. I shall listen to it on repeat exactly 142 times and then call it an early night, followed by an early morning workout.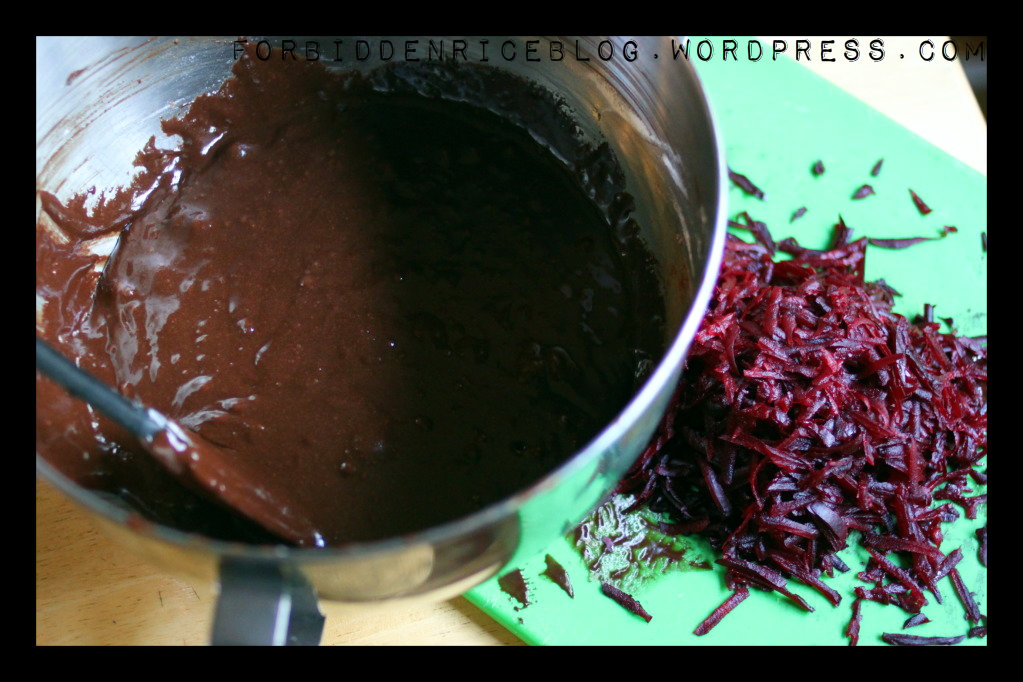 Beet Root Brownies
Recipe heavily adapted from Hugh Fearnley-Whittingstall
Ingredients:
½ pound fresh beets
3 eggs, room temperature
1 tsp. vanilla extract
1¼ cups unrefined cane sugar
2 sticks plus 2 tbsp. unsalted butter
8 oz. dark chocolate (at least 70% cocoa)
1¼ cups all-purpose flour
1½ tsp. baking powder
¼ tsp. sea salt
butter, softened (about 1 teaspoon)

Directions:
Boil the beets in water until they're easy to pierce with a fork (25-35 minutes). Immediately place in ice cold water to stop the cooking and keep the beets' color vibrant. Peel the beets then grate with a box grater. Set aside until needed.
Preheat your oven to 355° F. Line a 9×9-inch pan with parchment paper, then brush lightly with softened butter.
Cut the butter up into large chunks (think table-spoon sized cubes) and break the chocolate up into equally sized pieces. Mix the chocolate and butter together in a double broiler, stirring occasionally until the mixture is completely melted, combined, and smooth. Remove from heat and allow the mixture to cool for about 10 minutes.
In the bowl of your stand mixer, gently beat the eggs for 30 seconds. Add the sugar and vanilla extract all at once and then blend until the mixture is slightly airy (2-3 minutes). Slowly add the chocolate mixture (about ¼ cup at a time at first, to make sure the heat from the butter/chocolate doesn't cook the eggs), until completely combined.
In a separate bowl, whisk together the flour, baking powder, and salt. Add the flour mixture to the chocolate mixture, until just combined.
Use a rubber spatula to fold the grated beets into the batter. Do not over mix, as that will cause the brownies to be tough. Pour the batter into your prepared pan, then smooth the top with your spatula.
Bake for 30-40 minutes, or until a toothpick inserted in the center of your brownies comes out clean or with few crumbs attached.
Let the brownies cool in the pan for about 5 minutes, and then transfer (with the parchment paper) to a cooling rack. Serve warm or cooled. Store in a tightly covered container.