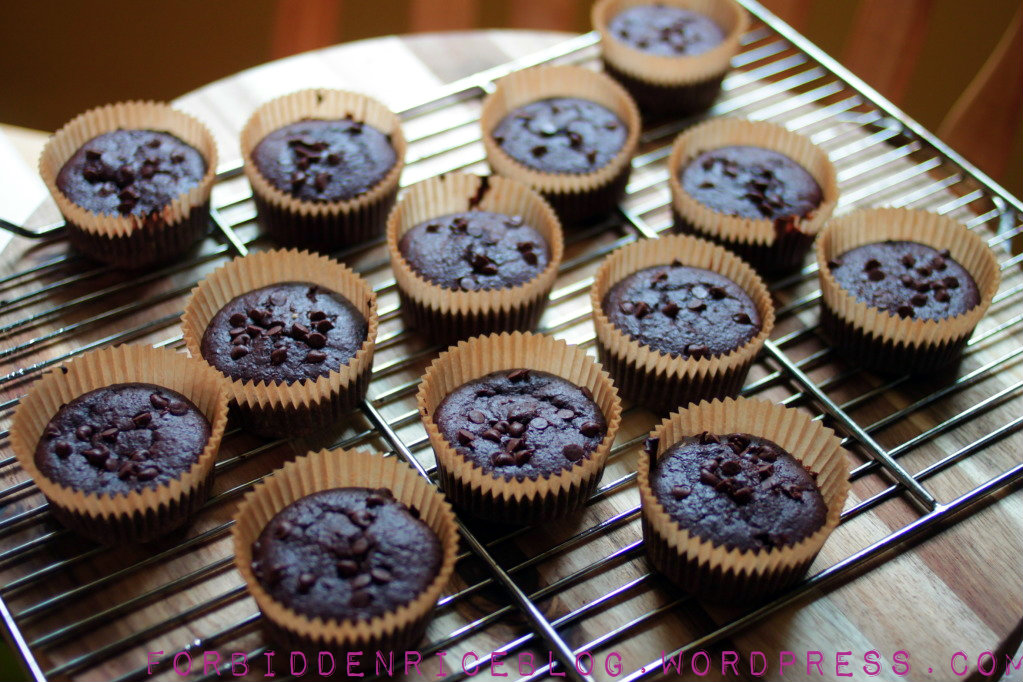 When I decided to make this juice, I didn't think about the leftover pulp ahead of time. Lots of folks who make their own juices at home seem to add the pulp to their compost piles, or simply toss it into the garbage. As I looked at the beautifully deep red beet pulp, I remembered the recent beet root brownies I made and thought, I'll bet I could use this with chocolate somehow.
I had loved how moist and rich the brownies turned out and decided to create a chocolate muffin/cupcake using my pretty leftover beet pulp. I used unsweetened applesauce instead of oil, though I was a little scared that the fruity taste would overpower the chocolate, leaving a weird aftertaste (or during-eating-taste). Using a good quality dark chocolate and good quality unsweetened cocoa powder definitely helped in allowing the chocolate to stand out, despite the applesauce, yogurt, and beets in this batter.
The result was a dense, but remarkably fluffy little muffin, rich in sweetness and moisture. It took zero convincing getting Silas to try one of these, or to eat them when included in his lunches for school.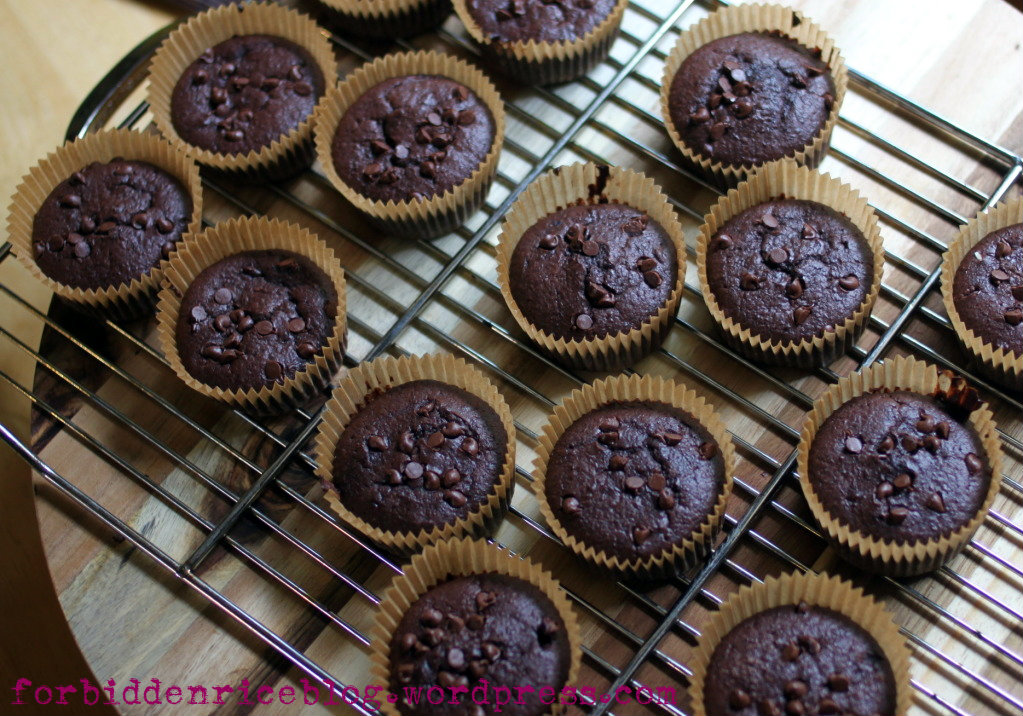 Chocolate Beet Pulp Muffins
Makes about 14-16 small muffins
Ingredients:
1 cup all-purpose flour
½ tsp. baking powder
½ cup unrefined cane sugar
½ cup unsweetened cocoa powder
3 oz. dark chocolate (70% cocoa)
2 tbsp. unsalted butter, melted
¼ cup unsweetened applesauce
½ cup plain yogurt
¼ cup milk (dairy, soy, almond…)
½ tsp. vanilla extract
1 egg
½ cup raw beet pulp
optional: ½ cup miniature chocolate chips
Directions:
Lightly grease a 12-cup muffin tin, or line with paper liners. Preheat your oven to 400°F.
Melt the dark chocolate in a double boiler. Set aside.
In the bowl of your stand mixer, use the paddle attachment to blend together the melted butter, applesauce, yogurt, milk, vanilla, and egg. Mix to evenly combine everything. Turn the mixer onto level 2 or 3 and slowly add in the melted chocolate.
In a separate bowl, whisk together the flour, baking powder, sugar, and unsweetened cocoa powder.
Gradually add the dry ingredients into the wet, mixing until everything is evenly incorporated. Fold in the beet pulp until everything is well combined.
Spoon the batter into your prepared muffin cups, until each is about two-thirds full. If you want, sprinkle the top of each muffin cup with a pinch of miniature chocolate chips. Bake for 22-25 minutes, until a toothpick inserted into the center of each muffin comes out clean. Allow the muffins to cool in the pan for about 5 minutes before transferring to a cooling rack.
Store in an air-tight container for up to a few days. (Although for best flavor, eat closest to the day these are made.)