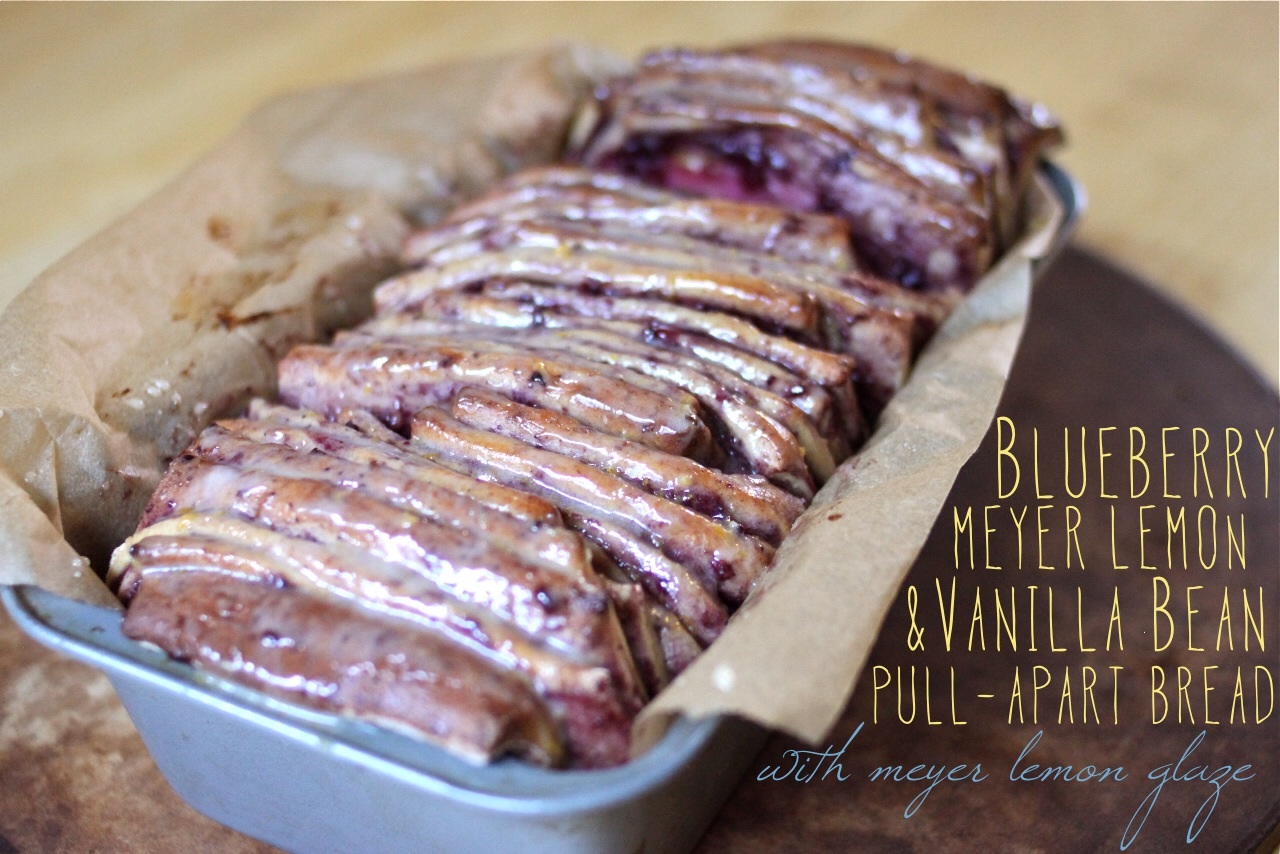 I apologize for the lack of recipes. Truth be told, being out of town, I didn't cook a single thing for the last week. Granted, hotel breakfasts lend a little room for creativity. I do mean little… like plain packets of instant oatmeal that can be spruced up with added banana, brown sugar, granola, cream, and raisins or cranberries. Or bananas and walnuts added to prepared waffle batter, then topped with peanut butter. Anyway. Breakfast is only one meal… and we ate out a lot. A lot of good food, mind you, but it's nice to be home in the kitchen again. Even our makeshift tuna melts made with dug-outta-the-freezer bread last night after getting home was a nice break from eating out.
That said, I have been meaning to post this recipe for a good week and a half now. As mentioned before, pull-apart breads are impressive looking, but actually surprisingly easy to make. When my husband's aunt decided she was coming out to Ashland for a visit, I thought she'd ask me to make this fried shrimp for her again. Much to my surprise, she requested the orange marmalade pull-apart bread I made not too long ago. I decided to re-create the recipe using different flavors.
Organic Meyer lemons were in abundance at the grocery store. They're less pungent than your typical Eureka lemon and work nicely in sweet dishes. I decided to pair the sweetness of the lemon with blueberries and vanilla bean, which all worked deliciously together. This is a great bread for dessert, breakfast, or merely as a mid-afternoon snack alongside a hot cup of coffee. Though best eaten while warm and the day it's made, leftovers can be tightly wrapped then reheated and enjoyed later.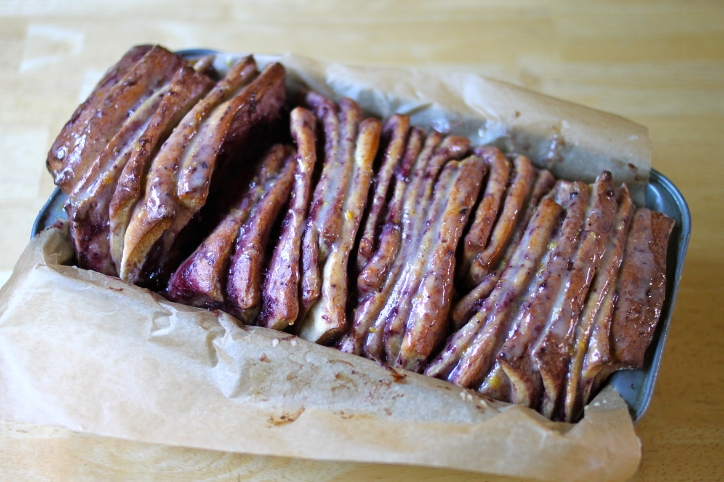 Blueberry, Meyer Lemon and Vanilla Bean Pull-Apart Bread with Meyer Lemon Glaze
Makes one 8 x 4 inch loaf
Ingredients:
For the bread:
1/2 cup warm water (85°-95°F)
5 tbsp. granulated sugar
1 tbsp. active dry yeast
6 tbsp. buttermilk
2 eggs
1/4 cup unsalted butter, melted
2 tsp. pure vanilla extract
2 1/2 cups all-purpose flour
1 1/4 cups whole wheat flour
3 tbsp. nonfat dry milk powder
1 1/2 tsp. ground cinnamon
1/4 tsp. ground fresh nutmeg
zest and juice from one Meyer lemon
For the filling:
10 oz. blueberry jam
zest and juice from one Meyer lemon
1/4 cup unsalted butter, melted
1/4 tsp. ground cinnamon
1 vanilla bean, scraped
For the glaze:
3/4 cup powdered sugar
1 tbsp. coconut oil
zest and juice from one Meyer lemon
1 tsp. pure vanilla extract
1-2 tsp. milk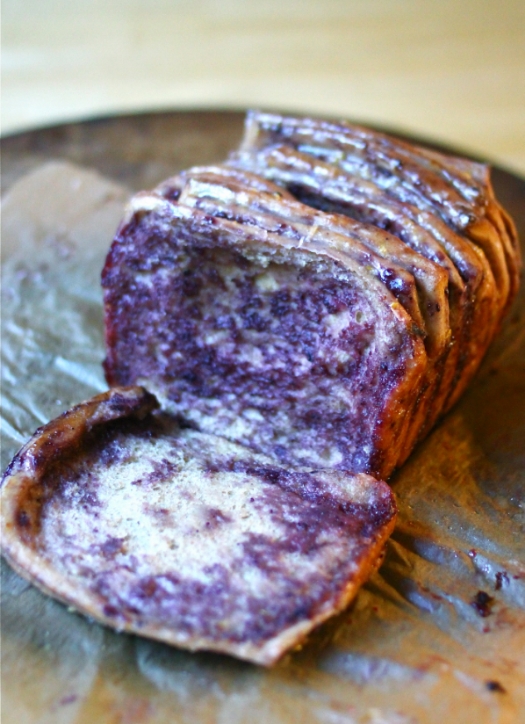 Directions:
Make the dough: Combine the warm water, sugar, and yeast in the bowl of your stand mixer (or a large mixing bowl if you're making the bread by hand). Allow the mixture to proof (get bubbly, frothy, active). Once the yeast has bubbled up, stir in the milk, eggs, melted butter, and vanilla extract until just combined. Attach the dough hook to your mixer and add in the all-purpose flour, the whole wheat flour, dry milk powder, cinnamon, nutmeg, zest and lemon juice, kneading the dough on low speed until it's smooth and slightly sticky (5-6 minutes).
Lightly flour a large work surface, then turn your dough out to it. Knead 4-5 times, until the dough comes together into a ball. Lightly grease either the bowl of your stand mixer, or a large mixing bowl. Place the dough into the bowl, turning once to coat both sides. Cover tightly with plastic wrap. Allow the dough to rise in a warm area until it doubles in size, about one hour.
Prepare the filling: Combine all the filling ingredients in your food processor and "pulse" the ingredients until the mixture is fully combined. Set aside until needed.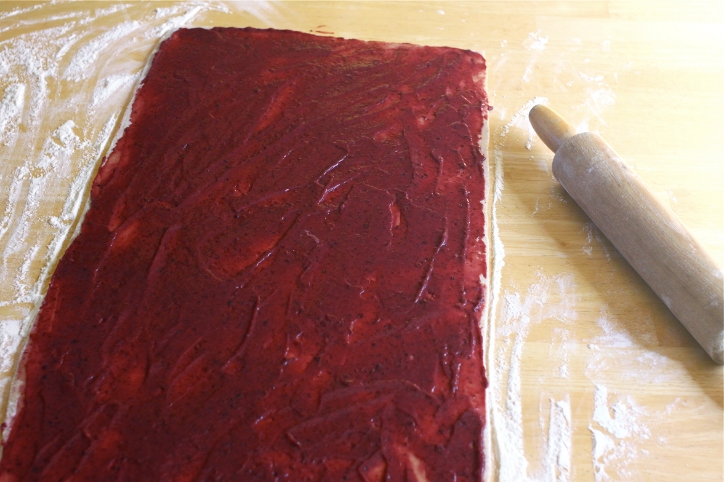 Once the dough has doubled, gently "punch" it down then turn it out to a lightly floured surface. Roll the dough out into a rectangle about 24-inches long, about 18-inches wide. Spread the filling evenly over the rolled out dough.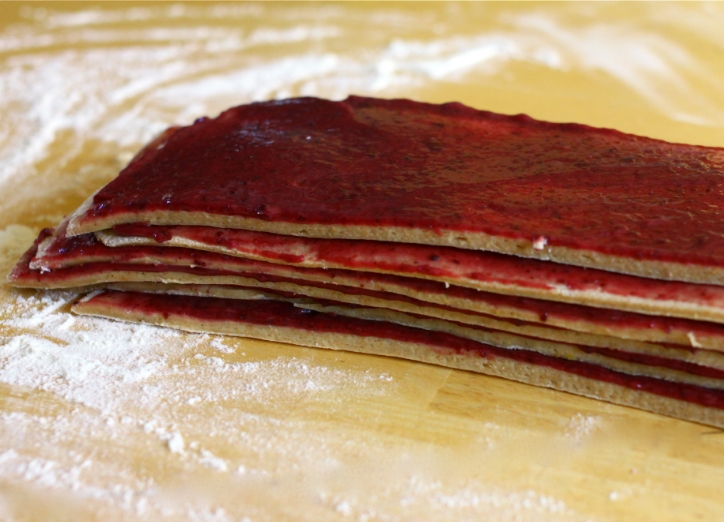 Cut the rectangle width-wise into 6 equal strips. Stack the strips on top of one another, so the filling is layered between the layers of dough. Cut the strips into 6 equal-sized parts.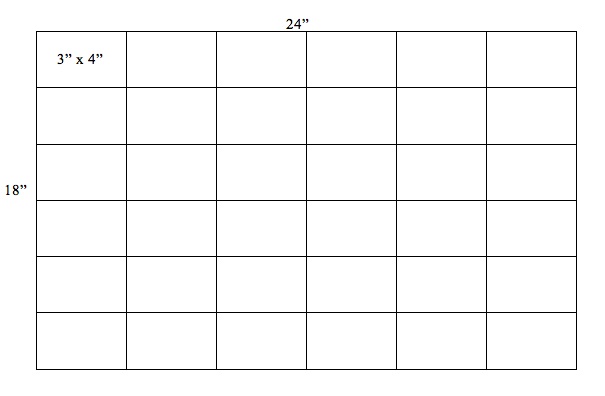 Line your bread pan with parchment paper so its excess hangs over the longer sides of the pan. Lightly brush with vegetable oil. Stack the slabs of dough against each other, long-side down. Lightly cover the pan with plastic wrap and set the the dough aside to rise again for 20-30 minutes.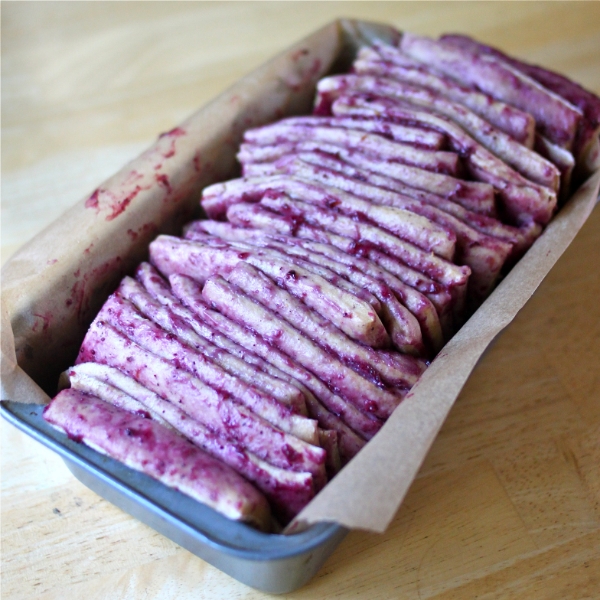 Preheat your oven to 350°F. Bake the bread for 30-35 minutes, or until the loaf is nicely golden brown on top. Lift the bread by the parchment paper you left hanging over the pan's sides, transferring the loaf to a cooling rack for 10-15 minutes. This bread is best served warm. It'll be messy. Use a fork if you want. Wrap leftovers tightly in plastic wrap.