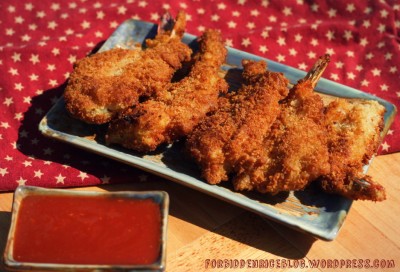 Despite growing up in a half-Japanese family and on an island in the middle of the Pacific Ocean, seafood was nowhere on my list of favorite foods as a kid. Or even on the list of foods I would eat. I imagine that if my mom had enjoyed seafood, I would've had to eat it more often.
One of my mom's brothers, my Uncle Ronnie, was a fisherman among numerous other things. He lived with us on the weekends, flying between Oahu and Kauai each week. He'd often go fishing overnight, or in the early morning/early evening for hours at a time. I remember how he'd bring home coolers full of fish that he'd clean and my mom would prepare for dinner. I remember him paying me money to eat the fish – which, in retrospect, is a pretty good means of making an allowance. I'd gladly eat fish now, being paid rather than having to pay for the fish! My method at first was to douse the fish in a soy sauce-ginger mixture and simply swallow pieces of it whole. Uncle Ronnie eventually figured me out and to make my 50 cents per piece of fish meant I also had to visibly chew each piece. Dang.
Sometimes Uncle Ronnie would fly boxes of fresh shrimp back from Oahu with him. I remember my mom frying it up similarly to the following recipe. Often she'd make a tempura batter – either from a store bought mix, or from scratch (I think) and make tempura vegetables alongside the fried shrimp. This was one type of seafood I didn't need to be paid to eat. Traditionally, tempura batter is made in little amounts at a time, working the batter as little and as quick as possible. The flour mixture is stirred a mere 2 or 3 times with chopsticks, nevermind the clumping. Little mixing means that the gluten within the wheat isn't activated, leaving the batter light, rather than a sticky thick mess. The lightness and cold temperature of the batter gives the shrimp a very nice, light, crispiness when you fry it up.
I've made this shrimp for my mother-in-law a couple times now and I think the most flattering comment from this Southern-born and raised woman was: "That was delicious! I think your shrimp was even better than the fried shrimp I've had in Southern Louisiana!" For a lady who loves some Southern cooking, that mine would even be in a category of comparing probably means you should try this recipe. Tee-hee!
While traditional tempura is served with a Japanese dashi-based dipping sauce, I enjoy this shrimp with a homemae cocktail sauce that carries some Japanese flavor as well. The recipe follows the shrimp recipe.
Panko Crusted Tempura Shrimp
Serves 6-8 adults as a main dish, easily
Ingredients:
2 lbs. fresh shrimp, peeled and butterflied with the tails still intact
1- 10.5 oz container of Panko breadcrumbs
oil for frying
For the tempura batter:
2 cups all-purpose flour
2 tbsp. baking powder
¼ cup cornstarch
1 tsp. baking soda
1 tsp. salt
2 eggs, beaten
1½ cups ice cold water
Directions:
If you're waiting to serve the shrimp until all of them are cooked, preheat your oven to 200º F. Place a cooling rack in the oven to preheat.
Fill a large frying pan with oil about 2-3 inches deep, turning the heat up to medium high.
While the oil is heating, prepare the tempura batter. Whisk together the flour, baking powder, cornstarch, baking soda, and salt. Whisk in the eggs, then the ice cold water very quickly, just until the ingredients are combined. It's okay if the batter is a bit clumpy. Fill a larger bowl with ice, then place the bowl containing your batter directly on the ice. You want your tempura batter as cold as possible before frying.
Pour the Panko crumbs in a shallow dish. When the oil is hot enough (drop a few panko crumbs into the oil – they should bubble and immediately float to the top, without burning), dip the shrimp in the cold tempura batter, then lightly coat in panko crumbs. Lower into the oil, frying until golden brown on both sides.
Drain on paper towels for a minute or two, before place fried shrimp on the cooling rack in the oven. Continue doing this until all the shrimp are cooked, placing all the shrimp in your preheated oven until ready to serve.
Asian-Influenced Shrimp Cocktail Sauce
Ingredients:
1 cup ketchup
¼ cup chili sauce (I like Sriracha)
1 tbsp. mirin (Japanese cooking wine)
2 tsp. fresh ground ginger
2 tsp. fresh squeezed lemon juice
1½ tsp. stone-ground mustard
1½ tsp. Worchestire sauce
1 tsp. wasabi paste
½ tsp. lemon zest
1 clove garlic, finely minced
Directions:
Combine all the ingredients in a small saucepan, whisking together until the sauce comes to a low boil. Reduce heat to low and simmer for 15-20 minutes. Serve while still warm with your fried shrimp.