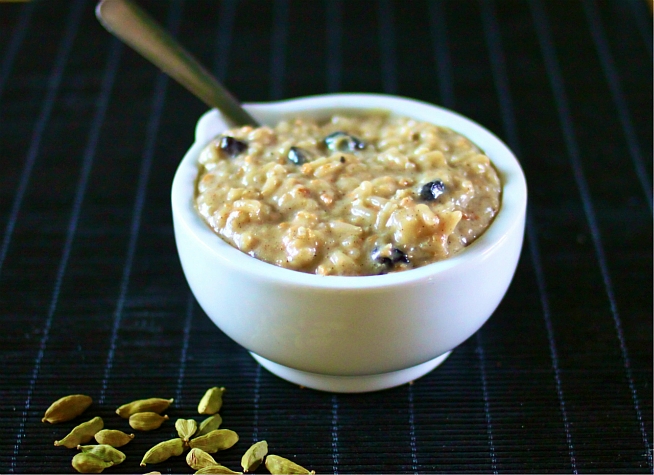 In the last few weeks, I've grown a deep appreciation for leftovers and nearly empty refrigerators. I'm not even being sarcastic (gasp, I know). The sparseness remaining once all the newer groceries have been consumed can be motivation to try new recipes. When I found leftover rice the other day, I knew I wanted to make rice pudding. I don't know about you, but I absolutely think rice pudding should be breakfast (or lunch, maybe dinner), rather than merely dessert. After all, when I cook oatmeal, I add many of the same ingredients. The butter, the milk, sugar, vanilla. Same-same.
I enjoy good rice pudding. In the distant past, I've looked for various recipes to attempt. There have been 3-hour-long cooked rice puddings, burnt stuck-to-the-bottom-of-the-pan puddings, still crunchy rice grain puddings, baked rice puddings… This week's theme was SIMPLICITY. Thus the pre-cooked rice. And the majority of the cooking time requiring little to no work. The warming flavor and scent of fresh cardamom is intoxicating. When allowed time to flavor the milk that makes up the pudding, the cardamom creates a depth of flavor even when the pods have been removed.
This rice pudding is delicious immediately after it's done cooking. It's ridiculously tasty cold. You really cannot go wrong. Keep leftovers refrigerated for up to 3 days.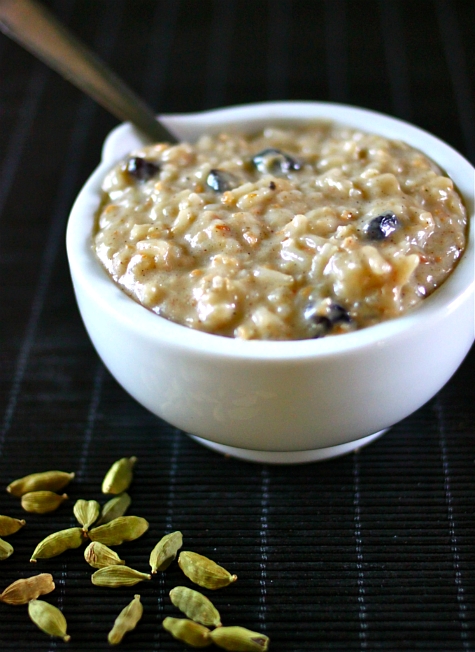 Toasted Coconut Cardamom Rice Pudding with Blueberries
Serves 3-5 people
Ingredients:
1½ cups cooked long grain white rice
1 can (13.7 oz.) full fat coconut milk
⅓ cup granulated sugar
1 tbsp. unsalted butter
1 vanilla bean, scraped
1 tsp. pure vanilla extract
4 whole cardamom pods
1 egg, lightly beaten
¼ cup unsweetened coconut flakes
½ cup unsweetened dried blueberries
Directions:
Toast the coconut: place the coconut flakes in an even, single layer, in a pan. Turn the heat on to medium heat, occasionally stirring the coconut until it is nicely golden brown. Remove from heat and set aside to cool.
Make the pudding: in a medium saucepan, combine the coconut milk, sugar, butter, vanilla bean, vanilla extract, and cardamom pods. Stir to combine everything well. Turn the heat on to medium heat, allowing the mixture to cook for 10-15 minutes.
Add the rice to the liquid ingredients, stirring to combine everything well. Cook for 30-40 minutes over medium heat, uncovered, until the mixture thickens and most of the liquid has been absorbed by the rice.
Temper the egg by mixing about one quarter cup of the hot rice mixture into it, about a tablespoon at a time. Add the tempered egg into the rice pudding on the stove, stirring steadily. Cook for an addition 5-10 minutes.
Remove the cardamom pods from the pudding, then stir in the blueberries and toasted coconut. Serve hot, warm, or cold. Keep leftovers refrigerated for up to 3 days.