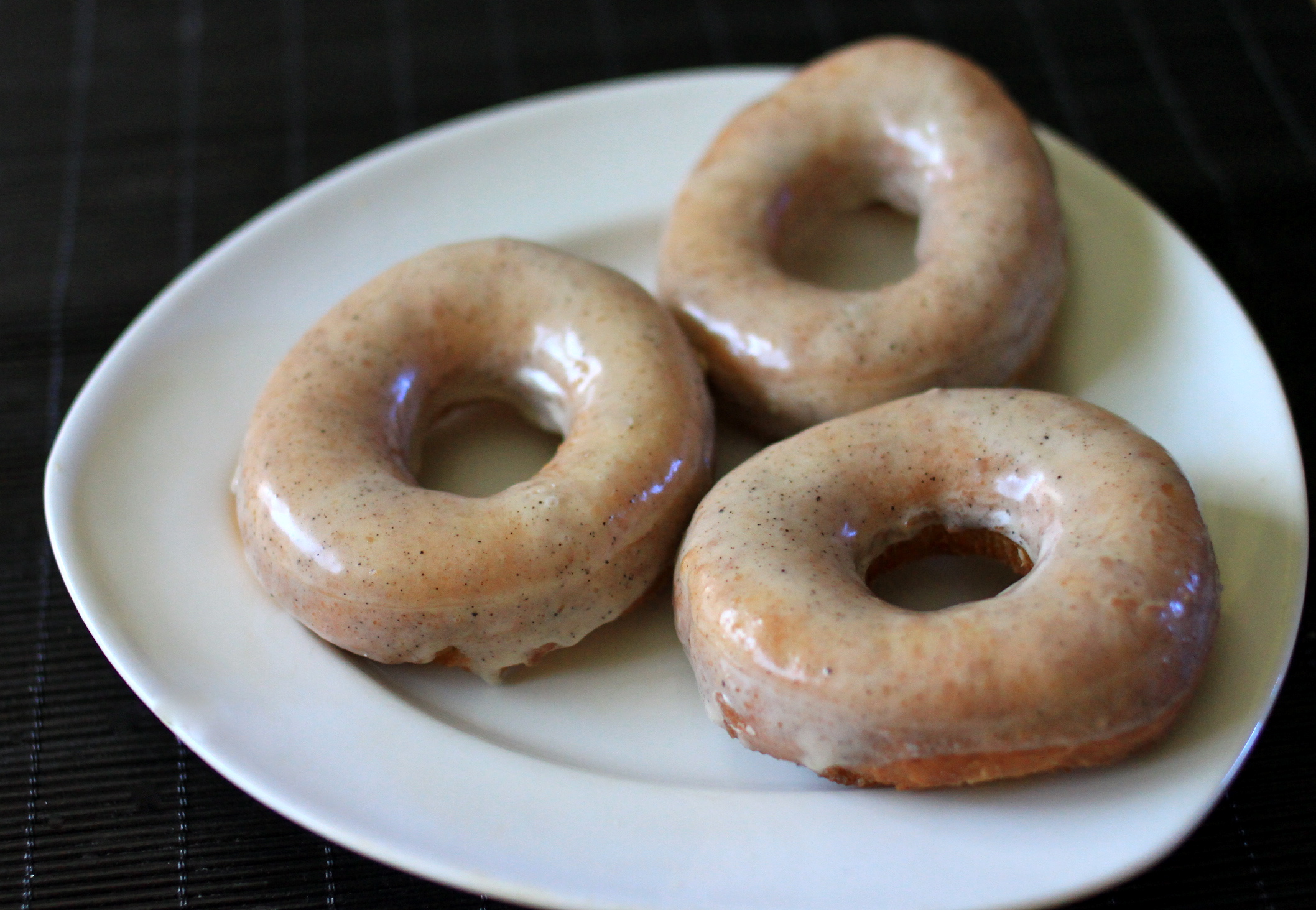 If I could eat fresh hot doughnuts every day without worrying about turning into a doughnut myself, I would absolutely do it. My birthday is in two weeks. I encourage each of you to send me your favorite doughnut. Perhaps by the dozen. (Not seriously/ completely seriously). The beauty of a homemade fried doughnut is that they can go from round raw dough to the fryer, to the glaze, then straight to your mouth. I got into baked doughnuts not too long ago, which are delicious, but an entirely different breed of doughnut.
Have you ever made yeast risen fried doughnuts? They take a little effort, certainly a bit of time, and absolutely love… but it's all worth it. While my father in law was here, he made a request for homemade doughnuts. I don't think he realized I had been making baked doughnuts for the last year; that isn't what he pictured in his head. He wanted a plain, slightly glazed, hot, yeasted, fried doughnut. I can get into that.
When I decided to incorporate my sourdough starter into these doughnuts, I don't think my father in law was thrilled. "You're going to use that in the doughnuts?" he asked, after smelling the sourdough starter… Heck YES. I decided to balance the sourdough with vanilla almond milk (don't you tell him that milk came from nuts and not a cow!) so the sourness wouldn't be overwhelming. I let the dough rise in the fridge overnight (mostly because I didn't want to get up at the crack of dawn the following day to make dough, let it rise, then cut and fry doughnuts), which worked out nicely. It meant half the work was done before bed, and the remaining work would take half as much time.
I love the speckled look of freshly scraped vanilla beans. Since the glaze for these doughnuts dries pretty translucent, the vanilla bean speckles absolutely show up. So you wind up with a melt-in-your-mouth soft doughnut with noticeable nutmeg and cinnamon flavor, topped with a beautiful glaze that invites you to dive right in. Do it.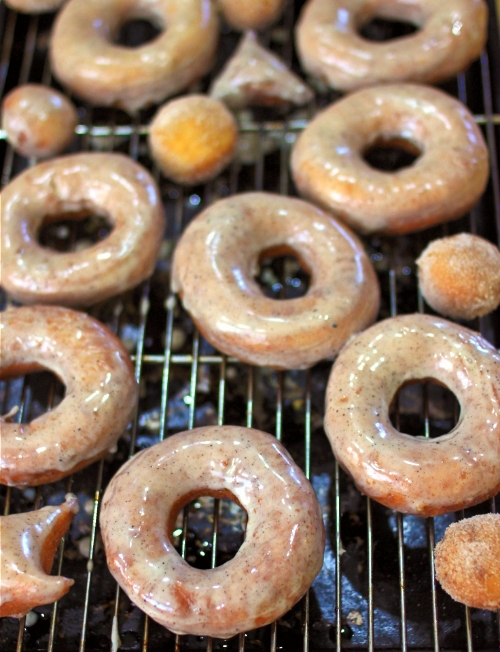 Sourdough Doughnuts with Vanilla Bean Glaze
Yields about 2 dozen doughnuts.
Ingredients:
For the doughnuts:
6 tbsp. granulated sugar
½ cup milk warmed to 85°-95°F (I used vanilla almond milk)
½ cup warm water (85°-95°F)
5 tsp. active yeast
¾ cup sourdough starter
4 large egg yolks
1 tsp. vanilla extract
1 tsp. ground cinnamon
¼ tsp. freshly grated nutmeg
1 tsp. salt
4¾ cups all-purpose flour
7-10 cups canola, vegetable, or sunflower oil for deep frying
For the glaze:
1 cup confectioner's sugar, sifted
1 vanilla bean, scraped
1 tsp. pure vanilla extract
1 tsp. coconut oil, melted
2 tbsp. whole milk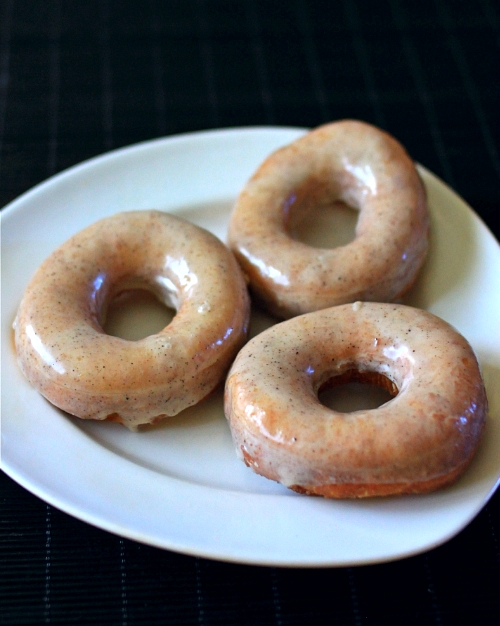 Directions:
In a large mixing bowl (the bowl of your stand mixer, if you have one), stir together the sugar, warm milk and warm water. Sprinkle in the yeast, until it's submerged into the liquid. Let the mixture stand until foamy, 5-ish minutes. If your yeast doesn't foam, toss it out and start again.
Add the sourdough starter, egg yolks, vanilla extract, cinnamon, nutmeg, salt, and two cups of the flour. Mix at low speed. Add the remaining flour, one cup at a time, until a soft dough forms. Increase the speed to medium-high and continue mixing for 3 – 4 minutes.
Scrape all of the dough into the center of the bowl, off the sides, then sprinkle lightly with flour. Cover tightly with plastic wrap and allow the dough to rise in a warm place until doubled in size (1 to 1½ hours). Or, at this point you can tightly wrap the bowl in plastic wrap and refrigerate the dough for 8-12 hours for a slow rise.
Once the dough has doubled in size, turn it out onto a lightly floured surface. Use a floured rolling pin to work the dough into a ½-inch thick round (about 18 inches in diameter). Cut out as many rounds as you can with a 2½ or 3 inch round cutter (or glass jar, drinking glass, etc.). Cut a hole in the center of each round with a 1-inch cutter (shot glass, jar lid, etc.). Transfer the doughnuts along with the cut out centers (doughnut holes!) to a large, lightly floured, baking sheet. Allow the doughnuts to sit at room temperature for 25-30 minutes (40-45 if the dough was refrigerated), until slightly puffed up. Don't re-roll the scraps, although you can cut them into odd shapes for smaller, square-ish doughnuts.
Make the glaze by stirring together all the ingredients. If the glaze seems too thick, add more milk, one tablespoon at a time, until the glaze reaches your preferred consistency. Set aside until needed.
Heat enough oil in a large heavy-bottomed pot, to reach 2½ inches deep, until the oil reaches 350°F. Fry the doughnuts 2 or 3 at a time, turning them with tongs or a wire mesh skimmer, until golden brown on both sides. Transfer to paper towels to drain the excess oil, for about 1 minute, then dip the doughnut into your prepared glaze. Transfer the glazed doughnuts to a cooling rack, allowing the glaze to set for 5-10 minutes before serving. Eat while still warm for best results.