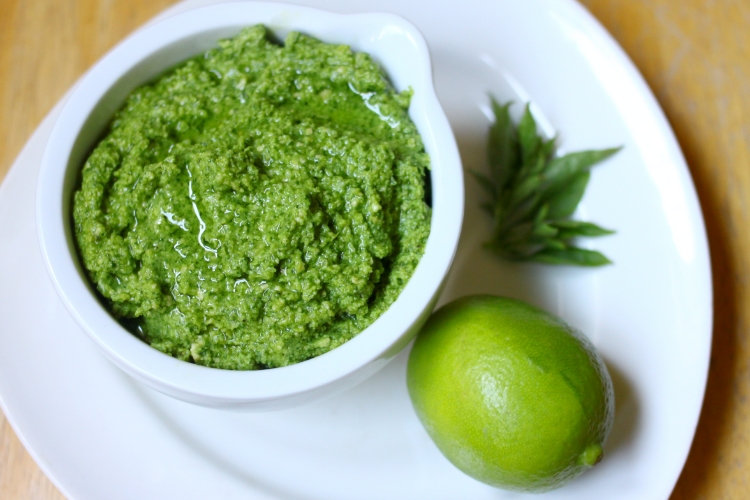 When it comes to summer, one of my favorite widely available ingredients is fresh basil. In the last 6 years, I only successfully grew it once. This year, however, our garden is FILLED with all sorts of basil! Lemon basil, sweet basil, Thai basil, Genovese basil… Seems no matter how often I pick it, there's still mass amounts left. I am ecstatic. I throw it into salads, eggs, waffles, pancakes, on pasta or pizza, into drinks… then there's the ever beautiful pesto.
I've made pesto various ways before. Broccoli pesto? Hand chopped and ground pesto? This version was a lazy-girl pesto. The food processor absolutely did all the work for me, aside from going into my garden and picking the basil. I decided to forego olive oil, simply because I didn't have it on hand. I used hemp oil, which is high in essential fatty acids. Hemp oil is also slightly nutty in flavor and works well in this pesto. The raw cashews offer sweetness, creating a pesto that isn't too overwhelming.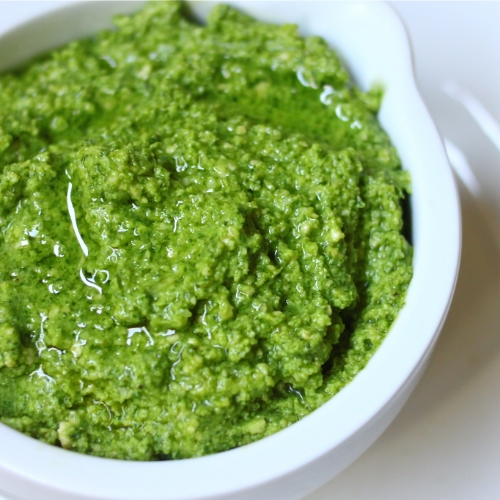 Cashew Basil Pesto
Yields about one cup of pesto.
Ingredients:
2 cups fresh basil, packed
½ cup raw cashews
½ cup grated parmesan cheese
2 cloves garlic
½ cup hemp oil
¼ cup fresh squeezed lime juice
salt and pepper
Directions:
Place the basil, cashews, parmesan cheese, garlic, oil, and lime juice in a food processor or quality blender. Blend until well combined and only small fragments of cashew remain throughout the pesto. Taste, then add salt and pepper to your liking.
Drizzle the top lightly with more oil, cover tightly and refrigerate until needed. Leftovers can be covered tightly and refrigerated for 5-7 days. Stir additional oil in (about 1 teaspoon at a time) to thin the refrigerated pesto if needed.