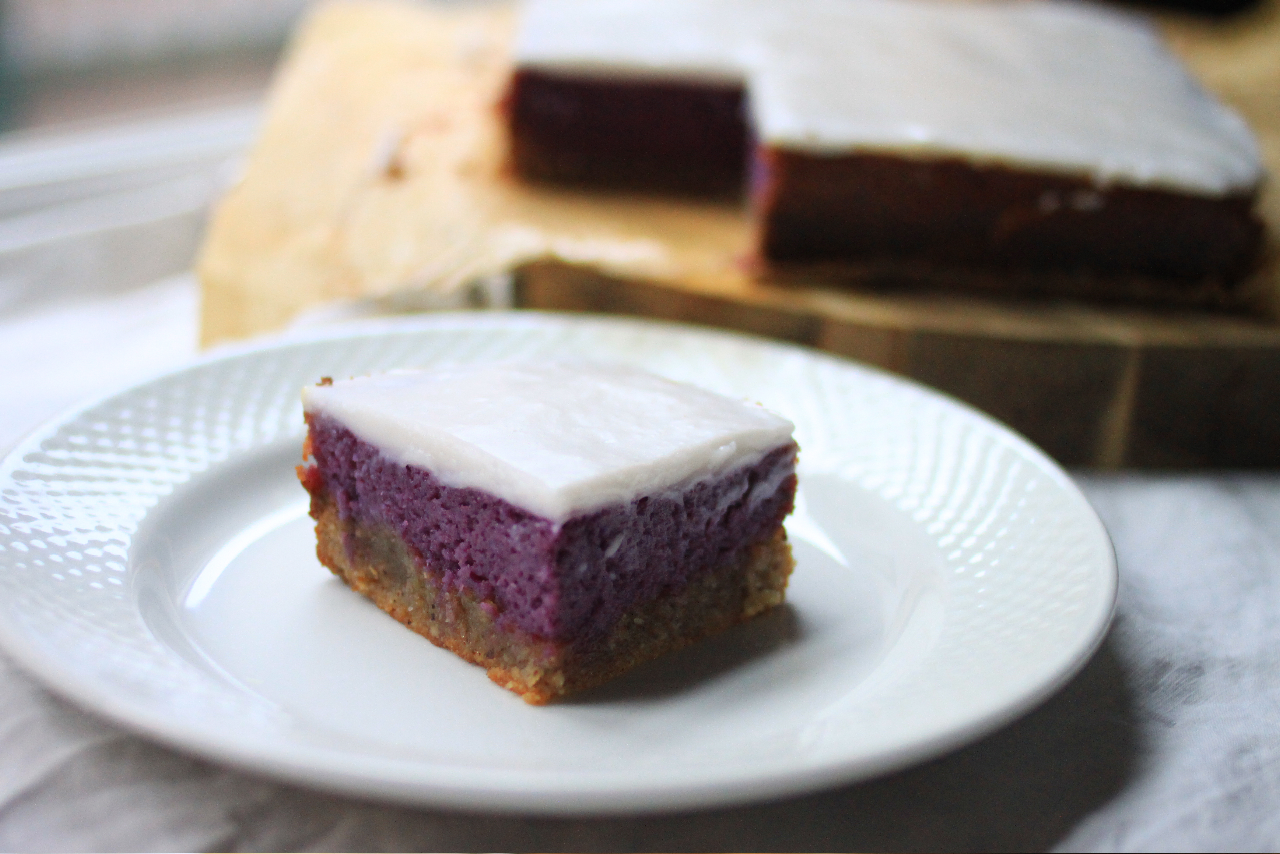 Aside from the ocean, one of the things I miss most about the island I grew up on is the local food. Since a lot of the things I grew up with often include ingredients I can't find in Ashland, or don't quite fit the vegetarian approach I take in cooking, mostly I just reminisce about foods I remember. However, there are other times I get a wild hair and decide to try a new version of an old memory, or past recipe.
Okinawan sweet potatoes are easily found in Hawaii. They have tan skins similar to russet potatoes, but the insides are a brilliant purple. As for flavor, they are sugary sweet. When I was a kid, my mom would boil the potatoes until they were tender. She'd allow them to cool, then slice them in rounds about a half inch thick. Next she's get out a frying pan and melt butter into oil until it was hot, sprinkle in light brown sugar or granulated sugar – whatever we happened to have. She'd carefully lay the sliced potatoes into the butter and sugar, cooking it slowly over medium-low heat until they began to crystallize. She'd gently turn each slice, caramelizing the other side. Next, the potatoes were transferred to a large plate where I very impatiently waited for them to cool (and all too often burnt the shit out of my mouth because I couldn't wait long enough). Sometimes we'd cook these together at 10, 11 o'clock when I should've been in bed. Most recently mom cooked some of these while we were on Kaua'i in August. I remembered how much I missed the flavor and the experience.
In Hawaii, you will often see Okinawan sweet potato pies, similar to the sweet potato pies down south, or the ones that pop up around Thanksgiving. My favorite local version though, is an Okinawan sweet potato haupia pie. Haupia is a traditional Hawaiian pudding that's made with coconut milk and Polynesian arrowroot (similar to the cornstarch we find in most recipes today).  The sweet potato and coconut pudding together are wonderful in both texture and flavor.
I've looked for nearly a decade, for these Okinawan sweet potatoes here in Ashland. Once I saw Japanese sweet potatoes, which have the same outer skin color… but lo and behold when I got home, much to my disappointment these potatoes were white and starchy inside. However, the other day I was grocery shopping and saw a sign that read "purple sweet potatoes." The skins were dark, like yams, but I knew they're be close enough… Certainly close enough to make something that memories of my childhood exist on. So I bought some and decided to recreate the sweet potato haupia pie I'd been dreaming of for years.
For the recipe, I opted for a gluten free crust. I don't have any reason for doing this, other than it sounded like a good idea at the time. This purple sweet potatoes worked perfectly. And the color? This pie's gorgeous purple hue is enticing all on its own! It begs you to come give it a try, guaranteeing that you won't just have one piece.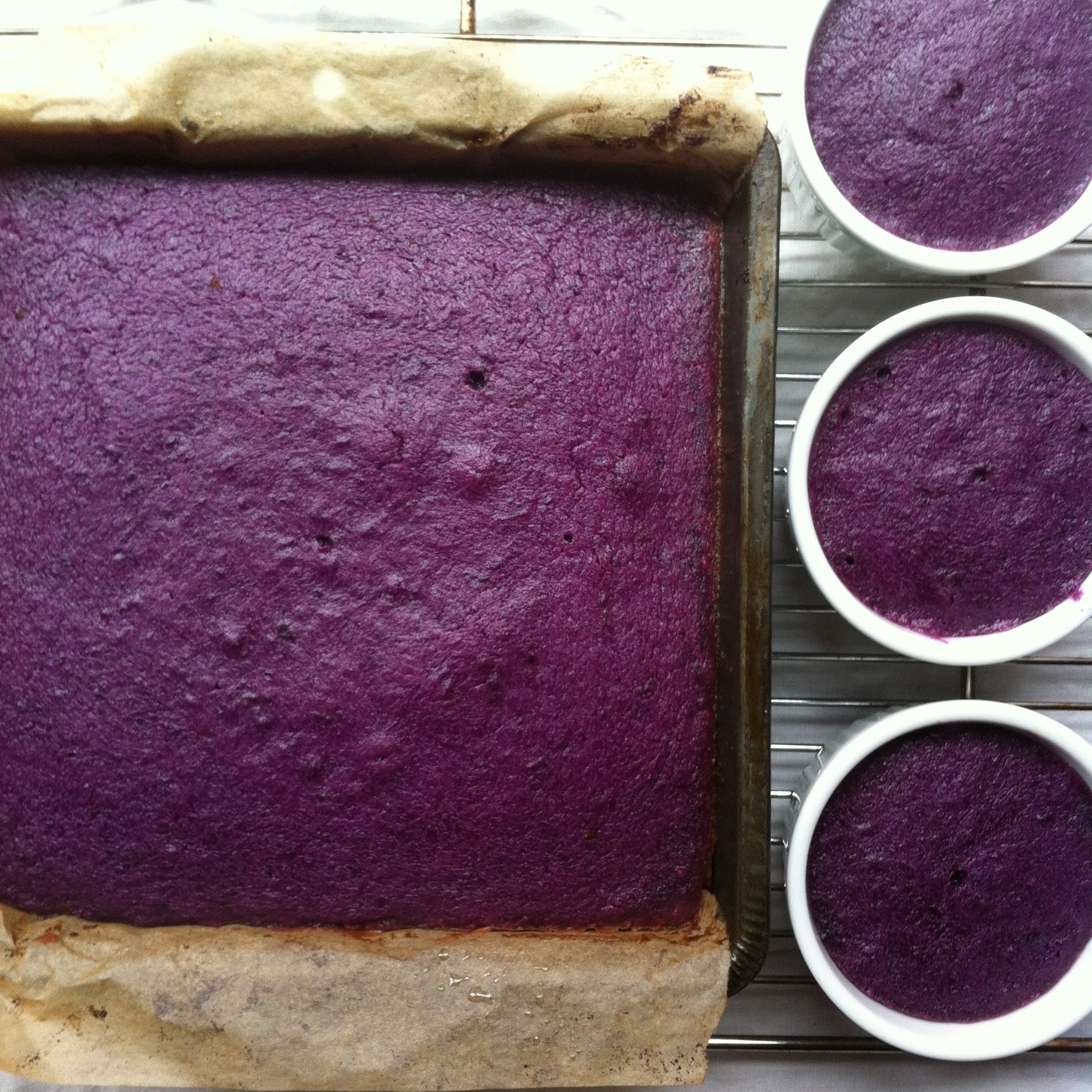 Purple Sweet Potato + Haupia Squares with a Gluten-Free Crust
Ingredients:
For the crust:
3/4 cup almond meal/flour
1/4 cup sorghum flour
3 tablespoons oat flour
1 tablespoon coconut flour
1/4 cup hazelnuts, chopped fine
1/2 teaspoon ground cinnamon
1/4 cup granulated sugar
1/2 teaspoon salt
1 stick unsalted butter, cold
6-8 tablespoons ice cold water
For the sweet potato filling:
1 stick unsalted butter, room temperature
1 cup granulated sugar
2 large eggs, room temperature
2-3 medium purple sweet potatoes (2 cups mashed)
1/2 cup evaporated milk
1/4 teaspoon salt
For the haupia topping:
3/4 cup whole fat canned coconut milk
3/4 cup whole milk
1/2 teaspoon good quality vanilla extract
3 tablespoons fine sugar
3 tablespoons cornstarch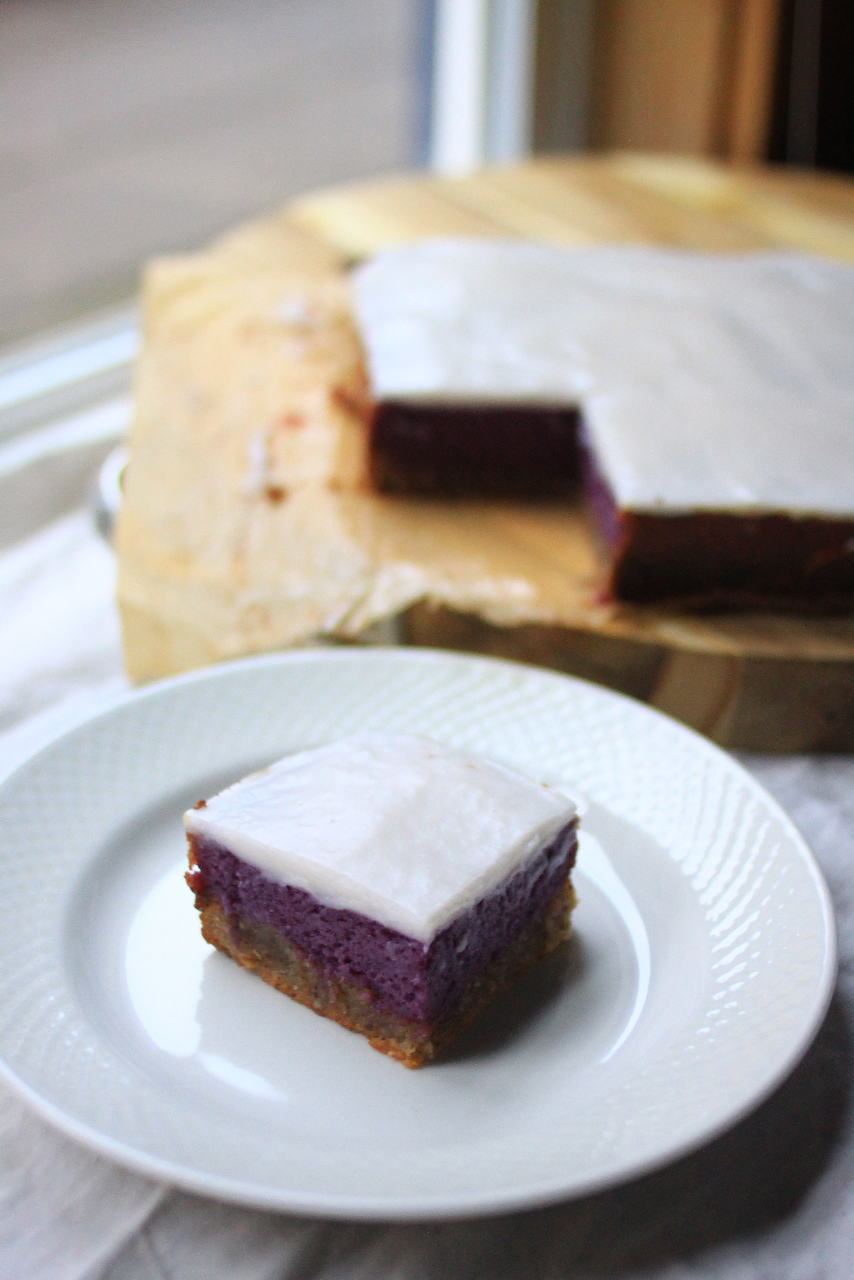 Directions:
Prepare the crust:
In a large mixing bowl, mix together the almond meal, sorghum flour, oat flour, coconut flour, chopped hazelnuts, cinnamon, sugar, and salt.  Cut in the cold butter, until the mixture resembles coarse, pea-sized crumbs. Add four tablespoons of ice water to the dough mixture, using a fork to mix everything until the mixture just comes together. If the dough is dry, add another tablespoon of ice water (repeat as necessary). Refrigerate the dough for at least one hour.
Preheat your oven to 350 degrees F. Line a 9 x 9-inch square pan with parchment paper, allowing the parchment to hang over two of the sides. Remove the dough from your fridge. Press the dough evenly into the bottom of your parchment-lined square pan.  Use a fork to poke holes in the bottom of the crust a few times. Line the crust with parchment paper or aluminum foil. Fill at least two-thirds full with pie weights or dry beans. Bake with the weights for 20 minutes. Remove from oven, cool a few minutes and carefully remove the weights. Poke small holes in the bottom of the crust with a fork and return it to the oven to cook for 10 more minutes, until the crust is golden. Set aside to let the crust cool completely.
Prepare the sweet potato filling:
Place the potatoes in a small pot then cover them with cold water. Bring the water to boiling, cooking the potatoes until they are fork tender (20-25 minutes). Once the potatoes are tender, drain them from the water and allow them to cool completely. Once the potatoes have cooled, peel them and then mash them until there aren't any chunks remaining.
In a stand mixer, cream the butter and sugar together until light and fluffy (2-4 minutes). Add the eggs, one at a time until each one is fully incorporated. Stir in the mashed sweet potatoes until fully incorporated. Next, stir in the evaporated milk and salt, mixing until smooth and light purple in color.
Pour the sweet potato mixture into you FULLY COOLED crust. Bake for 30-35 minutes, until a toothpick inserted in the center comes out clean. Allow the pie to cool to room temperature.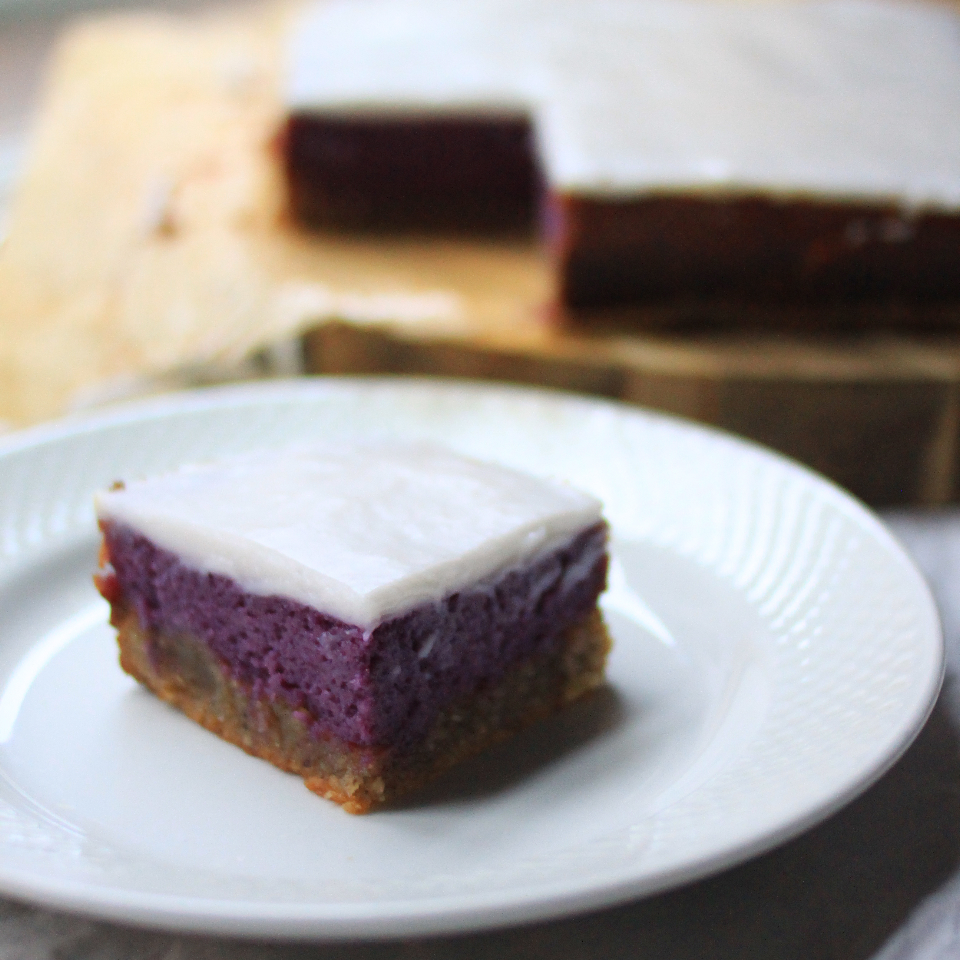 Prepare the haupia once the pie has cooled:
In a medium saucepan, whisk together the cornstarch and sugar. Stir in the two types of milk and vanilla. Turn the heat on to medium-low. Continue whisking the mixture over medium-low heat until it begins to thicken up (this can take anywhere from 15-20 minutes).  Once the mixture thickens, continue whisking for an additional 10 minutes. Turn off heat.
Slowly pour the coconut mixture over the sweet potato layer of your pie. Use a spatula to smooth it out if needed, working quickly because it will start to set as it cools and become more difficult to work with.
Refrigerate the pie at least until the haupia fully sets (30 – 45 minutes). You can refrigerate it longer if desired.
When it's time to serve, run a knife along the sides of your pan without the parchment overhang. Then gently lift the two overhanging pieces at once, transferring the pie to a cutting board or other flat surface. Cut into either 9 squares or 16 smaller squares. Serve and enjoy.
Refrigerate leftovers, but eat them within 2-3 days.