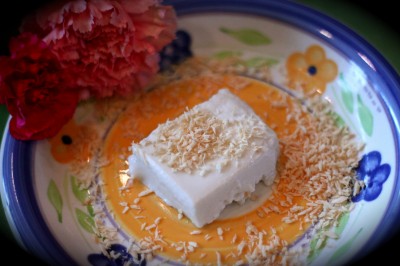 Some times I get homesick. I've lived in Oregon for over eight years now, but Kauai will always be a part of me. Besides, I still have family–blood related and not–living there. Mostly I get homesick for the ocean; being able to jump into that warm clear water at any given time, rain or shine. Without a wetsuit. But there are a lot of times where I miss the food I grew up eating equally as much. Hawaii's the best for culturally diverse foods that all manage to come together… You can go to potlucks or family parties, where you'll find home cooked Chinese, Hawaiian, Japanese, Filipino, Korean, American, and Portuguese food covering the tables.
A couple weeks ago, I saw a recipe for homemade haupia (how-pee-uh): a traditional Hawaiian dessert made with fresh coconut milk. Considering its ingredients, it's a pudding… but in consistency, haupia is actually more similar to gelatin, cut into squares when served. Although I had never eaten haupia topped with anything, I sprinkled the top with toasted unsweetened coconut before serving. It added a nice contrast to the creamy, soft haupia. This recipe is really simple. The secret is low heat and a lot of stirring. (The secret to any homemade pudding, really.)
Homemade Haupia 
Ingredients:
1½ cups whole fat canned coconut milk
1½ cups whole milk (sub soy or almond for a vegan version)
1 tsp. good quality vanilla extract
6 tbsp. fine sugar
6 tbsp. cornstarch or arrowroot powder
¼ cup toasted unsweetened coconut (optional)
Directions:
In a small pot, whisk together the sugar and cornstarch/arrowroot until they're well combined. Whisk in the two types of milk and vanilla. Turn the heat on to medium-low.
Continue to whisk the mixture over low heat until it begins to thicken up (this can take anywhere from 15-20 minutes).  Once the mixture thickens, continue whisking for an additional 10 minutes. Turn off heat.
Pour the mixture into an 8-inch square pan. Allow the mixture to sit at room temperature for about 15 minutes, then cover with plastic wrap and refrigerate for at least 1 hour.
Cut into 16 squares and serve cold, sprinkled with toasted coconut if you want.
Enjoy!