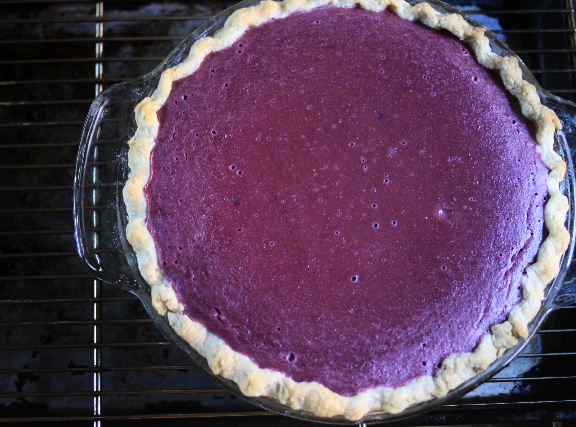 'Tis the season to go blog MIA (apparently). Things have been crazy and busy – life, travel, crazy weather, the holidays… Every day appears to fade right into the next. We aren't even going to talk about how Christmas is next week. Luckily I got my parents' and siblings' gifts in the mail on time this year (a first, possibly). Our kitchen has been busy with other gift making concoctions and at the end of the day, when I stop moving finally, writing some lengthy post is not on my preferred list of things to do (like, you know, sleep).
That said, I have been meaning to share this recipe for a month. I recently (okay maybe not that recently) wrote about these sweet potato haupia pie squares. When Thanksgiving rolled around, I knew I wanted to make a sweet potato pie. I remembered the gorgeous color of those purple sweet potatoes and decided to give it a try. The result was a gorgeous colored, wonderfully tasting, pie. The crust is light and flaky, the filling smells like holidays and delivers a taste bud explosion.
I used Joy the Baker's recipe for her dad's famous sweet potato pie as a basis for this pie. I had a half-brain notion to make two sweet potato pies – this one and the traditional yammy orange colored variety… But really since we were only having dinner for 3, dessert for 5, two pies of the same variety (more or less) seemed like overkill. If you cannot find purple sweet potatoes, yams will easily suffice!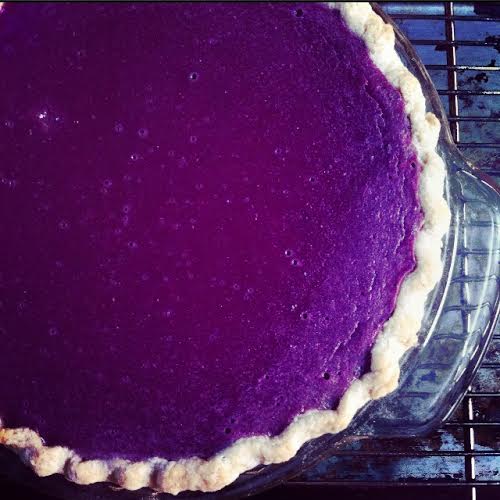 Purple Sweet Potato Pie
Yields one 9-inch pie.
Ingredients:
For the crust:
2 1/2 cups all-purpose flour
1/2 teaspoon ground cinnamon
1/4 teaspoon fresh ground nutmeg
1/4 cup cane sugar
1/2 teaspoon salt
1/2 cup unsalted butter, cold
6 tablespoons vegetable shortening
6-8 tablespoons ice cold water
For the filling:
2 medium sweet potatoes (yields 2 cups mashed cooked sweet potatoes)
3/4 cup packed light brown sugar
1 1/4 teaspoon ground coriander
1/2 teaspoon freshly grated nutmeg
1/2 teaspoon cinnamon
1/4 teaspoon salt
1/4 teaspoon ground cloves
1/4 cup (2 ounces) unsalted butter
1 1/4 cup (10 ounces) evaporated milk, divided
1/3 cup granulated sugar
3 large eggs
1 tablespoon pure vanilla extract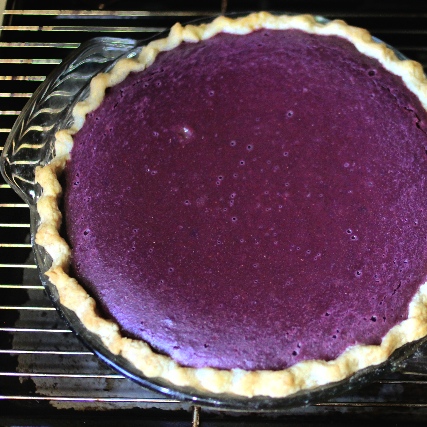 Directions:
Make the dough for your pie crust: In a large mixing bowl, combine the flour, ground cinnamon, nutmeg, sugar, and salt. Mix until well combined. Cut in the butter and shortening. (My preferred way to do this is by using a box grater to add in the butter. Once the whole stick has been grated, I add in my shortening, then use my hands to mix everything together into what resembles really coarse cornmeal.) Mix the dry ingredients, butter, and shortening together until the mixture resembles coarse cornmeal. Add in the ice cold water one tablespoon at a time. Use your hands to mix everything together until the dough just comes together. (You may need more/less water, but remember to add it just one tablespoon at a time.) Flatten into a disc and wrap tightly in plastic wrap. Refrigerate for a minimum of one hour.
Prepare the pie filling: Peel the sweet potatoes, then dice them into large, 3-inch chunks.  Place the potatoes in a large pot and cover with cold water.  Bring to a boil over medium-high heat. Once the water reaches boiling, reduce the heat to medium. Simmer until the potatoes are completely tender, about 20 minutes.  Test the done-ness of the potatoes using a thin knife or fork. If the knife/fork is met with any resistance, simmer the potatoes a bit longer. Drain the potatoes in a colander.
In the same large pot, add the cooked  potato pieces, the packed brown sugar, all of the spices, salt, butter, and half of the evaporated milk. Over low heat, use a potato masher to mash the potatoes as they cook.  Simmer for 5-10 minutes.  Make sure the mixture is as smooth as possible. Once the mixture is smooth and fragrant, remove from the heat and let it cool.
In a medium bowl, combine the remaining evaporated milk, granulated sugar, eggs, and vanilla, whisking well.  Pour the egg mixture into the warm sweet potato mixture. Set aside until needed.
Make your pie: Preheat your oven to 375 degrees F. On a lightly floured surface, roll the refrigerated dough into a circle about 1/8-inch thick. Transfer it to a pie pan.  Trim the edges until only a 1/2-inch of overhang from the edge of the pan is left.  Fold the edges under and crimp with your fingers.
Pour the prepared filling into the pie crust.  Place on a baking sheet and bake for 10 minutes at 375 degrees F.  Reduce the heat to 325 degrees F and bake until the filling is completely cooked through, about 50 to 55 minutes. If you lightly shake the baking sheet, the center of the pie should minimally jiggle. If it appears too jiggly, return the pie to the oven for an addition 5-10 minutes, or as needed.
Transfer the cooked pie (in the dish) to a cooling rack. Let the pie cool to room temperature before cutting and serving. Leftovers can be wrapped and refrigerated up to 3 days. (This pie is delicious cold, too!)