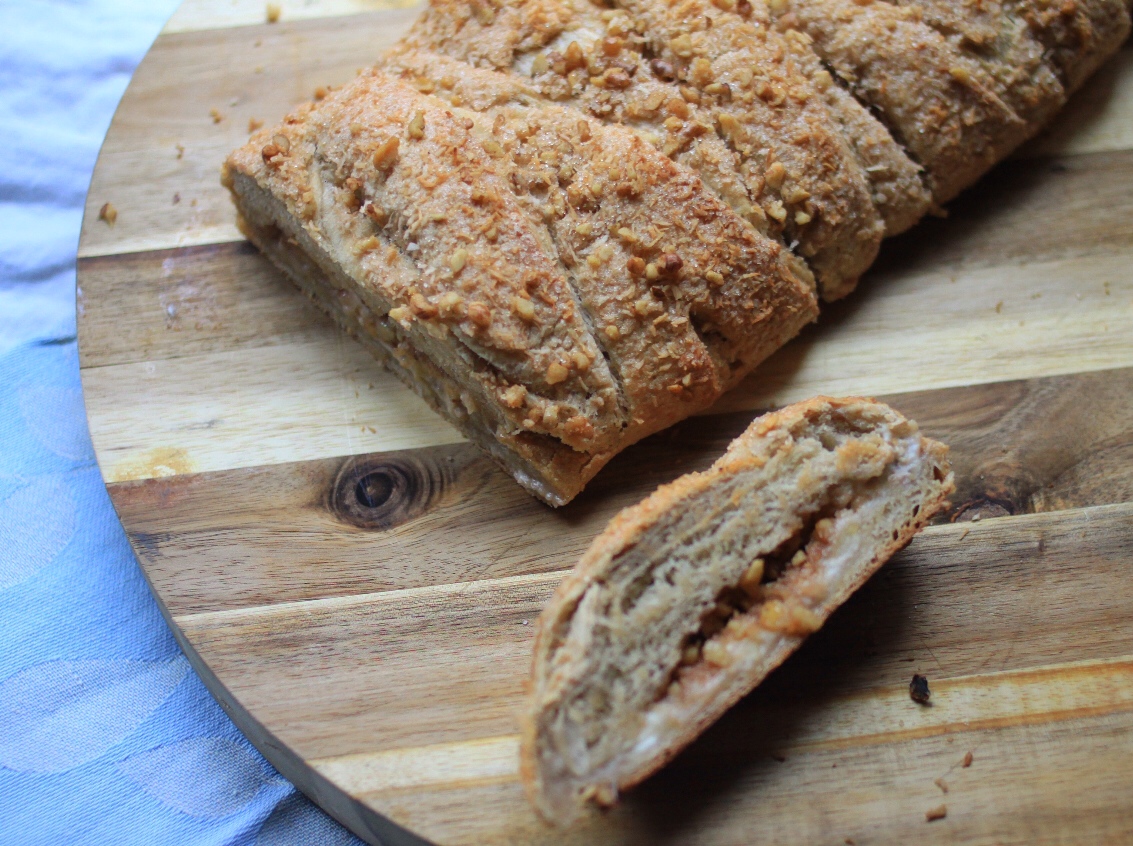 When it comes to food, I'd say I am pretty open to trying new things. Whether it's cooking new recipes or being willing to eat new foods, I'm all in. There are certain times when a meal or particular dish is prefaced with, "So I tried a new spin on ______…" or "Okay, I know you're used to ______ being like ______, but let's just say I tweaked a few things…" Most times these sentences are not to be feared. If you're in the hospital operating room and the doctor starts using sentences like those, then being terrified is entirely justifiable. But we're talking about banana bread, not brain surgery, so we're probably okay for now.
The other day I realized we had half a dozen bananas going from ripe to overripe quickly. I do have a go-to banana bread recipe, but wanted to try something new. With traditional banana bread that borders on cake just as much as bread, I find it hard to keep myself from eating too many slices. I thought if I made this loaf into a yeast bread, I'd be more apt to stop at one slice (I was still wrong).
I'd been seeing braided breads of various sorts for years, but never really felt the need to try them out. Among these recipes is always one of my favorite things: cream cheese pastries with some sort of fruit filling. I decided I wanted to make a bread that tasted like bananas, but also had a filling to bring out that banana flavor with even more intensity. I used bananas both in the dough and the filling , but this bread isn't overly sweet. It can be served as dessert, as a breakfast pastry type affair, or merely eaten because that sounds good to you.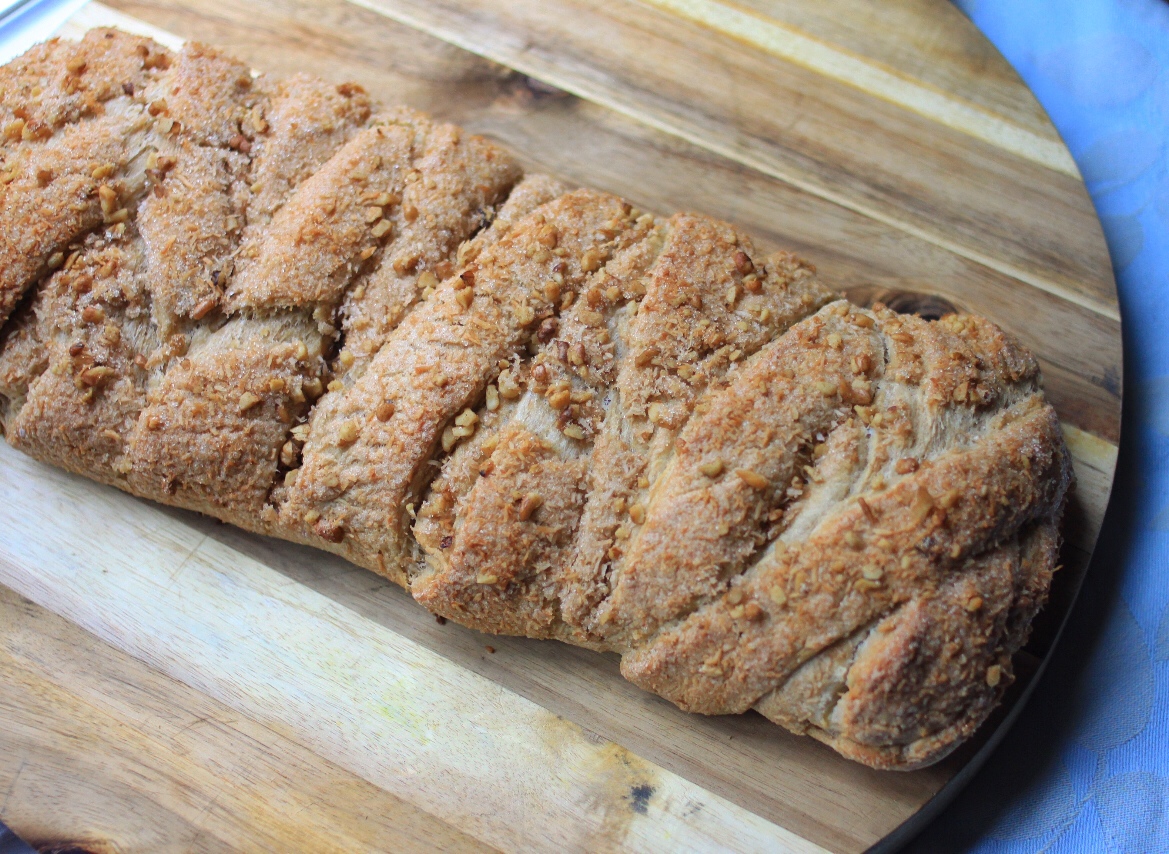 Braided Banana Bread with Walnut Coconut Cream Cheese Filling
Yields one large loaf.
Ingredients:
For the bread:
1 1/3 cups warm water
3 tablespoons unrefined cane sugar
2 teaspoons yeast
1 teaspoon salt
1 teaspoon ground cinnamon
2 medium very ripe bananas, mashed well (about 1 cup, mashed)
1 large egg
1 teaspoon vanilla extract
4 1/2 cups all-purpose white wheat flour
For the filling:
1/2 cup unrefined cane sugar
1/2 cup chopped walnuts
1/4 cup finely shredded unsweetened coconut flakes
1 teaspoon ground cinnamon
1 very ripe banana, mashed
4 ounces cream cheese, room temperature
3 tablespoons heavy cream
Directions:

Prepare the dough: in the bowl of your stand mixer, dissolve the sugar into your warm water. Sprinkle in the yeast, giving it a good swirl with your finger to submerge the yeast. Allow the mixture to sit for 5-7 minutes, until it's frothy and bubbly. Attach the paddle to your mixer. Add in the salt, cinnamon, mashed bananas, egg, and vanilla then mix until everything is well incorporated (1-2 minutes). Attach the dough hook to your stand mixer, then add the flour, about one cup at a time, mixing well until the dough comes together into a soft, slightly sticky ball of dough. If you need more flour, add additional flour about two tablespoons at a time, just until your dough comes together. Turn the dough out to a lightly floured surface. Knead 10-15 times, then place the dough in a lightly greased bowl, turning once to coat. Cover the bowl with plastic wrap and set in a warm place until doubled in size (about 1 hour).
Prepare the filling: In a bowl, stir together the sugar, walnuts, coconut flakes, and cinnamon. In another small bowl, mix together the softened cream cheese and bananas (you can do this with a fork or a mixer). Blend the cream cheese and bananas until smooth. Set aside.
Making the bread: Preheat your oven to 375 degrees F. Line a large baking sheet (preferably rimmed) with parchment paper. Lightly grease the parchment. Set aside until needed.
Turn the dough out to a floured surface. Roll the dough out into a rectangle that is about 18″ X 12″. Transfer the dough to your prepared baking sheet. Use a pizza cutter of paring knife to cut the outer thirds of dough into ¾-inch strips so that the cuts are diagonal to the center of the dough, like this: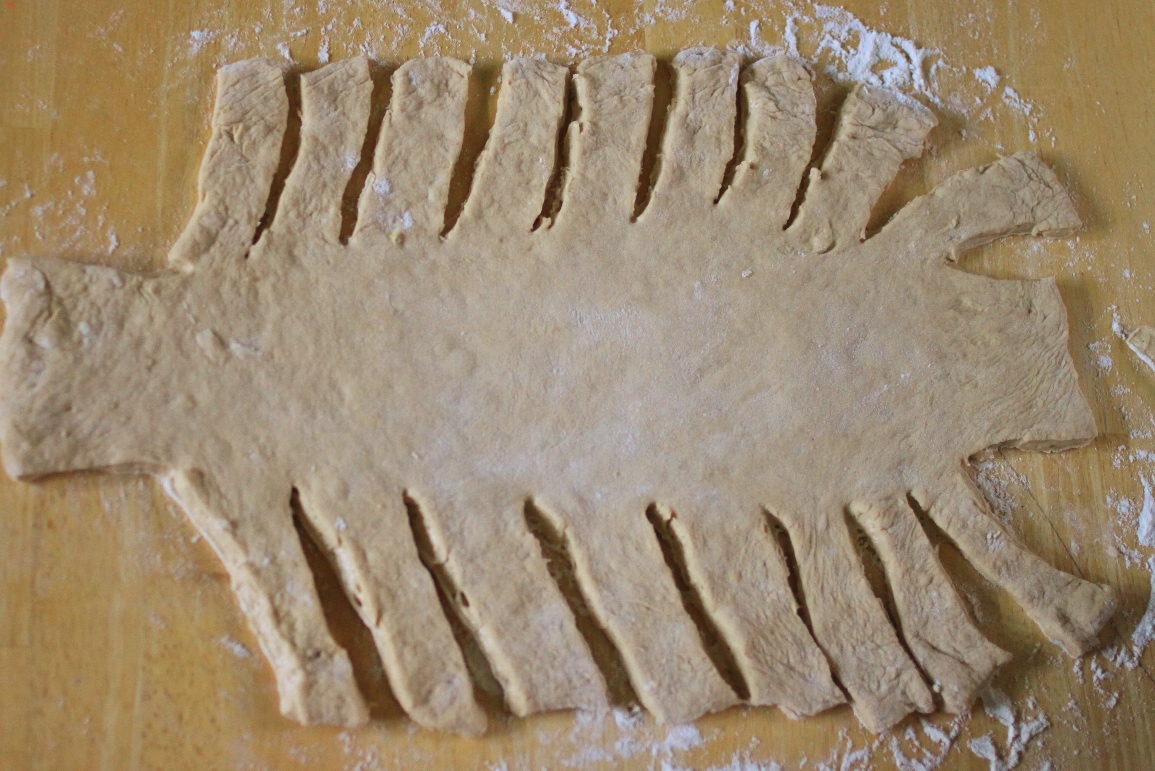 Use better math skills than me, however, and keep an equal number of strips on each side. You should wind up with 8-10 strips on each side.
Spread the cream cheese mixture in the center of the dough, but not over the flaps at each end (see photo below). Sprinkle 2/3 of the cinnamon walnut filling over the cream cheese mixture. Fold the end flaps in towards the center of the dough, over the filling. Like: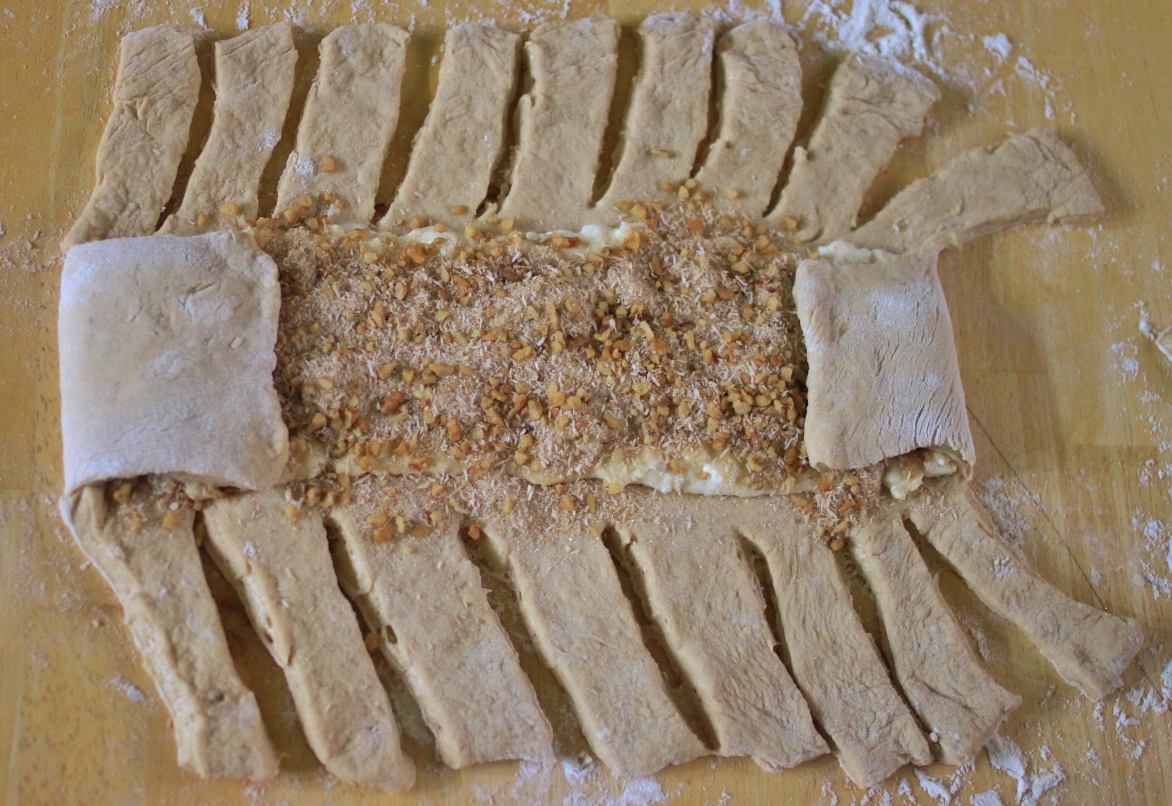 Next, alternate sides, folding the strips of dough over the filling, crisscrossing the strips over the center, until the entire entire loaf is braided.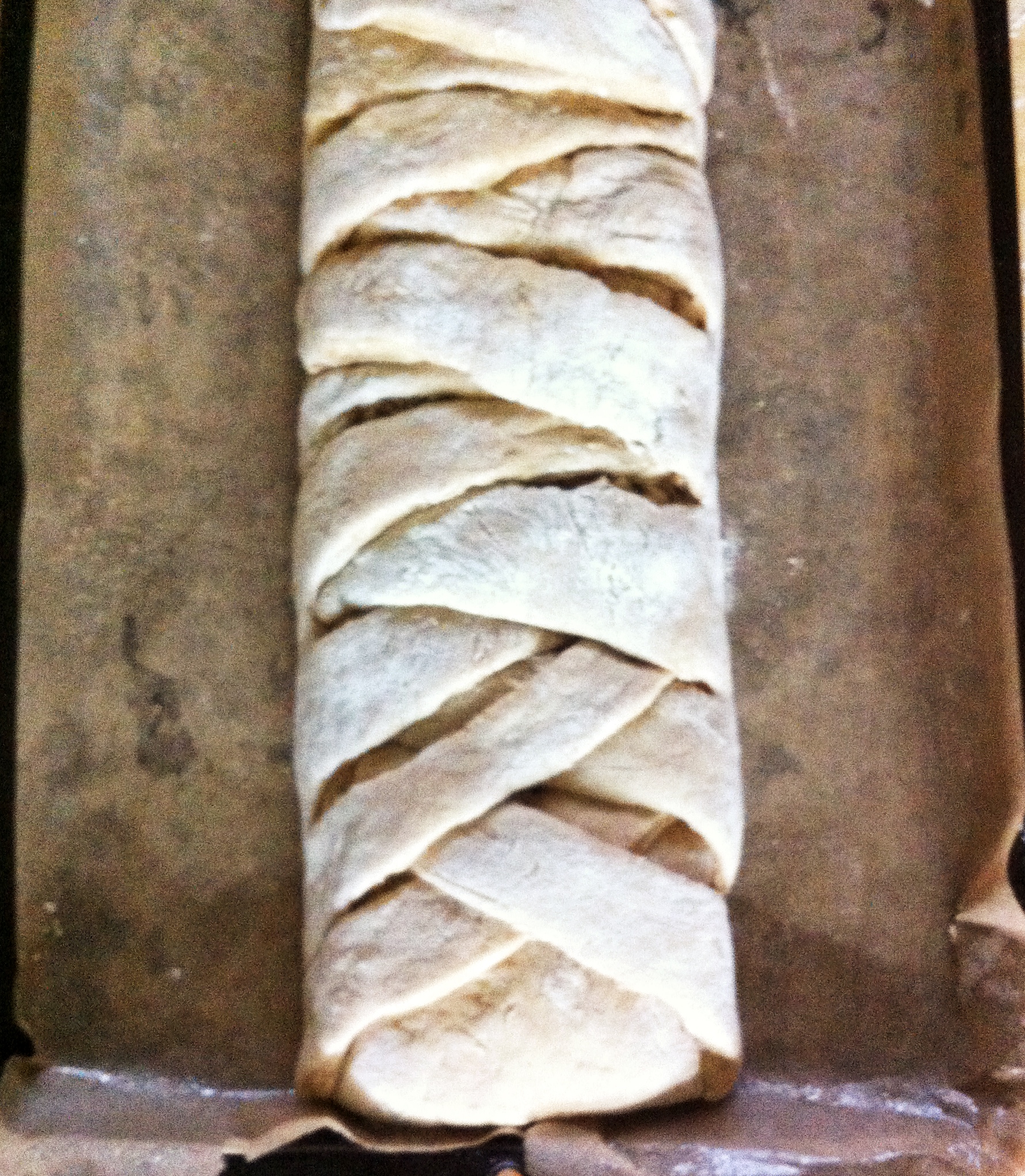 Brush the top of the braided loaf with the heavy cream, then sprinkle the remaining cinnamon walnut mixture evenly over the top. Cover loosely with plastic wrap and rise at room temperature until slightly puffy (it will not double), about 20 minutes.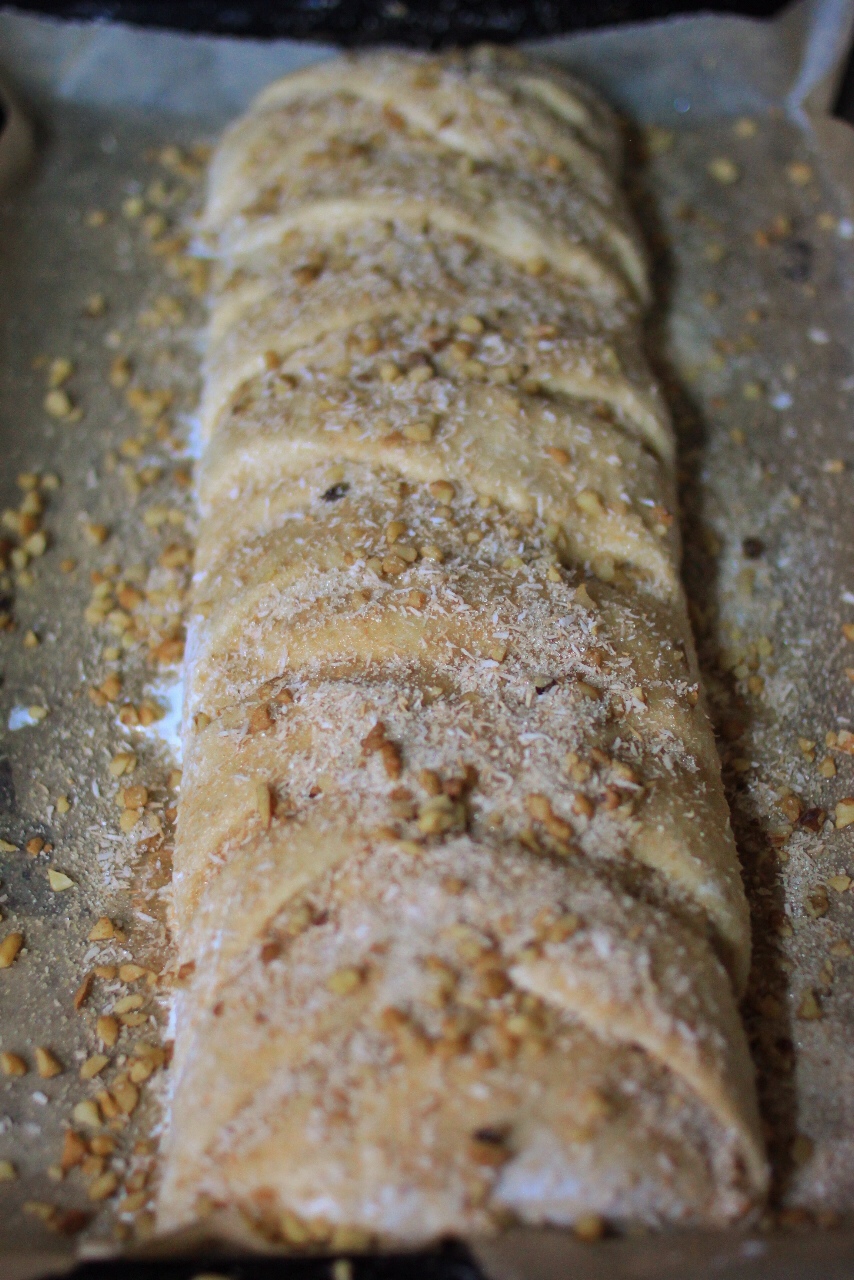 Bake until the braid is golden brown in color, 30-35 minutes, rotating the baking sheet halfway through baking. Let the bread cool in the pan for 10 minutes, then transfer the loaf to a cooling rack. For easiest cutting, allow the bread to come to room temperature.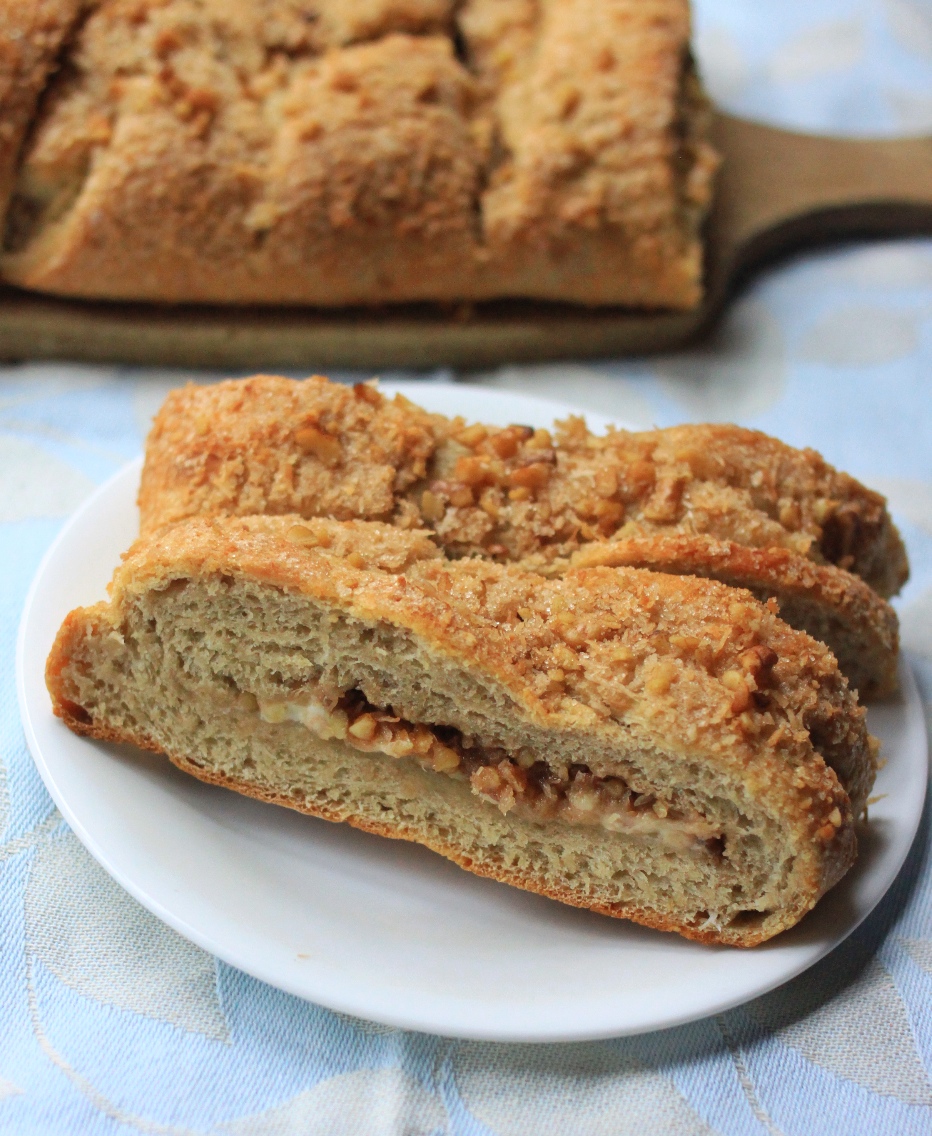 Keep leftovers in an airtight container or ziploc bag. Eat within 2-3 days for best flavor.