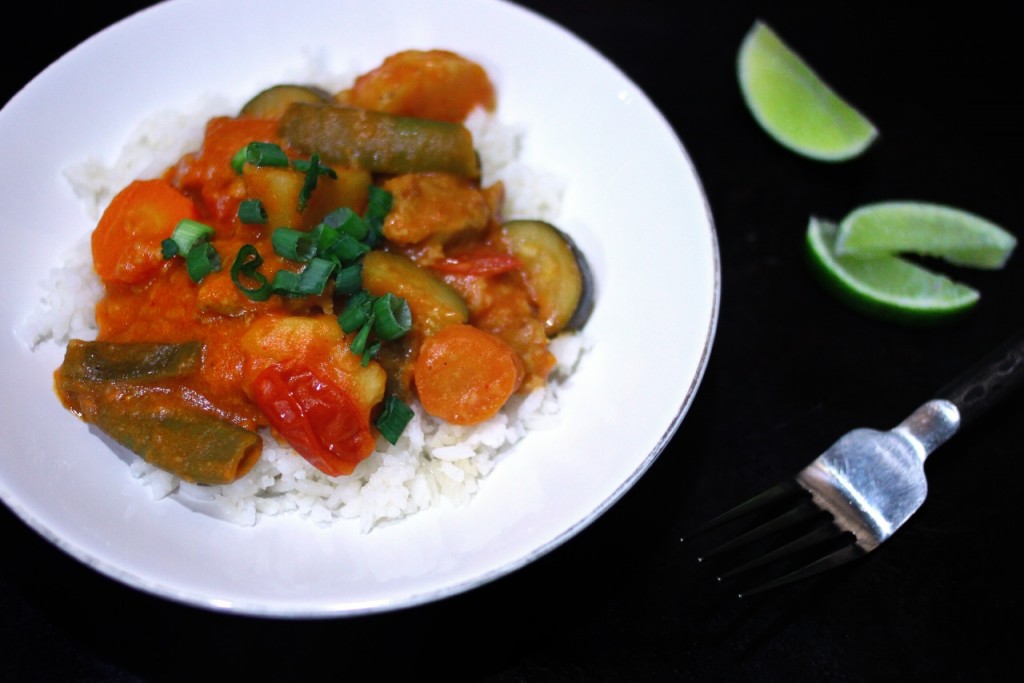 First of all, I know – it isn't Monday. Meatless Monday on Tuesday? Why not? For the last week, I've been in the process of transferring this blog to Bluehost as an attempt at self-hosting.
Can I tell you something?  This has been the most aggravating thing since my college chemistry and math classes. Today has delivered frustrated tears, an approximated ten billion curse words yelled, rather than muttered under my breath, and certainly the question of "what are you doing, Julie?" Let's not talk about my husband's (rightful) accusation of, "What's wrong now – are you still grumpy?" Hell yes I've been grumpy. The coding is over my head. The processes are tedious and out of my current comprehension. I feel like a child, screwing up but never really learning anything in the process. I screwed up this afternoon and suddenly all that was left of my three years of blogging was a blank, white screen. I almost had a panic attack (but figured it out and drank a beer instead).
Anyway, my blog has transferred. You don't have to do a dang thing to keep following (if you've been following). It looks a little different, I'm excited for future blogging. In the meantime, I want to remember the important thing in all of this: the readers and the food.
So, I give you this recipe. An easy vegetarian red curry laden with vegetables, seitan, and delicious coconut milk. If you don't want to use seitan, you can easily substitute tofu or more vegetables of your choosing. I would probably add more potatoes if I left the veggie meat out – they are my favorite in curries of any sort. There's nothing aggravating about this curry; it's sweetly spicy and extremely filling, bright, and boldly flavored. Enjoy!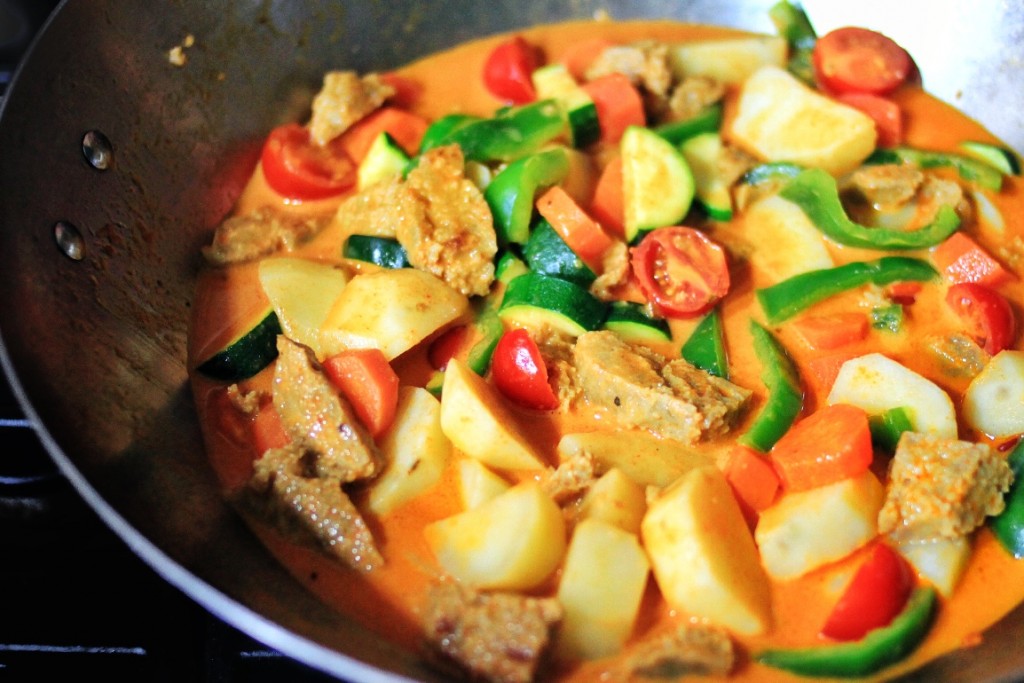 Red Coconut Curry with Seitan 
Serves 4 to 6.
3 or 4 Yukon gold potatoes, peeled then cut into bite-sized cubes
2 large carrots, peeled then sliced in rounds 1/4-inch thick
1 tablespoon sesame oil
8 ounces seitan, in bite sized pieces
1 small zucchini, cut in half lengthwise, then cut in half-moons about 1/4-inch thick
15 – 20 sugar snap peas, ends trimmed
1 small red or green bell pepper, ribs and seeds removed, then cut into bite sized pieces
2 tablespoon fresh ginger, minced
3-6 tablespoons red curry paste
one 13.66 ounce can full-fat coconut milk
1 tablespoon cornstarch
3/4 cup No-Chicken broth or vegetable broth
10-15 cherry tomatoes, halved
2 limes
salt, to taste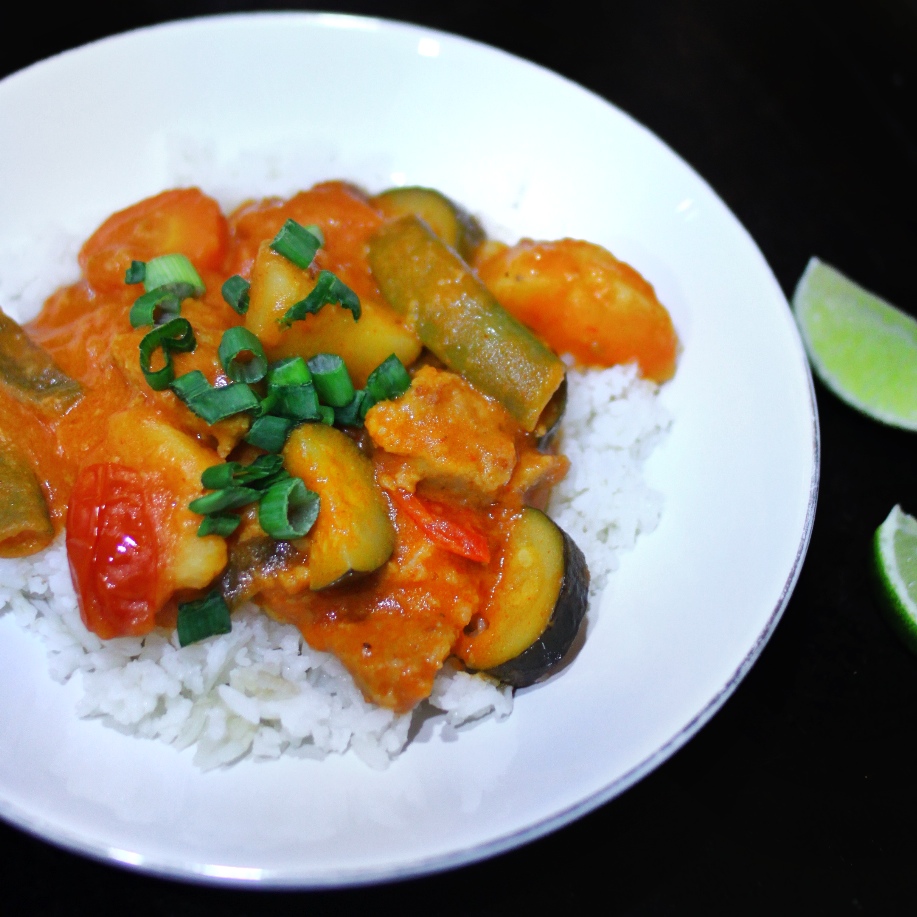 Directions:
In a medium sized pot, combine the diced potatoes and carrots. Cover completely with water, then bring to a boil just until the vegetables are tender, but not falling apart (10-12 minutes). Drain and run cold water over the cooked vegetables to stop the cooking process.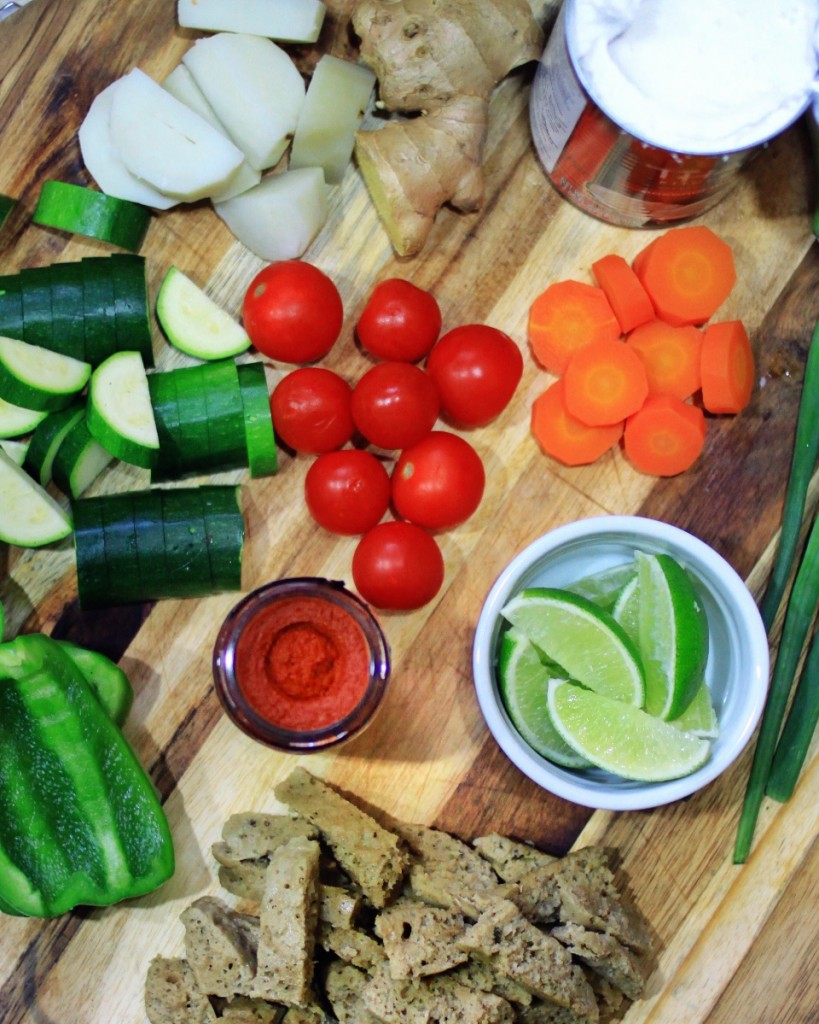 In a large wok, heat the sesame oil over medium-high. Once the oil is hot, add the seitan. Stirring frequently, saute until the seitan is lightly browned.
Add the sliced zucchini, snap peas, bell pepper, potatoes, carrots, and ginger. Gently stir everything to combine the ingredients well, cooking until fragrant with the ginger and sesame oil.
Meanwhile, in a small bowl, combine the cornstarch and about two tablespoons of the coconut milk. Stir until completely combined.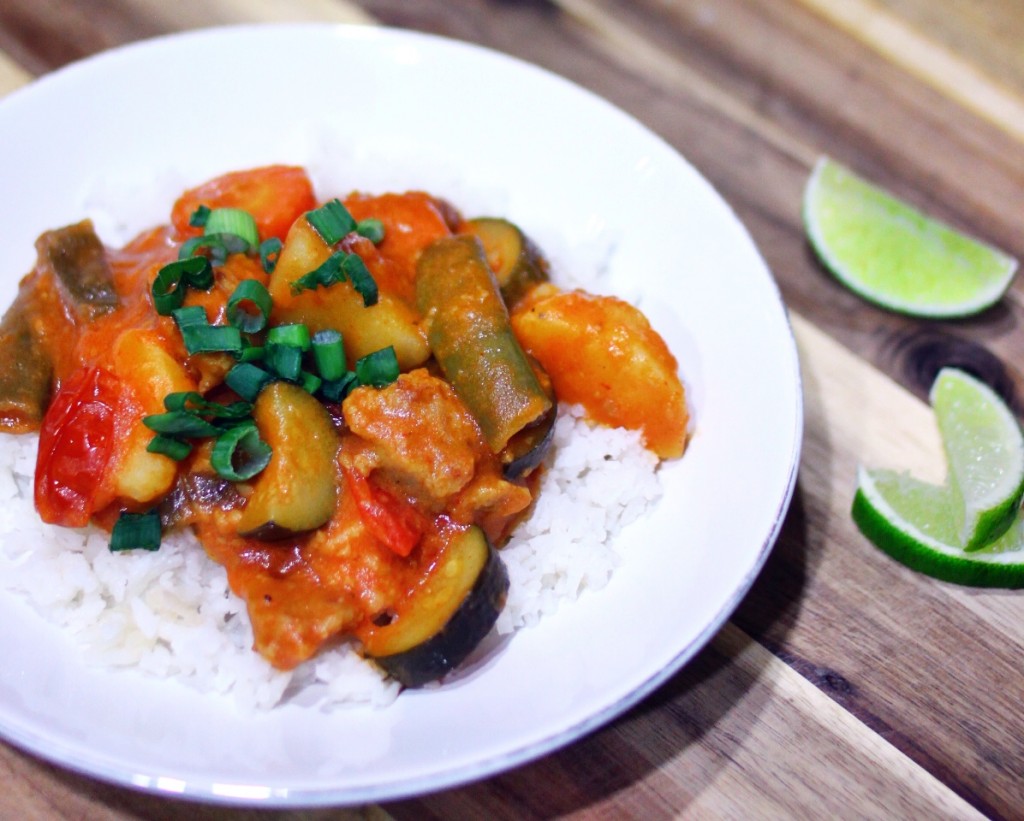 Push the seitan and vegetables to one side of the wok. On the other side, gently pour the remaining coconut milk, stirring in the curry paste until smooth and no chunks of curry paste remain. Add the No-Chicken broth, then gently stir everything together to combine everything in the wok. Stirring frequently, add the cornstarch mixture. Allow the mixture to cook until the sauce thickens slightly and the zucchini is fork-tender (15-20 minutes).
Add in the halved cherry tomatoes, gently folding them into the curry. Squeeze in the juice from one of the limes. Slice the remaining lime into wedges to serve with the curry. Serve immediately over steamed rice.