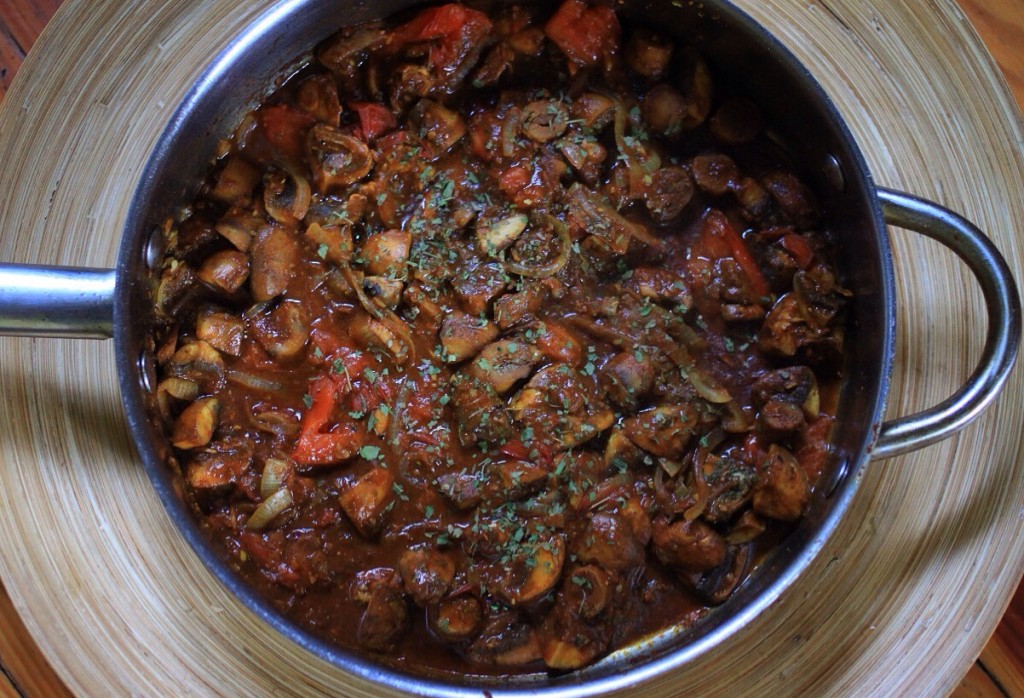 Although its taken a couple decades, generally I can appreciate mushrooms these days. Most often it's on pizza like this one but when we had Ethipian food for the first time, there was a mushroom dish that was pleasantly spicy, savory, and delicious. Probably my favorite from that entire meal.
When I decided to make Ethiopian food at home, I knew I wanted to recreate some version of that dish. I researched traditional dishes and didn't find what I wanted. There were many recipes for tibs, a dish that typically refers to cubes of meat such as beef, poultry, or lamb. There's room for differences recipe to recipe, including the amount of spiciness, the inclusion or submission of vegetables, the cuts of meat used.
The meatiness of mushrooms makes them a great substitution for meat in vegetarian recipes. I like crimini mushrooms a lot, as they are essentially tiny portabello mushrooms and withstand sauces while maintaining some texture. This dish is spicy, but if you'd like less heat, you can decrease the amount of berbere used. Next week I will share a couple other dishes you can pair with these ingudai tibs to serve with injera for a delicious vegetarian Ethiopian meal.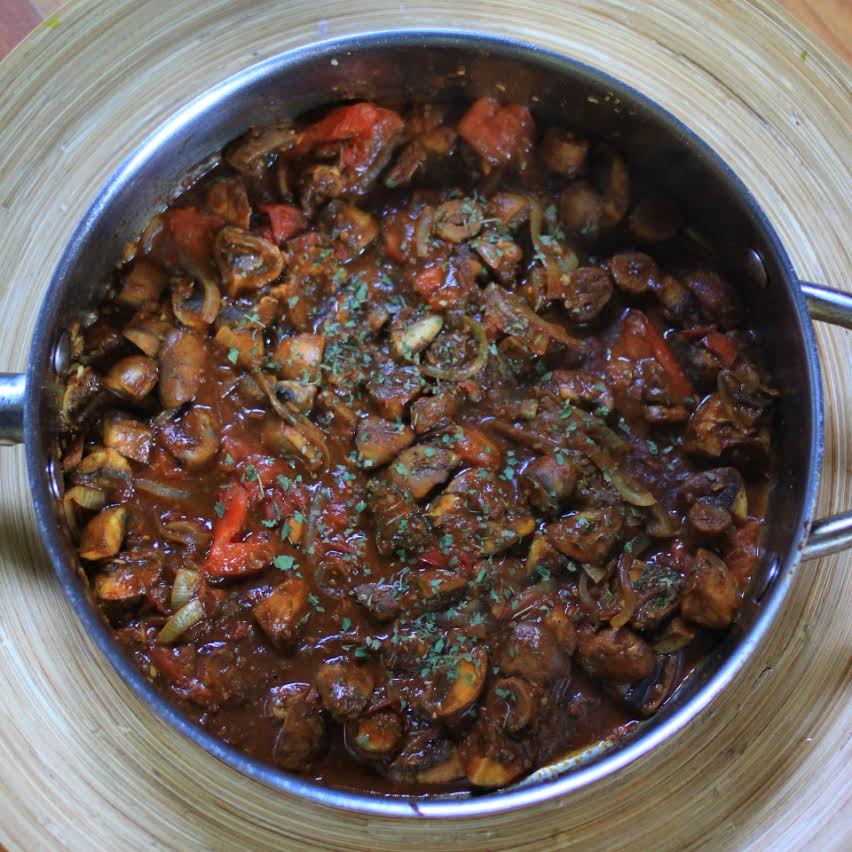 Ingudai Tibs (Mushroom Tibs)
Serves 5-6.
Ingredients:
3 tablespoons oil
1/2 an onion, julienned
10-12 medium sized crimini mushrooms, sliced into strips
1/2 a large tomato, cut into wedges
4 cloves garlic, minced fine
one 2-inch piece of ginger, peeled then minced fine
3 tablespoons of berbere spice
1 tablespoon water
salt, pepper, dried or fresh parsley
Directions:
In a pan, heat the oil over medium heat. Add the julienned onion, tossing to coat with the oil. Cook just until the onions starts becoming tender (1-2 minutes). Add the sliced mushrooms. Cook until the mushrooms start turning color (1-2 minutes), then add the tomato wedges. Add the minced garlic and ginger.
Stir together the berbere spice and water, until you form a thick paste. Stir the paste into the mushroom mixture, until everything is evenly coated.
Add a pinch of salt, pinch of pepper, and a generous pinch of parsley. Cook for 10-15 minutes until the mushrooms are fully cooked. Serve with injera.