I suppose if you cook every day, it's bound to happen.  I wonder if even the most illustrious chefs experience cooking burnout. Lately I've felt as though everything in my kitchen is some variation of just a few standby dishes and frankly, my tastebuds are tired of eating the same damn things.
When I find myself feeling this way, stuck in some cooking rut, my favorite way to get out is to challenge myself. I browse through numerous cookbooks, food blogs, and brainstorm recipes that I can concoct, play with, and experiment with to come up with non-boring food that my family will still enjoy eating.
The following soup was born out of all the above places.  It's "Mexican food" but not (those terms carry a lot of value in our house!). It's soup, it has never before made an appearance in my kitchen. It's filling, warm, spicy without being overwhelming. We ate the entire pot in two days — which, when it comes to soup around this house — also means good things.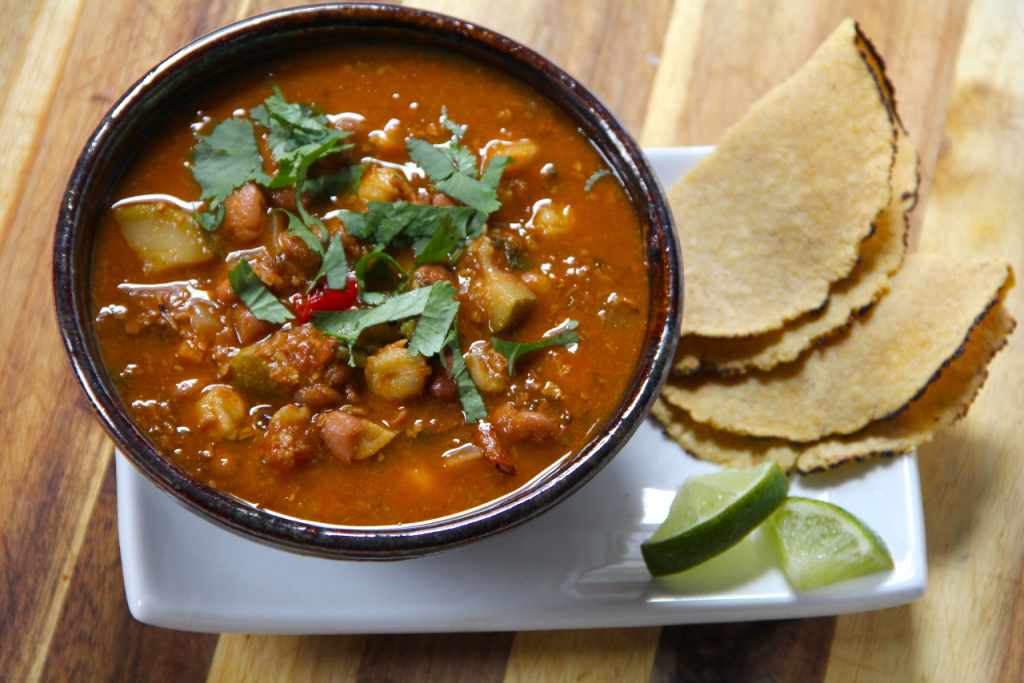 Vegetarian Posole with Roasted Peppers, Pinto Beans and Soyrizo
Serves 8-10 folks (yields about 6 hearty quarts of soup)
Ingredients:
3 anaheim peppers
3 poblano peppers
10 large roma tomatoes, halved *
3 tablespoons olive oil
1 large yellow onion, diced
3 cloves garlic, minced
1 12-ounce tube of Soyrizo
1 medium zucchini, diced
1 25-ounce can of hominy, rinsed and drained
3 cups pinto beans, cooked
1 large carrot, peeled and diced
1 bay leaf
2 tablespoons dried oregano
1 tablespoon ground cumin
2 teaspoons sea salt
2 teaspoons ground coriander
1/4-1 teaspoon ground chipotle pepper
5-6 cups No-Chicken or vegetable broth
the juice from 1 large lime
3/4 cup chopped fresh cilantro
If you don't want to roast your own tomatoes, use can use canned diced tomatoes (one 28-ounce can). I prefer the fire-roasted type.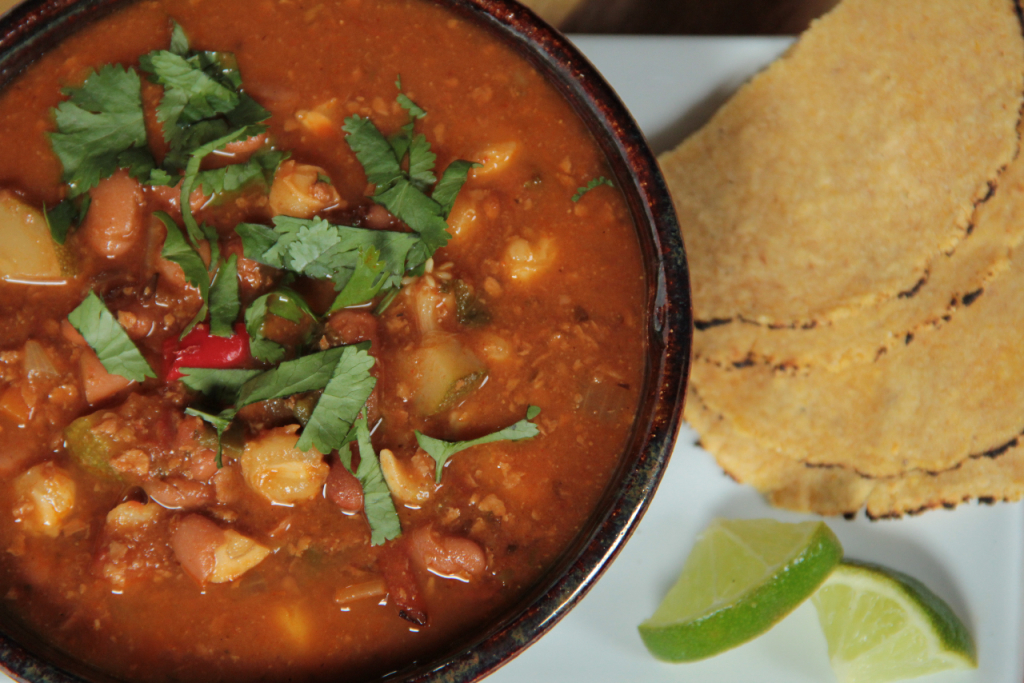 Directions:
Roast the peppers: If you have a gas stove, this is easily done by toasting the peppers over an open flame (on high), using tongs to turn the peppers constantly. Once the peppers are nicely blackened on all sides, place in a bowl and then tightly cover the bowl with plastic wrap. The trapped steam will soften the peppers and loosen their skins. After 15 minutes, pull the stems and seeds out of each pepper. Pull the skins off the pepper. You can also use a paper towel to rub off the loosened skins.
If you are using an oven, turn it on to the broiler setting. Brush each pepper with 1-2 teaspoons of vegetable, sunflower, or another high-smoke point oil. Arrange the peppers on a baking sheet, then place the sheet on the highest rack in your oven. Keeping a close eye on the peppers, remove them once dark, blackened spots appear. As with stove-top roasted peppers, place in a bowl and cover for 15 minutes. Remove the skin and seeds.
Dice the roasted peppers into small bite-sized pieces.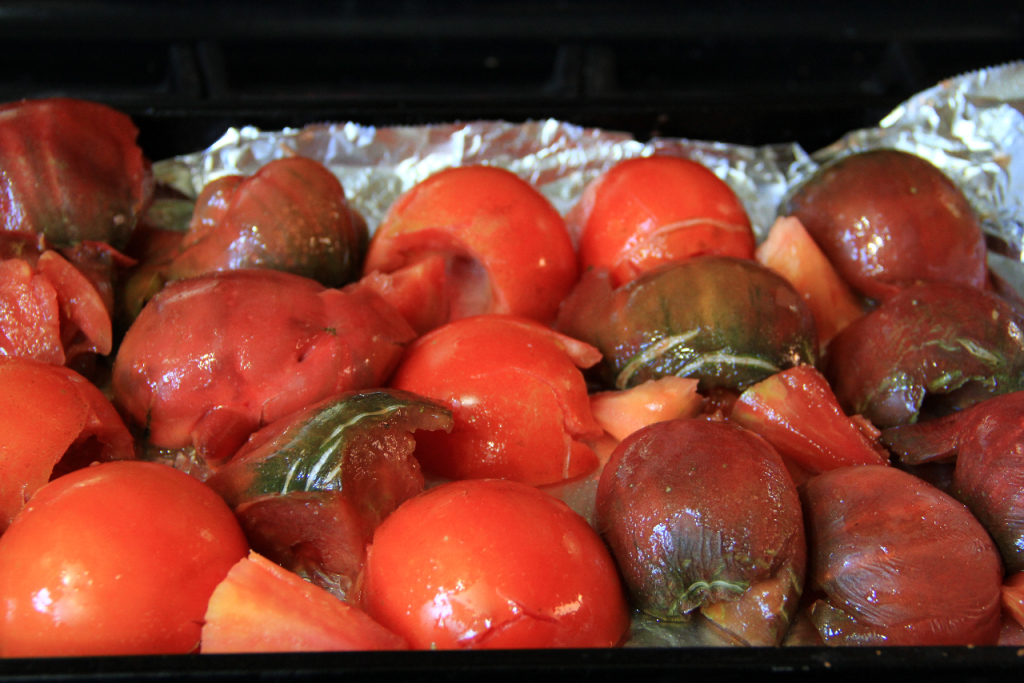 Roast the tomatoes: Move an oven rack to the highest position in the oven and turn on your broiler. Gently squeeze each halved tomato, releasing some of the gelatinous seeds and juices. Line a large sheet pan with raised sides, with foil. Place each halved tomato cut-side down.
Broil the tomatoes until the skins are blistered and slightly blackened. Rotate the pan a few times for even roasting. This should take 5-10 minutes. Let the tomatoes sit until cool enough to handle and then peel the skins off. Dice each tomato half into four chunks.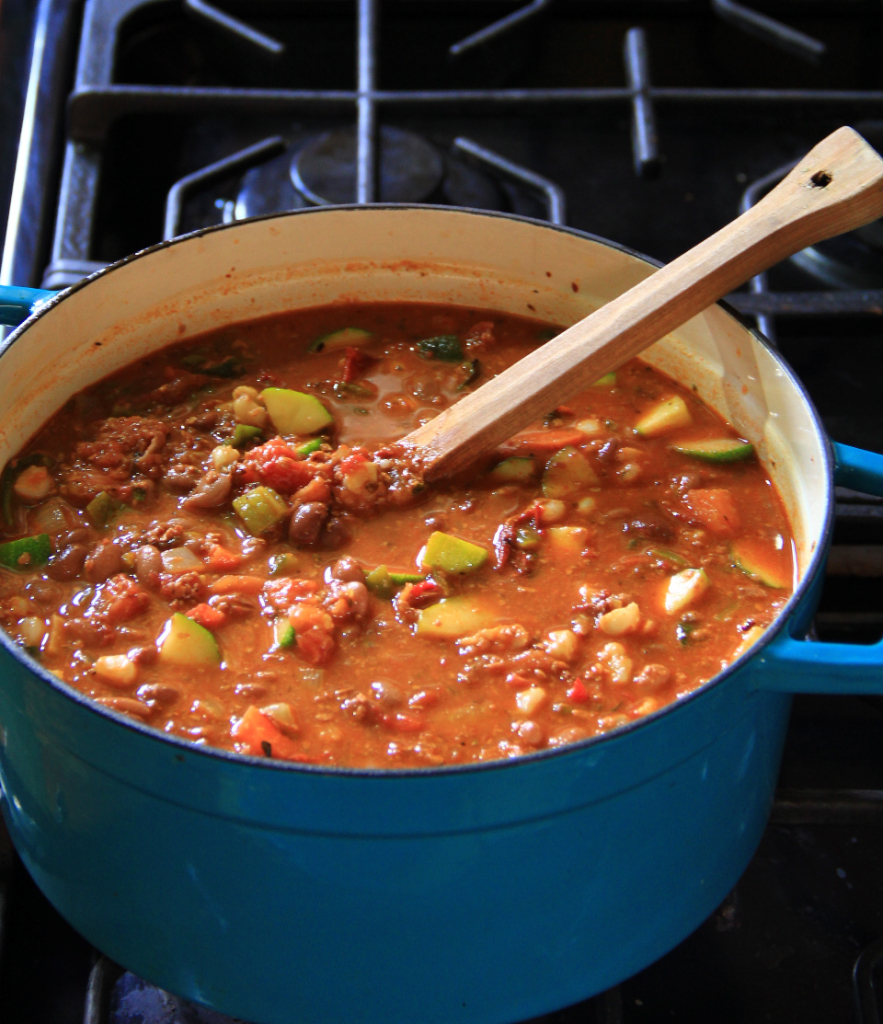 Prepare the soup: In a large stock pot, heat the oil over medium-high heat. Add the diced onions and saute until translucent. Add the minced garlic and Soyrizo. Cook until the Soyrizo starts to brown (5 minutes or so). Add the diced roasted peppers, stirring to combine everything. Cook for 2-3 minutes.
Add the zucchini, hominy, beans, carrots, bay leaf, oregano, cumin, salt, coriander,  and chipotle pepper. Stir well. Add the broth, again stirring to mix everything together. Reduce the heat to low and simmer, uncovered for 45 minutes – 1 hour (longer if you want!).
Right before you're ready to serve the soup, stir in the lime juice and chopped cilantro. This soup is particularly delicious when served with warm corn tortillas, sour cream, chopped cilantro, lime, and/or shredded cheddar cheese.