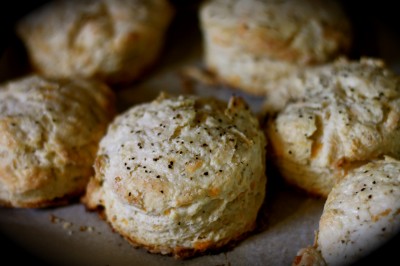 I remember my mom making biscuits when I was growing up. Often plain or buttermilk drop biscuits, rather than those that had to be rolled (or patted) out and cut. We always had jam to slather in them. Or honey. Or just butter. "Biscuits and gravy" was something I hadn't even heard of, let alone considered eating, until I moved to Oregon eight years ago.
Whenever the kids stay at Nana's house overnight, they request biscuits and gravy for breakfast the following morning. Being an accommodating Southern-born and raised woman, she very lovingly gets up early enough to fill such desires. I'm not so willing to wake up at the crack of dawn to make biscuits. However, these cheddar black pepper biscuits — I'd almost, possibly, probably, consider waking up to make. Even when it's still dark out. They are delicious.
I haven't tried this, but imagine these biscuits would make an amazing egg sandwich. Even better, stuff 'em with a fried egg, cheese, and bacon (tempeh bacon in our case), then smother the WHOLE THING! in gravy. Oh goodness. Alas, I cannot talk myself into making and/or eating biscuits daily. But these are a delicious treat when they are made.
While I'd love to take credit for these amazing biscuits, I cannot. I found the recipe a few months back on Joy the Baker's site, one of my favorite food bloggers. Check her out — she has great recipes creatively put together and an amazing sense of humor that makes every post fun to read.
Try these biscuits. They'll immediately have you contemplating a buttcrack of dawn wake up as well.
Black Pepper Cheddar Biscuits
adapted from Joy the Baker
Ingredients:
3 cups all-purpose flour
2 tbsp. sugar
4 ½ tsp. baking powder
¾ tsp. cream of tartar
¾ tsp. sea salt
½ cup vegetable shortening (cold and cut into small cubes)
¼ cup butter (cold and cut into cubes)
1 egg, beaten
¾ cup COLD buttermilk
1 cup grated sharp cheddar cheese
½ tsp. fresh ground black pepper
2 tbsp. heavy cream and black pepper for topping biscuits
Directions:
Preheat the oven to 425º F and prepare an ungreased baking sheet with parchment paper.
In a mixing bowl, sift together the flour, sugar, baking powder, cream of tartar, and salt. Cut in the butter and shortening, until the mixture looks like coarse cornmeal. Add in the cheddar and black pepper, tossing to combine the ingredients.
In another bowl beat the egg and buttermilk together lightly with a fork. Add it to the flour mixture, stirring to create a soft dough. (Work quickly, as you want to keep the mixture as cold as possible to keep the butter from breaking down before getting in the oven.)
Turn the dough out to a floured board and knead it about 15 times. Roll the dough out or pat it out, to about 1-inch thick. Cut into 2-inch rounds with a biscuit cutter (or tin can that's had both ends removed — an easy, cheap, alternative to store bought biscuit cutters). Reshape and roll out the remaining dough scraps to make more biscuits. Place the biscuits on your parchment-lined baking sheet.
Brush the top of each biscuit with heavy cream and sprinkle on some black pepper. Bake for 12 – 15 minutes, until the biscuits are golden brown on top.  Serve immediately. Makes 10-12 biscuits.