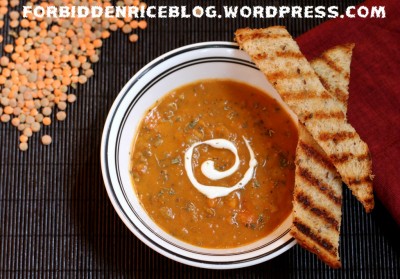 It's officially fall. My favorite time of year. Temperatures are noticeably cooler in the early morning and evening. While the colors around here haven't begun to change yet, I know it's coming. Vibrant reds and oranges, yellows somewhere in there. I do this thing every year, come fall. I tell myself that I'll make more soups. Because one-pot meals are so easy. Plus you can cook them all day, filling your home with warm, filling smells that draw everyone in. Plus in the fall and winter, how can you go wrong with a bowl of warmth, vegetables, spices, flavors that are both compelling and filling? You really can't.
But I fail at following through with my soup endeavor. Every single year. Until this year. I even started early: the very first day of fall, which allowed me to use some of the goodness we grew this summer. We've got a number of fresh tomatoes of all colors, ripening faster than I want to eat them raw. So, there's a good amount of roasted tomatoes in this soup that offer a brightness that's reminiscent of summer, layered with earthy warm flavors of fall. If that sounds way too "hippie" for you, it's all good. Make this soup anyway. You'll be pleased.
I made this to feed our family plus my husband's band mates who had been practicing for some upcoming shows (which are "current" and not "upcoming," as I write this). I'll be honest. I've never made such a huge pot of soup, only to be left with zero leftovers. I like to think that means this would be a recipe worth repeating. Hopefully you'll find it that way as well.
Roasted Tomato Lentil Soup with Potatoes and Sweet Potatoes
Ingredients:

4-5 cups tomatoes, cut into large chunks (about 5 medium tomatoes)
1 tbsp. olive oil
1 tsp. fresh oregano, chopped
1 tsp. fresh marjoram, chopped
salt and pepper
1 tbsp. olive oil
4 cloves garlic, minced
1 onion, diced
3 cups sweet potatoes (yams), peeled and diced
3 cups red potatoes, diced (skins on or off)
1 cup carrots, peeled and diced
1- one inch piece of ginger, peeled and minced
1½ cups red and/or orange lentils
½ cup wild rice
1 tbsp. fresh oregano, chopped
1 tbsp. fresh thyme, chopped
1 tsp. ground cumin
½ tsp. smoked paprika
8-10 cups water or No-Chicken broth
1 can coconut milk
salt and pepper, to taste
Directions:
Roast the tomatoes: Preheat your oven to 325°F. Place the chopped tomatoes on a baking sheet in a single layer, then drizzle with the olive oil. Sprinkle on the chopped oregano and marjoram, along with a generous amount of black pepper and salt. Roast in the oven for about 45 minutes, until the skins begin to blister and char. Set aside to cool.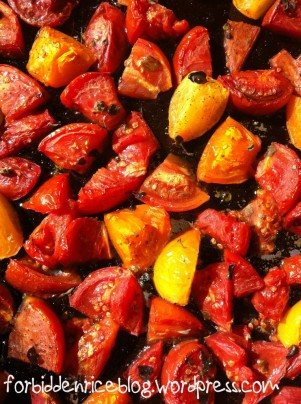 Prepare the soup: Heat the one tablespoon of olive oil over medium-high heat. Add the garlic and diced onion. Sauté until the onion is translucent. Add in the diced potatoes, carrots, and ginger. Stir to evenly disperse everything. Add the lentils, rice, oregano, thyme, cumin, and paprika. Stir to evenly coat everything in the spices and herbs. Add a generous amount of salt and pepper. Stir in 8-10 cups of broth (or water). Cover and reduce heat to medium-low. Cook for about one hour.
Puree the roasted tomatoes in a food processor or blender. Add the pureed tomatoes and can of coconut milk to the pot. Stir well, to evenly combine everything. Cover again and cook for another 2-3 hours at least. Taste and add more salt or pepper to your liking.
You can cook the soup longer if you'd like. After adding the tomatoes and coconut milk, I actually cooked the soup for an additional 6 hours before serving.
Serve hot along with some sour cream or plain yogurt to top the soup off. This soup is also quite delicious with some homemade bread, or at least a tasty baguette of your liking!