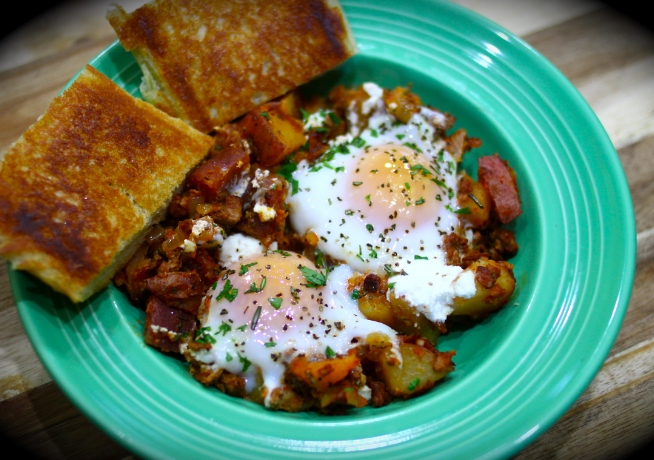 In the last six years, the amount of meat that goes into my diet has drastically shifted. Truth is, I enjoy learning about plant based proteins and nutrients… in a very nerdy way, which has included reading about the ways vegetables break down when consumed and countless hours spent finding recipes to experiment with. I rarely find myself missing meat from meals. True, sometimes I get a ridiculous craving for chicken, wanting it in a burrito, fried, cooked to fine sticky buffalo wing perfection, or perhaps thrown into a sandwich. But seitan readily cures that craving nearly instantaneously.
The other craving I get when it comes to animal flesh (or parts – ergh) is spicy chorizo sausage. In the world of fake meats and vegetarianized versions of meat products, smoky spiciness is hard to come by. Field Roast's version of chorizo has long been my go-to vegetarian alternative for spiciness. However, we recently discovered Trader Joe's version of soy chorizo. At $1.99, this is the sole ingredient that goes on my NEED! grocery list whenever we stop at TJ's. It's spicy, flavorful, the texture is meat-like. I'm not even going to tell you how amazing it is in an egg sandwich with monterey jack cheese. (Really.) If the Field Roast variety is what you have available, feel free to use it. It certainly won't disappoint! Just crumble it up in the recipe. El Burrito Soyrizo is also pretty readily available (check the freezer section, too).
We recently decided to have locally harvested organic chicken eggs delivered. In this part of Southern Oregon, that isn't difficult to come by… if fresh eggs are available to you, they make all the difference. The yolks are richer tasting, beautifully dark golden in color. I was told that these particular hens were excellent foragers and the woman delivering the eggs was certainly proud of them, which was encouraging as well.
This hash is spicy, filling, delectable… I prefer still-runny yolks, which add great flavor to the potatoes and help to balance out the peppery chorizo. And the ricotta? It lends a delicate creaminess and also mellows out the spice. Breakfast or dinner, you can eat this for whatever meal sounds good. (I prefer breakfast-for-dinner.)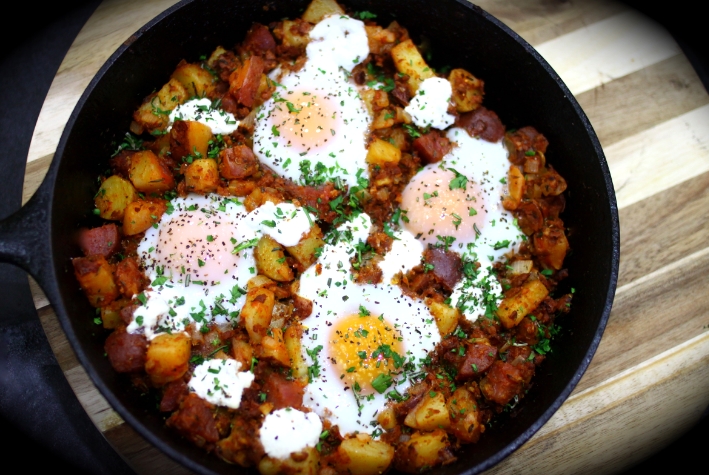 Vegetarian Soyrizo Hash with Baked Eggs and Ricotta
Serves 2 people
Ingredients:
4 cups diced fingerling potatoes (I used Klamath Basin's Medley)
salt
2 tbsp. olive oil
2 large sprigs fresh rosemary
3 tbsp. olive oil
1 small onion, diced
4 cloves garlic, minced
2 tbsp. fresh rosemary, minced
2 tbsp. fresh oregano, minced
1 tbsp. fresh parsley, minced
6 oz. Soy Chorizo sausage (I enjoy Trader Joe's variety)
¼ cup whole milk ricotta cheese
4 eggs
salt and pepper
Directions:
Fill a large pot with water. Generously add salt, two tablespoons olive oil, the two sprigs of fresh rosemary, and the diced potatoes. Bring to a boil, then cook until the potatoes are just fork-tender (12-15 minutes). Drain the potatoes in a colander, then remove the rosemary sprigs.
Preheat your oven to 375°F. In a 11-inch cast iron skillet, heat the remaining three tablespoons of oil. Add the onion, garlic, rosemary, oregano, and parsley. Cook over medium-high heat until the onion is translucent (5-7 minutes).
Add the soy chorizo, stirring to mix everything together. Cook, occasionally stirring, until the chorizo begins crisping up and turning golden brown. Add the potatoes to the mixture, stirring to evenly distribute everything. Continue cooking, periodically stirring everything around. Taste, then add salt and pepper to your liking.
Use a spoon to make four shallow wells in the potato mixture, evenly spacing them apart. Crack an egg into each well. Crumbled the ricotta cheese all over the top of the skillet (on top of the eggs is okay, too).
Bake for 12-15 minutes, until the egg whites are cooked (no longer watery-looking) and the yolks are done to your liking. Sprinkle with fresh ground black pepper and salt, then serve while still hot.