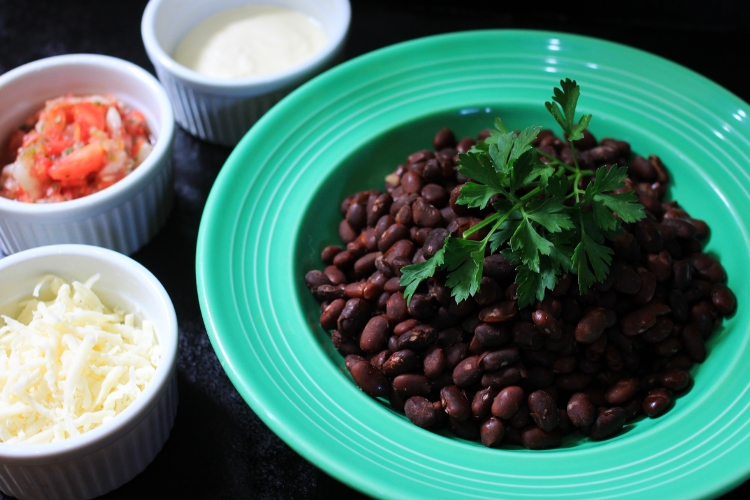 The most simplistic recipes often are not born out of a lack of creativity, nor a lack of skills in the kitchen. Sometimes simplicity is both competence and comprehensibility of the ingredients at hand. Knowing that you can put X, Y, and Z together and create a meal that is both satisfying and filling? It's art. The recipe included in this post should be looked at as a skeleton of a guide, a starting place to go wherever sounds good to you, a basic suggestion for a beginning.
The thing about a pot of beans is that it rarely sounds exciting. Or dried beans seem like a lot of work. Or won't canned beans suffice? Or you have experienced undercooked homemade beans, which, would turn anyone off to trying them again. An undercooked bean is not captivating in the least bit. It's hard, hurts your teeth, worse yet – hurts your stomach if you eat too many of them. I've been on the delivering and receiving end of undercooked beans. I apologize.
A good pot of homemade beans fills your house with warmth… A salutation when you walk in the front door of, hello, let us enjoy a home-cooked meal filled with hours of flavor and time. It's inviting. A respectable pot of homemade beans is filled with spice and character. It leaves an impression. Dried beans can be paired with whatever flavors excite your appetite… You can aim for slight sweetness, or spiciness that leaves your mouth aflame. The secret to good home-cooked beans though, aside from cooking them long enough that they take on a buttery melt-in-your-mouth texture, is to flavor the broth extremely well. Sometimes that cooking liquid asks for cumin, or thyme, or smoked paprika… Perhaps it requests freshly peeled onions and many cloves of garlic, scraps of leek and celery ends. It always demands salt and pepper – don't forget.
Dried beans often require an overnight soaking before they're cooked. While I am an advocate for this method rather than the quick-soak method, I recently discovered I could place all the ingredients into our crock pot before going to bed and the beans take on a nearly-fall-apart-softness anyway, as if they'd spent the night hanging out in a makeshift pool of cold water. I like this procedure best; it's the simplest of all, and the result is an amazing meal.
The thing about a pot of beans is that it can make many-a-meal. For ease, a pot of beans can be paired with a pot of rice (which, really, just takes rice and water… maybe butter… maybe salt…). You can eat them with warmed corn tortillas, you can fold them up in a large flour tortilla and call it a burrito. You can remove some of the cooking broth and add tomatoes and further spice, creating chili. You can add them to pasta dishes. Really, a pot of beans is simplicity and complexity. It's entirely up to you. (But no matter the route you choose, they're delicious.)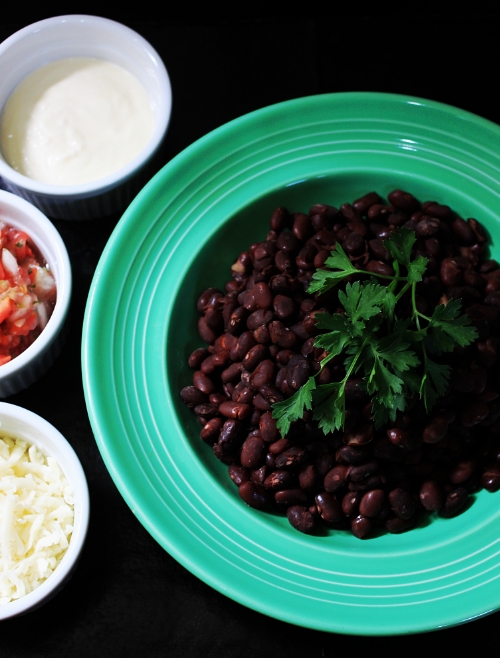 Slow Cooker Black Beans
Feeds 10-12 people
Ingredients:
3 cups dried black beans, rinsed
1 medium onion, peeled and quartered
6 cloves garlic, peeled
1 medium apple, cored (fuji, gala, braeburn, etc.) and quartered
3 carrots, halved
1 stick cinnamon
3 dried bay leaves
2 tbsp. sea salt
1 tbsp. ground cumin
2 tsp. dried thyme
2 tsp. ground coriander
1 tsp. dried oregano
1 tsp. ground black pepper
½ tsp. cayenne pepper
¼ cup good quality olive oil
vegetable broth, No-Chicken broth, or water
Directions:
Place all of the ingredients in your slow cooker/crock pot, then add enough broth or water to cover the beans by at least 6-inches. Stir to combine everything, then cover and cook on low for 8-10 hours (at least). If you go the route of cooking these overnight, you can replenish the broth/water in the morning, making sure the beans are well submerged.
Remove the onion, garlic, apple, carrot, cinnamon stick, and bay leaves before serving. Serve hot… with rice, alongside enchiladas, wrapped in a burrito, on their own, topped with sour cream and cheese…