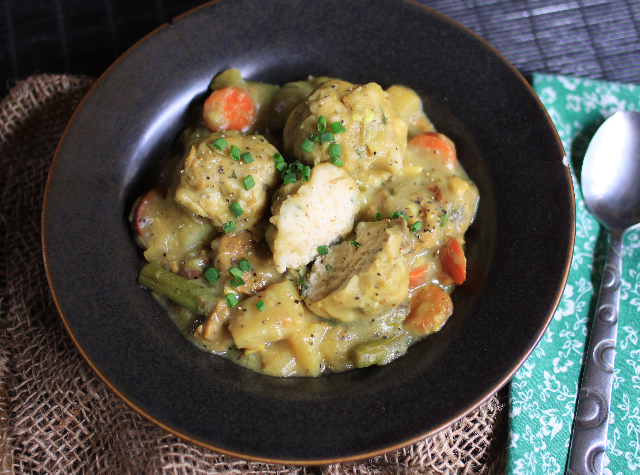 When people ask me what genre of food I cook best, honestly, I don't know what to tell them. I'd like to say that when it gets down to it, I enjoy cooking without hesitancy about flavor. I would love to say I don't have a specific genre I'm tying to box myself into. I just cook with what is fresh and available, with a bold knack for simply jumping into a recipe without over-thinking it, winging things as I go along. I would say that I enjoy a good challenge – perhaps that's where my love of cooking stems from in the first place.
But if I really had to narrow something down, some kind of description, I'd say I cook vegetarian-ized comfort food that doesn't compromise quality, taste, or health (most of the time). The following recipe is some genuine comfort eating – chicken and dumplings is a bowl full of warmth, a blanket of flavor and full-belly richness. The thing is, this isn't your grandmother's traditional chicken and dumplings (although like with most comfort food recipes, every recipe offers numerous variations of the same-named dish). For one thing, these chicken and dumplings are completely vegan. The stew is packed with more vegetables than you'd probably find in a traditional chicken and dumpling recipe. Also, I used Field Roast's Apple Sage Sausage rather than a white-meat-style meat alternative. Field Roast is packed with flavor and works nicely within this dish.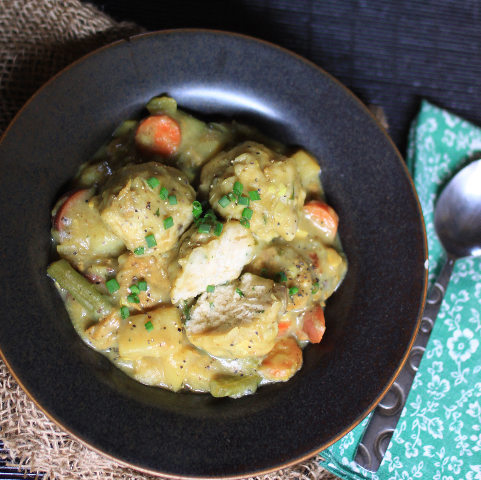 Vegan Chicken and Herb Dumplings
Serves 6.
Ingredients:
For the stew:
4 tablespoons sunflower oil
1 medium onion, diced
4 large cloves garlic, minced (about 3 tablespoons)
4 Field Roast Apple Sage Sausages, cut into rounds chopped into bite size pieces
1 pound russet potatoes, peeled and diced into bite size pieces
1 cup diced zucchini
2 large carrots, peeled and diced (about 1 cup)
2 large stalks celery, diced (about 3/4-cup)
6 ounces fresh green beans, cut into one-inch pieces (about one cup cut beans)
1 cup diced crimini mushrooms (about 8-10 small mushrooms)
1/4 cup all-purpose flour
1 1/2 teaspoons kosher salt
1/2 teaspoon ground black pepper
1/2 teaspoon poultry seasoning
1/2 teaspoon celery seed
1/4 cup freshly minced parsley
6 cups mushroom broth (or vegetable if you prefer)
3/4 cup unsweetened plain cashew milk
For the dumplings:
2 cups all-purpose flour
2 teaspoons baking powder
1 teaspoon kosher salt
1/2 teaspoon granulated garlic
2 tablespoons Earth Balance
, melted
2 tablespoons freshly minced parsley
2 tablespoons freshly minced chives
1 tablespoon freshly minced oregano
1 tablespoon freshly minced thyme
1 cup unsweetened, plain cashew milk

* Yields approximately 1 1/2 dozen dumplings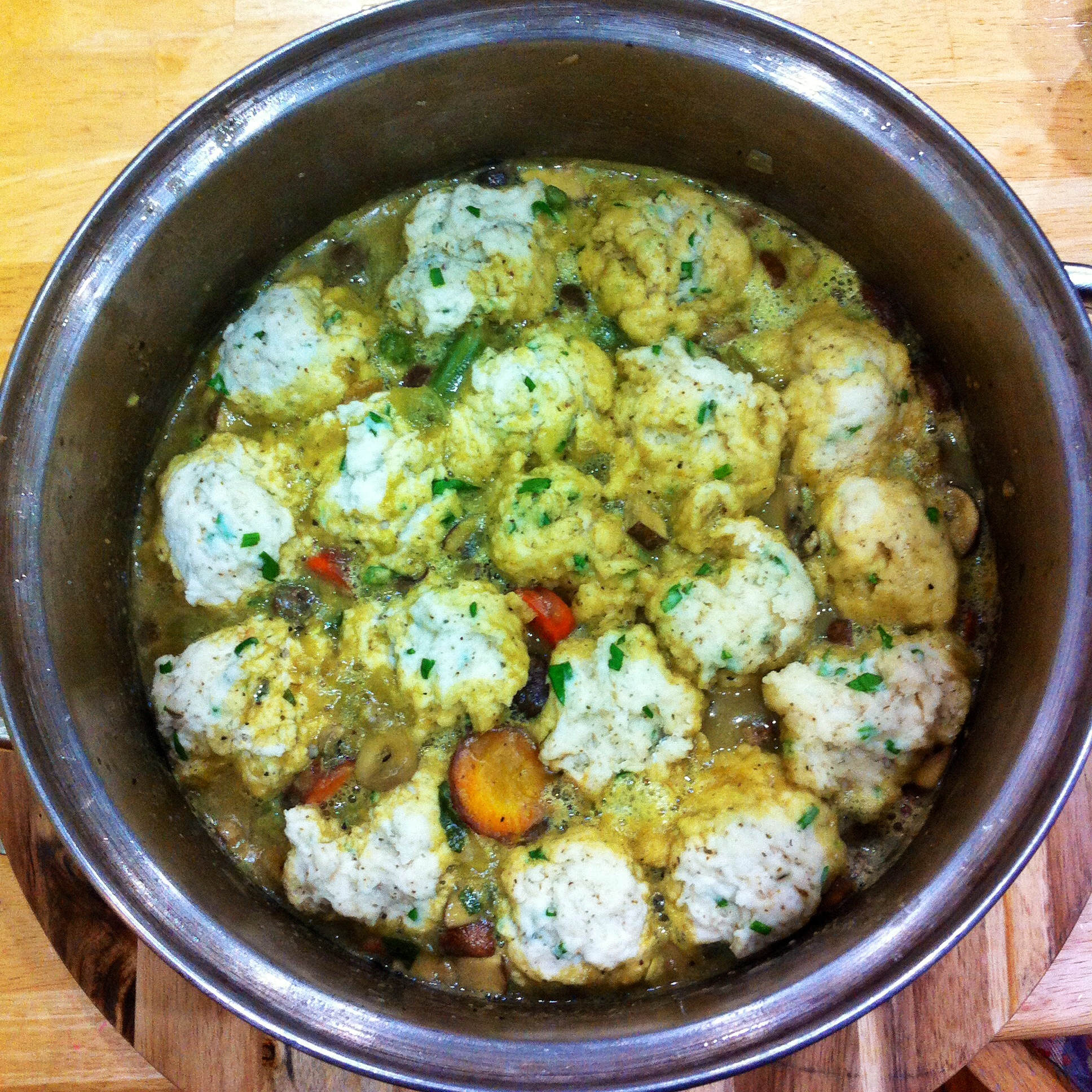 Directions:
In a large stock pot, heat the oil over medium heat. Add the diced onion and garlic, sauteing until the onion is translucent. Add in the Field Roast sausage, stirring to coat with the oil. Continue cooking over medium heat until the sausage begins to brown and crisp on the outside (4 to 5 minutes).
Add the diced potatoes, zucchini, carrots, celery, green beans, and mushrooms to the pot once the sausage has browned. Stir everything well to combine the ingredients. Sprinkle in the flour, salt and pepper, poultry seasoning, celery seed and fresh parsley, stirring to make sure the veggies are coated with the flour mixture. Cook for a minute or two. Stir in the broth and milk, stirring everything to incorporate all the ingredients. Cook, covered, over medium heat until the mixture slightly thickens and the tougher vegetables (potatoes and carrots) are fork-tender (15-20 minutes).
Meanwhile prepare the dumplings. In a medium sized bowl, combine all of the ingredients for the dumplings. Use a wooden spoon to stir everything together until a soft, sticky ball of dough is formed.
Once the potatoes and carrots are tender in the stew, uncover the pot. Scoop the dumpling batter one tablespoon at a time, gently forming the sticky dough into balls. Place the balls of dough directly into the stew, carefully. Continue to scoop the dough, forming dumplings and adding them to the stew. Once all the dumplings have been formed, cover the pot again and cook for 15 minutes over medium-low heat. Do not peek at the dumplings for these 15 minutes! The closed lid lets them steam cook, keeping them nice and tender. A toothpick gently poked into the center of the dumplings should come out clean, ensuring they're cooked all the way through.
Serve while hot and enjoy!