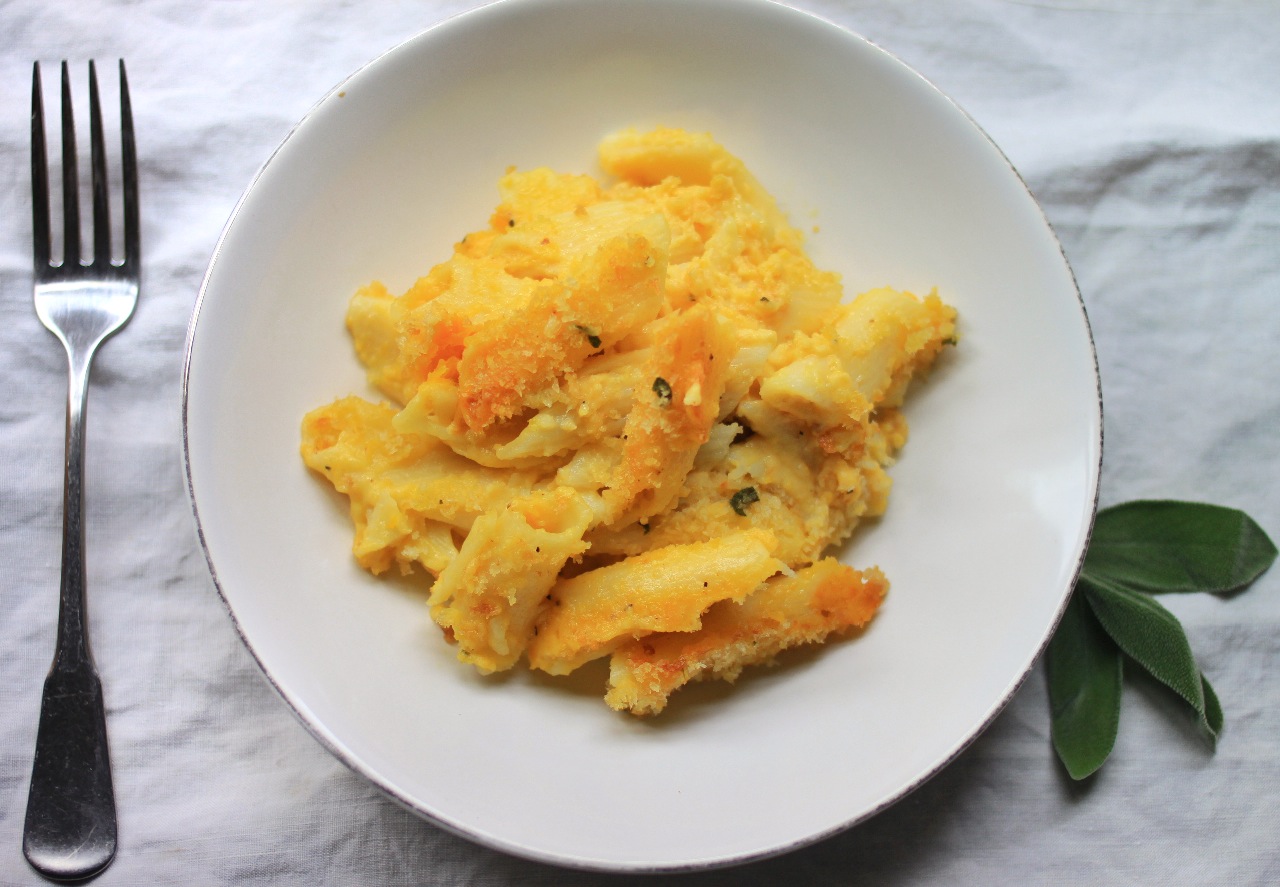 Up until this year, I had never really roasted a pumpkin. Sure, I've cooked butternut squash, delicata squash, acorn squash, spaghetti squash… but those lovely orange pumpkins that start showing up in late September well through the winter? Nah. I always just resorted to the canned stuff – but for almost $4 per 15 ounces of organic pumpkin – I just stock up when it goes on sale. But one morning when one of the water polo moms came to pick up a batch of pumpkin protein muffins I was sending along for the team, she said she had a gift for me. When she opened up her trunk, there sat a handful of cute little pumpkins. "They're organic and come from my garden!" Janet told me excitedly. "Pick one!" She told me I wasn't allowed to carve it – it needed to show up in a recipe on my blog. So here we go, Janet!
When one of the parents decided to host a team dinner for the water polo teams (girls and boys), I volunteered to contribute a main dish. Since there was a pasta theme already, with sides of garlic bread and salad, I decided homemade macaroni and cheese was usually a hit for the vegetarian players (like my stepson) and non-vegetarians, alike. Janet proceeded to donate four more pumpkins, so I decided to roast them and incorporate them into the cheese sauce.
I love fresh pumpkin of numerous varieties, including most winter squash. The added health benefits also make me feel a little less guilty for eating massive amounts of macaroni and cheese. One cup of mashed pumpkin contains more than 200% of your recommended daily Vitamin A needs. Plus it's super low in calories while being high in fiber. Pumpkin contains more potassium than a banana per serving, which helps to restore the body's balance of electrolytes – so a good option for post-workout or post-game food.
This macaroni and cheese isn't overly pumpkin-flavored, but the natural sweetness that comes through balances with the heaviness of the creamy, cheesy sauce. I am certain that various types of squash could be used within this recipe, such as butternut or acorn, but I have yet to experiment with those.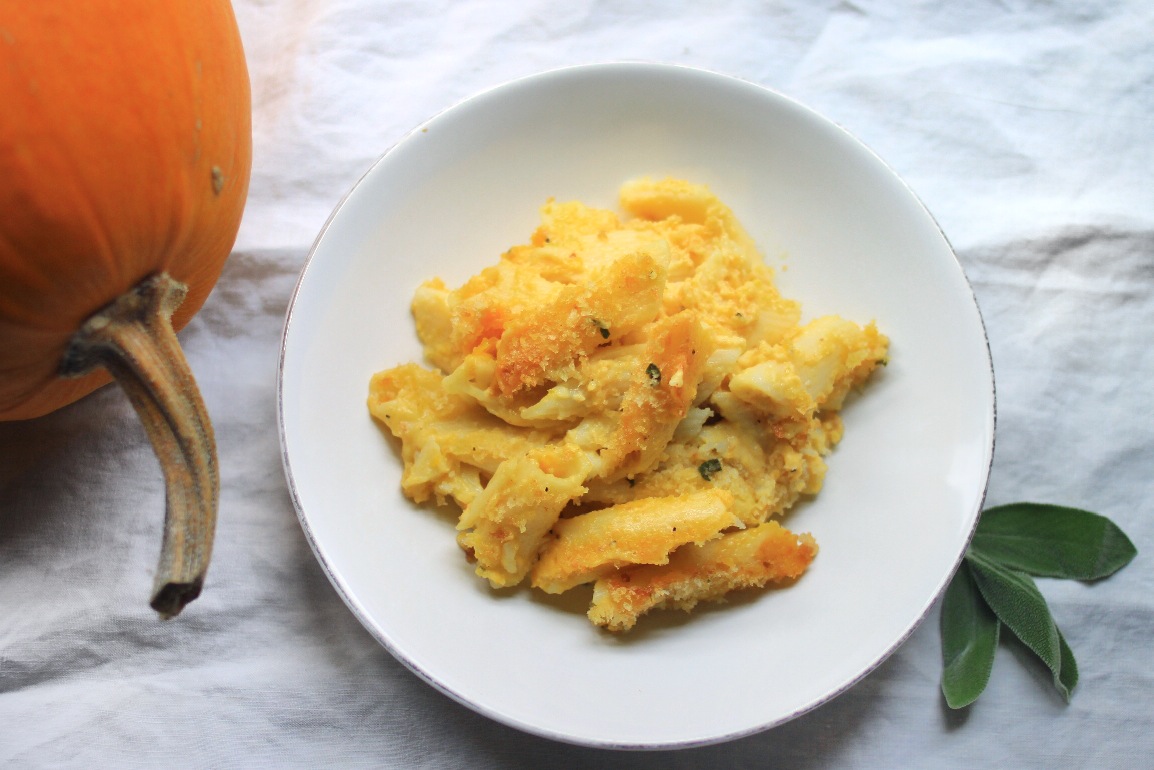 Pumpkin Macaroni and Cheese
Serves 6-8 people.
Ingredients:
For the macaroni and cheese:
1 1/2 pounds penne pasta
4 tablespoons unsalted butter
3/4 cup panko breadcrumbs
1 ounce fresh sage leaves
For the sauce:
1 medium cooking pumpkin (3 cups cooked and mashed) *
olive oil
salt and pepper
1 stick butter
10 tablespoons all-purpose flour
2 cups half and half
2 cups whole milk
2 teaspoons kosher salt
1 teaspoon ground white pepper (black is okay, too)
8 ounces extra sharp white cheddar, shredded
4 ounces havarti cheese, shredded
4 ounces fontina cheese, shredded
4 ounces monterey jack cheese, shredded
* If fresh pumpkin is not available to you, you can use canned pumpkin puree. NOT pumpkin pie filling – that is not the same thing. Use 3 cups of canned pumpkin in place of the fresh pumpkin puree.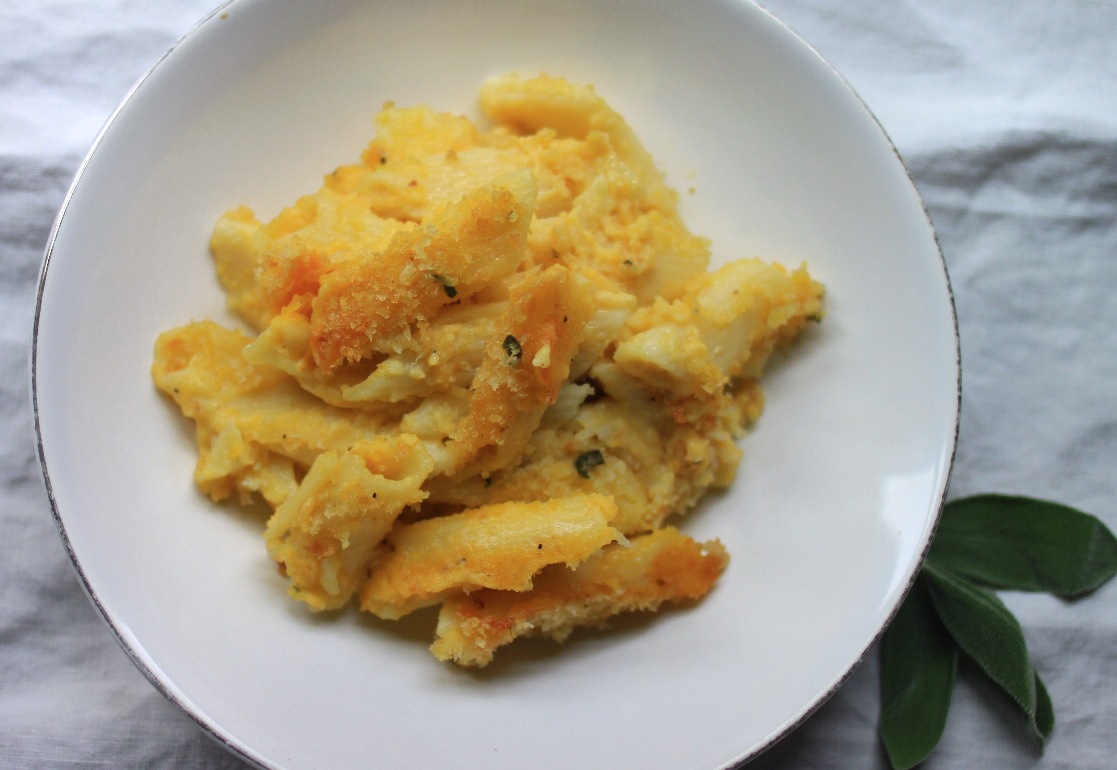 Directions:
Preheat your oven to 375 degrees F. Lightly grease a large sheet pan (or two).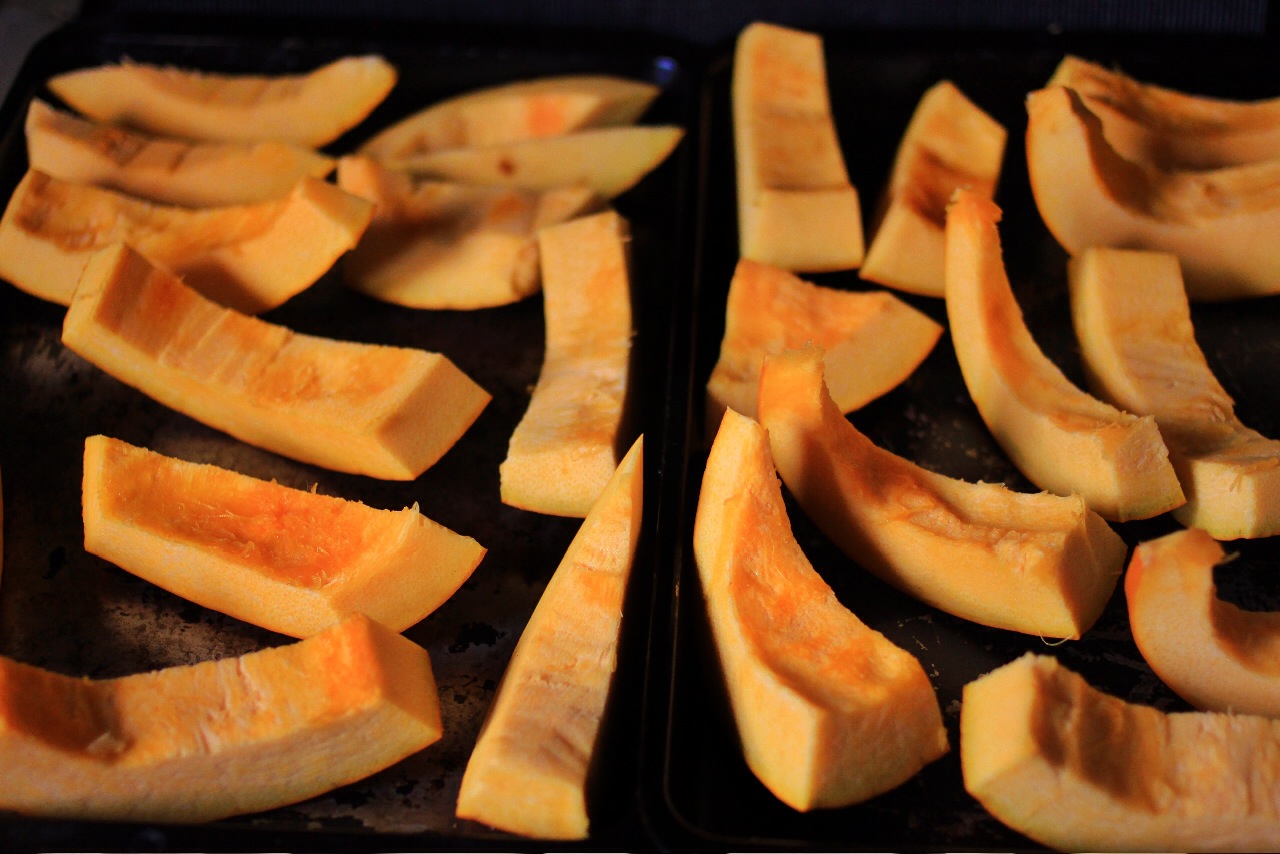 Prepare the pumpkin by removing the stem, then halving it lengthwise. Scoop out all the fibers and seeds. Cut the pumpkin into slices about two-inches wide. Place on a baking pan, flesh side-up. Drizzle the pumpkin generously with olive oil, salt and pepper. Bake for 45 minutes to one hour, until the skins are wrinkled and the pumpkin is very fork-tender. Remove from the oven and allow the pumpkin to cool long enough for it to be handled. Peel off the skins (you may or may not need a knife to do this). Blend the pumpkin flesh in a food processor or blender until smooth. Set aside until needed.
Mince the fresh sage. Melt the four tablespoons of butter over medium heat, in a small saucepan. Stir occasionally, until the butter begins to turn golden brown. The butter will get really frothy on top. Continue stirring constantly, paying close attention. (Golden butter goes to burnt butter very quickly!) The golden butter should start to smell semi nutty. Keep stirring until the butter reaches a dark golden hue. Remove from the heat and immediately stir in the minced sage until well distributed. Stir in the panko breadcrumbs until they are all nicely coated. Remove from heat and set aside until needed.
In a large, heavy-bottomed pot, melt the 8 tablespoons of butter over medium heat. Whisk in the flour, until smooth. Cook for 2 to 3 minutes. Whisking constantly, add the half and half. The mixture will immediately thicken, just keep stirring. Once the half and half has been completely incorporated, stir in the milk. Continue whisking until the sauce thickens (4 to 5 minutes). Stir in the salt and pepper. (It's important that you add the salt at this point, not earlier into the sauce-making. Added too early, your sauce will be overwhelmingly salty. Added now, it'll seem a bit salty at first, but the final product will mellow this out a bit.)
Add the cheese in, about a half cup at a time, stirring to fully incorporate each new addition. Once all the  shredded cheese has been added, continue stirring until you are left with a thick, creamy cheese sauce. Stir in the pumpkin puree. Reduce heat to low.
Bring a large pot of well salted water to a rolling boil. Cook the pasta according to the package directions, until the noodles are just past al dente. Drain the pasta, but do not rinse. Pour the cheese sauce over the noodles, then stir to make sure every inch of pasta has been covered with sauce.
Pour the pasta into a 9×13-inch baking dish. Top with the buttered panko breadcrumbs. Bake for 30-40 minutes, until the sauce is bubbly at the edges and the breadcrumbs are nicely golden in color.
Serve while hot.
* Alternatively, if you prefer your macaroni and cheese creamy with no bread crumb topping, you can cook the sage brown butter, but do not add any panko. Instead, stir the sage brown butter into your pasta and sauce when mixing the two together, then serve immediately, skipping the baking step all together.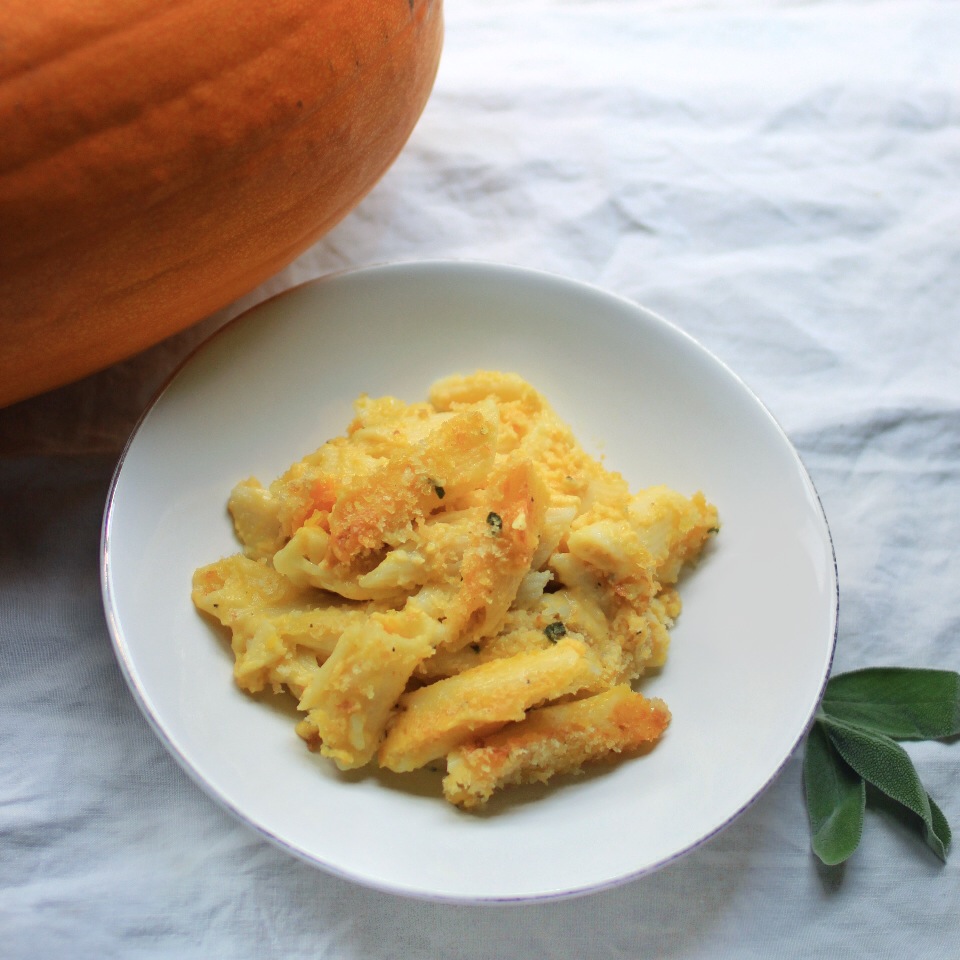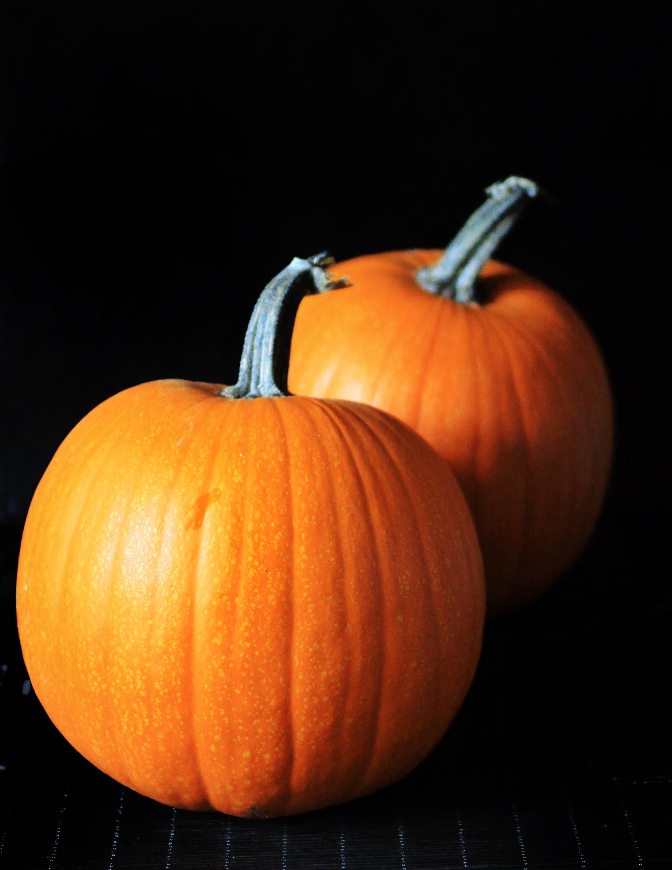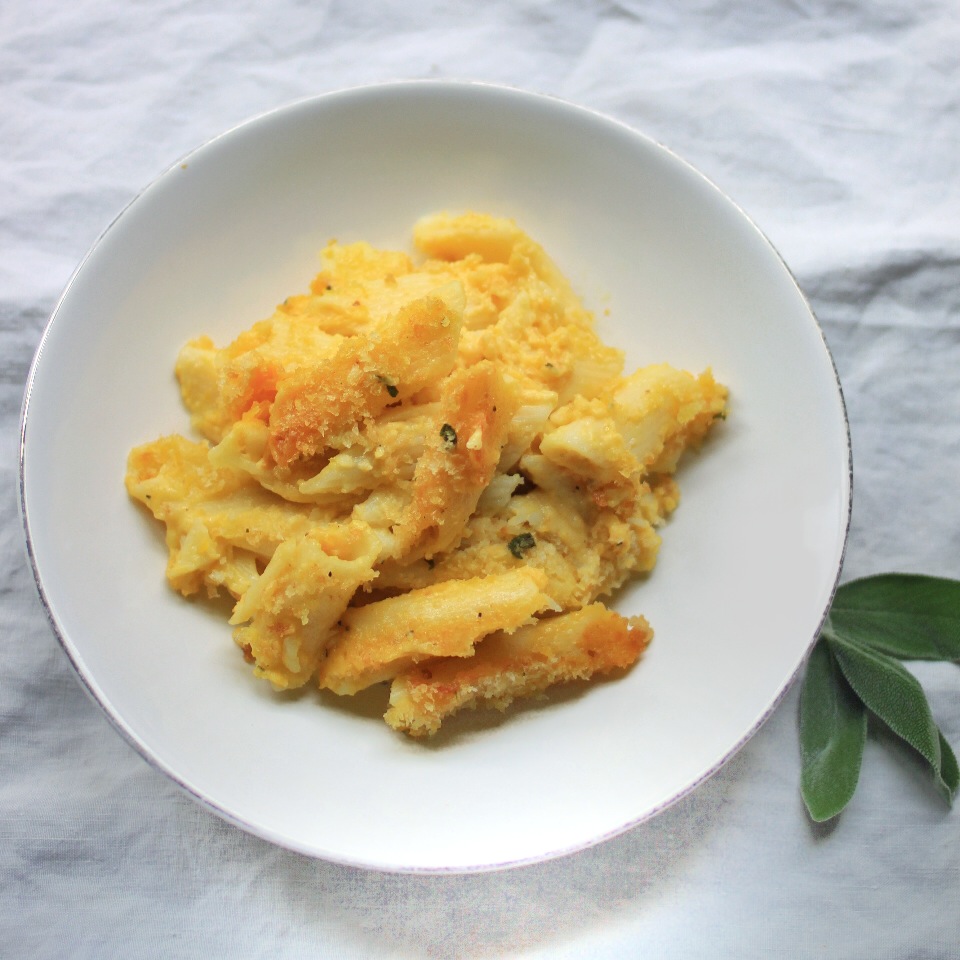 Please follow and like us: