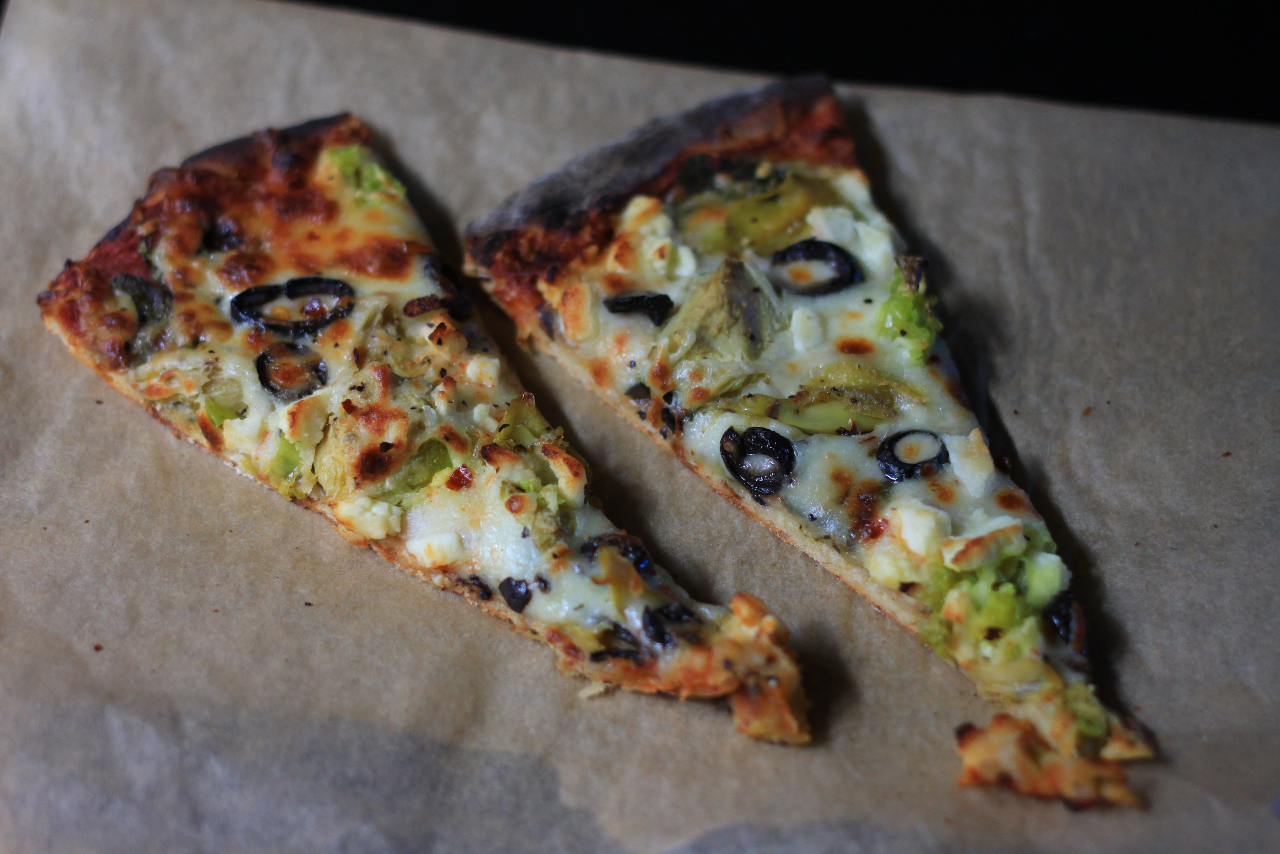 When we were trying to decide on what to have for Christmas dinner I voted for homemade pizza. One, because I've got it down to an art that feels hassle-free. Two, because it tastes good (seeing as pizza is my favorite food group). Three, because there is no wrong day to eat pizza – certainly even on Christmas. But my husband requested comfort food, which also goes over well with everyone else. There will certainly be mashed potatoes, gravy, homemade cranberry sauce, creamy macaroni and cheese, garlic green beans, a vegan roast, homemade cinnamon rolls early in the morning…
I decided that we'd just have pizza earlier in the week. So we did. When we used to go out for pizza, the Mediterranean was always a hit. Generally it's vegetarian already, but easily made so even if that requires asking for no chicken, or whatever meat may be included. Toppings often include feta, olives, and artichoke hearts, along with some variety, restaurant to restaurant. I'm glad the days of eating pizza out in restaurants are behind us, unless we're travelling. The local pizza place we used to order an incredible Mediterranean pie from charges $25.25 for a 16-inch pizza. I can make three large pizzas for less than $25 that satisfies every family members' preferred topping choices. Plus they taste better than many places we can get pizza from, reasonably!
With that, I present my go-to take on this pizza. It's a great vegetarian option even for non-vegetarians. If you want to keep this pizza from being spicy at all, you can cut back the number of pepperoncinis and leave off the red chili flakes. Personally, I like the spiciness along with the saltiness of the olives and feta!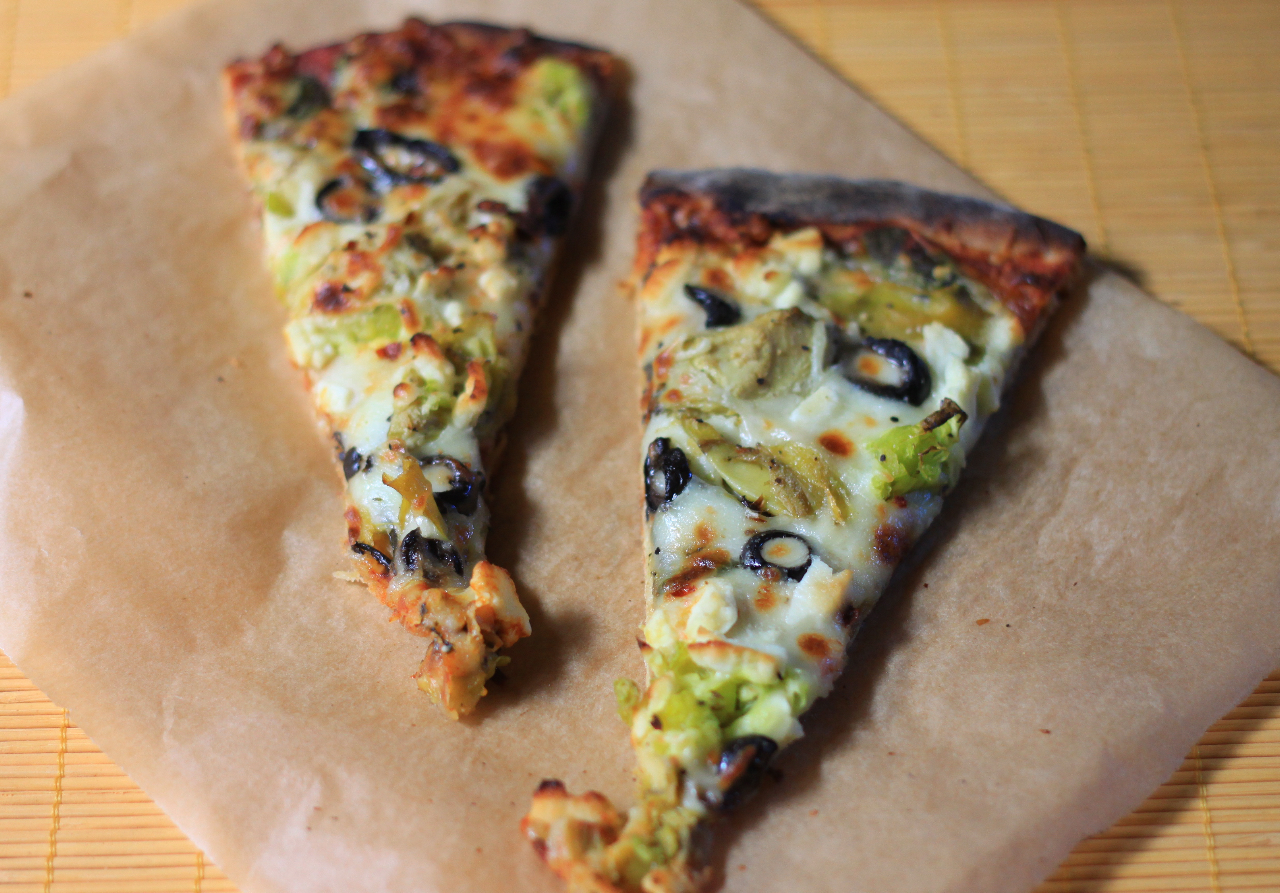 Mediterranean Pizza
Makes one large (16-18 in.) pizza
Ingredients:
½ recipe of this dough, or enough of your preferred recipe for 1 ball of pizza dough
¾ cup prepared marinara sauce
1 1/2 – 2 cups shredded mozzarella cheese
6 oz. jar of marinated artichoke hearts, drained
one 2.25 oz. can sliced black olives, drained
5-6 whole pepperoncini, sliced with stems removed
2 oz. feta cheese
3 oz. fresh spinach
1/4 teaspoon red chili flakes (optional)
1 roma tomato, diced into small cubes
1/2 teaspoon dried oregano
1/2 teaspoon dried basil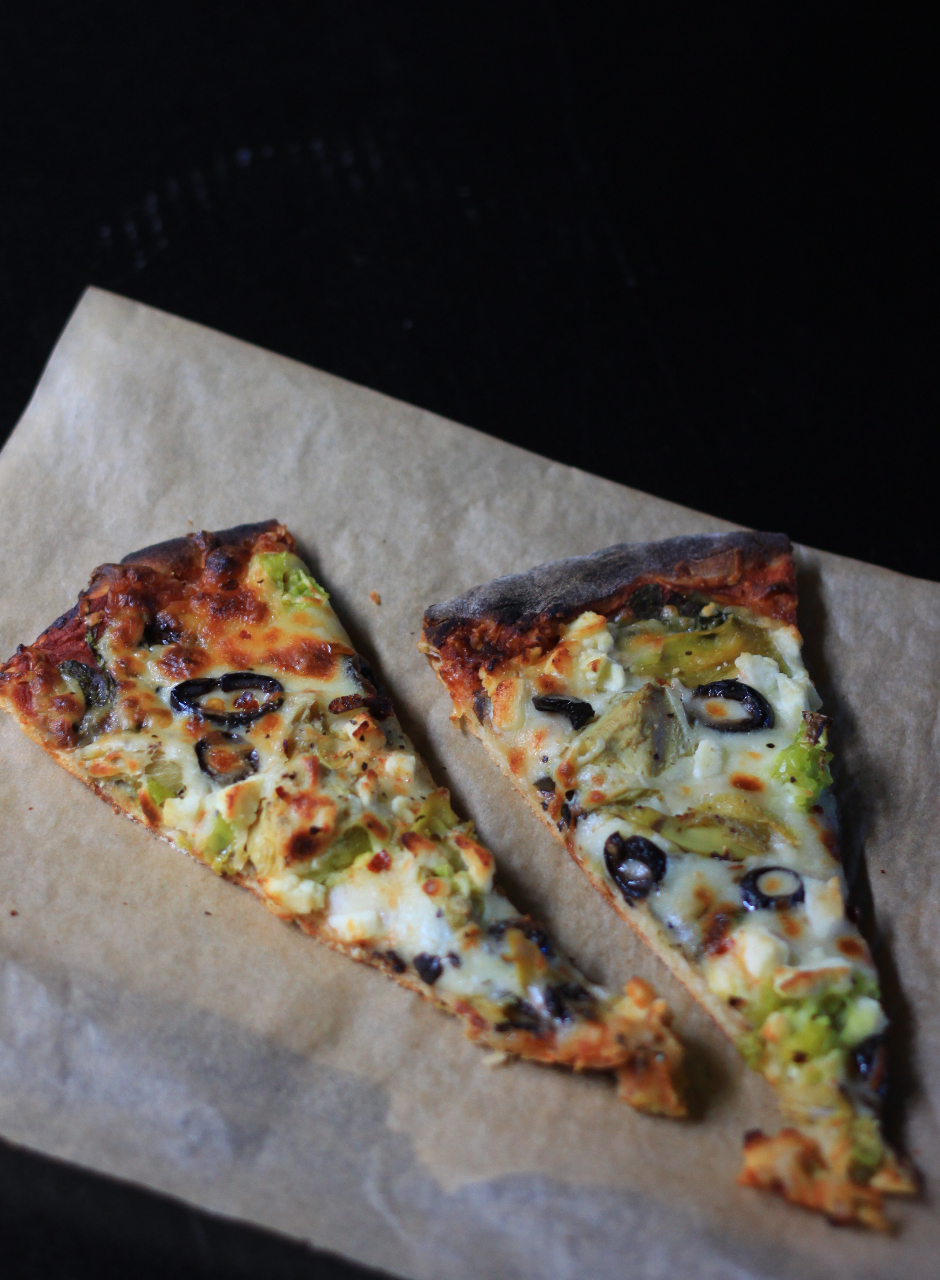 Directions:
Preheat your oven to the highest setting it will go (ours goes to 550°F). If using a pizza stone, place it in the oven to preheat as well, for at least 30 minutes.
Roll out the pizza dough on a lightly floured surface, into a 16-18 inch round (approx. the size of your pizza stone or pan). Place on your preheated stone, working quickly. Prick with a fork all over 8-10 times. Bake the dough for 2-4 minutes, until not doughy, but also not browned at all.
Spread the sauce evenly around the pizza dough, starting at the center and working your way out towards the crust. Evenly place the spinach all over the sauce. Next, sprinkle on about 3/4 of the shredded mozzarella. Arrange the artichoke hearts, olives, pepperoncini, feta, and diced tomato all over the pizza. Next, add the remaining cheese. Sprinkle on the chili flakes, oregano, and basil.
Bake for 12-15 minutes, until golden on top and the crust, nicely browned. Allow the pizza to cool slightly, then cut and serve.