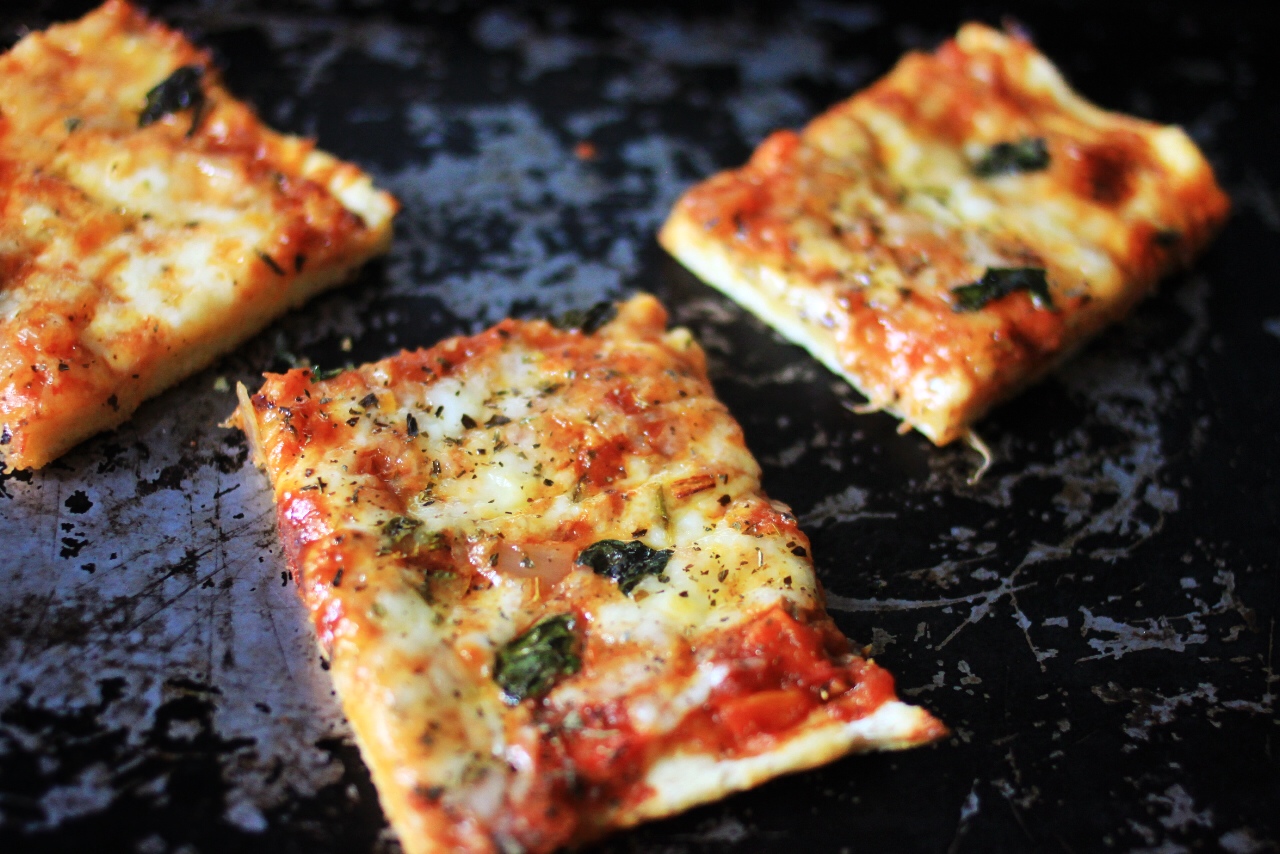 Last week, we started off the week with homemade pizza, made with my sourdough crust. We had leftover pizza the night after. The next day, there was this risotto. Thursday night, we had a spinach lasagna somewhat reminiscent of this one. Friday, Saturday, and Sunday? We ate the pizza I am going to share with you now. Not because there were leftovers… there weren't leftovers. I made this pizza three days in a row because we are OBSESSED.
Seeing as we had pizza for five out of seven nights last week, I probably don't need to tell you we like these sauced-up, cheese-topped, pies around here. I had seen Tracy Shutterbean's no-knead dough recipe over a year ago, but always told myself that in order to be a pizza enthusiast (is that a thing?), I had to make a damn good rolled, stretched, kneaded dough. So that's what I did. Over and over again. But let's be real. As often as I crave pizza, I don't always have the extra time it takes to make a kneaded dough. Let's be really real – it's not even an issue of "extra time" – sometimes I just don't want to mess with kneading, or yeast-proofing, or rolling dough.
The beauty of this dough is two fold. One, it's RIDICULOUSLY easy. Throw things in a bowl, stir, cover, wait. Ta-da! DOUGH! And two, it's DELICIOUS. One of our favorite pizza places in San Francisco is Golden Boy in North Beach. Their pizza is a foccacia type of crust, topped with minimal sauce and cheese (or pepperoni, garlic + clam, pesto veggie, or meat + veggie combo). It's excellent for lunch, dinner, an alcohol-soaking-up-device when you've drank too much, or for any occasion.
This crust turns out thin, crispy, and absorbs just the right amount of sauce while it's baking in the oven. I'm including an easy (and DAMN TASTY) cheese pizza recipe along with the dough. It's the one I made all three nights. We found that while pizza is really good just out of the oven, this one is even better when its cooled to just slightly above room temperature… Enjoy and I hope you have more pizza restraint than we do! (But I fully encourage you not to!)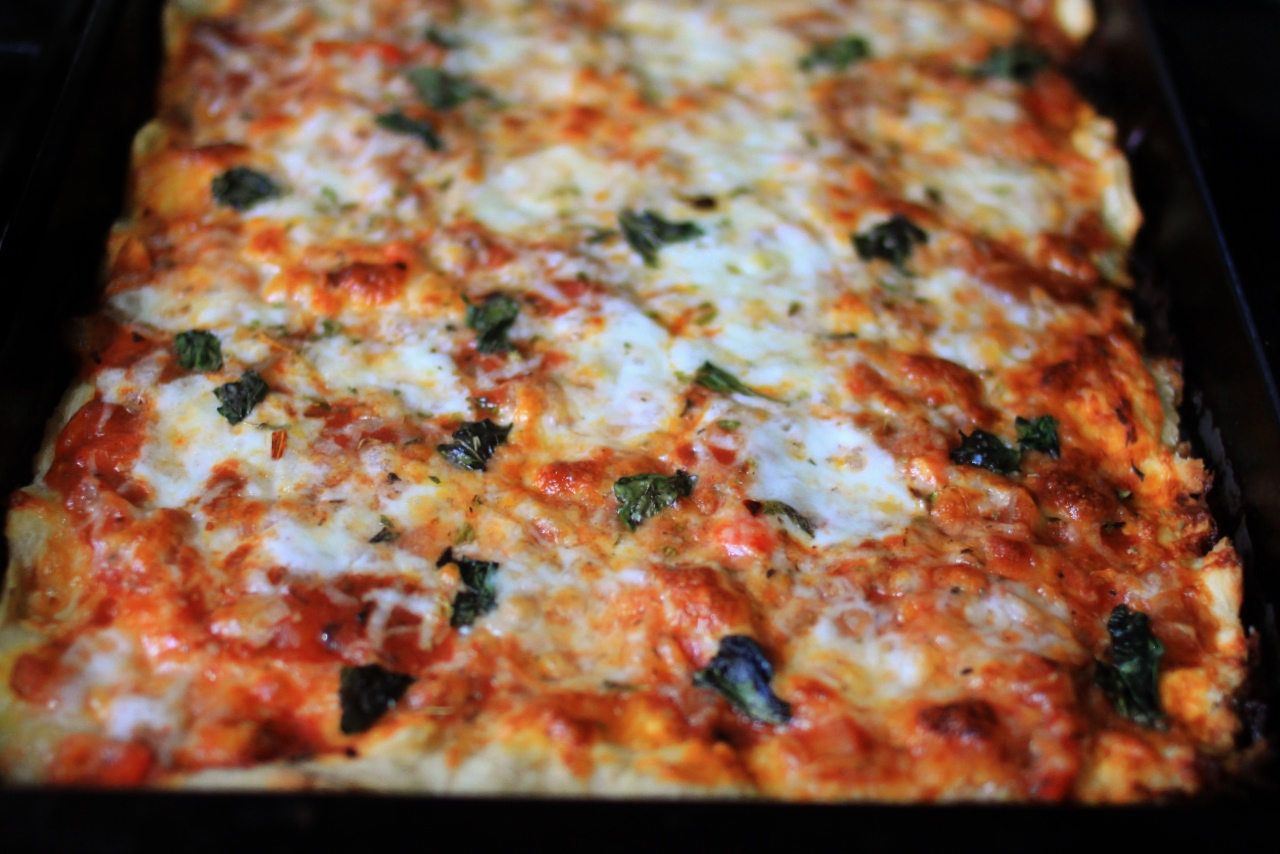 No-Knead Pizza Dough
Yields enough dough for two pizzas baked in 13×18-inch rimmed baking sheets.
Recipe modified slightly from Tracy Shutterbean
Ingredients:
3 3/4 cups flour
2 1/2 teaspoons active dry yeast
3/4 teaspoon salt
3/4 teaspoon sugar
1 1/3 cups warm water
olive oil for pan
Directions:
Stir together the flour, yeast, salt and sugar in bowl. Add the water, then use a spoon or your hands to mix everything together until blended into a ball of dough (this should take no more than a few minutes).
Cover the dough and let it rise at room temperature for about 2 hours. It may be slightly less than doubled in size.
Dump the dough onto a lightly floured surface and cut it in half. Oil a 13×18 inch rimmed baking sheet liberally with a good quality olive oil. Gently place a ball of dough on the pan, stretching and pressing it out toward the edges. If it springs back wait five minutes and then continue. The dough is very thin. If it tears, simply pinch it back together.
Moving on to pizza-making…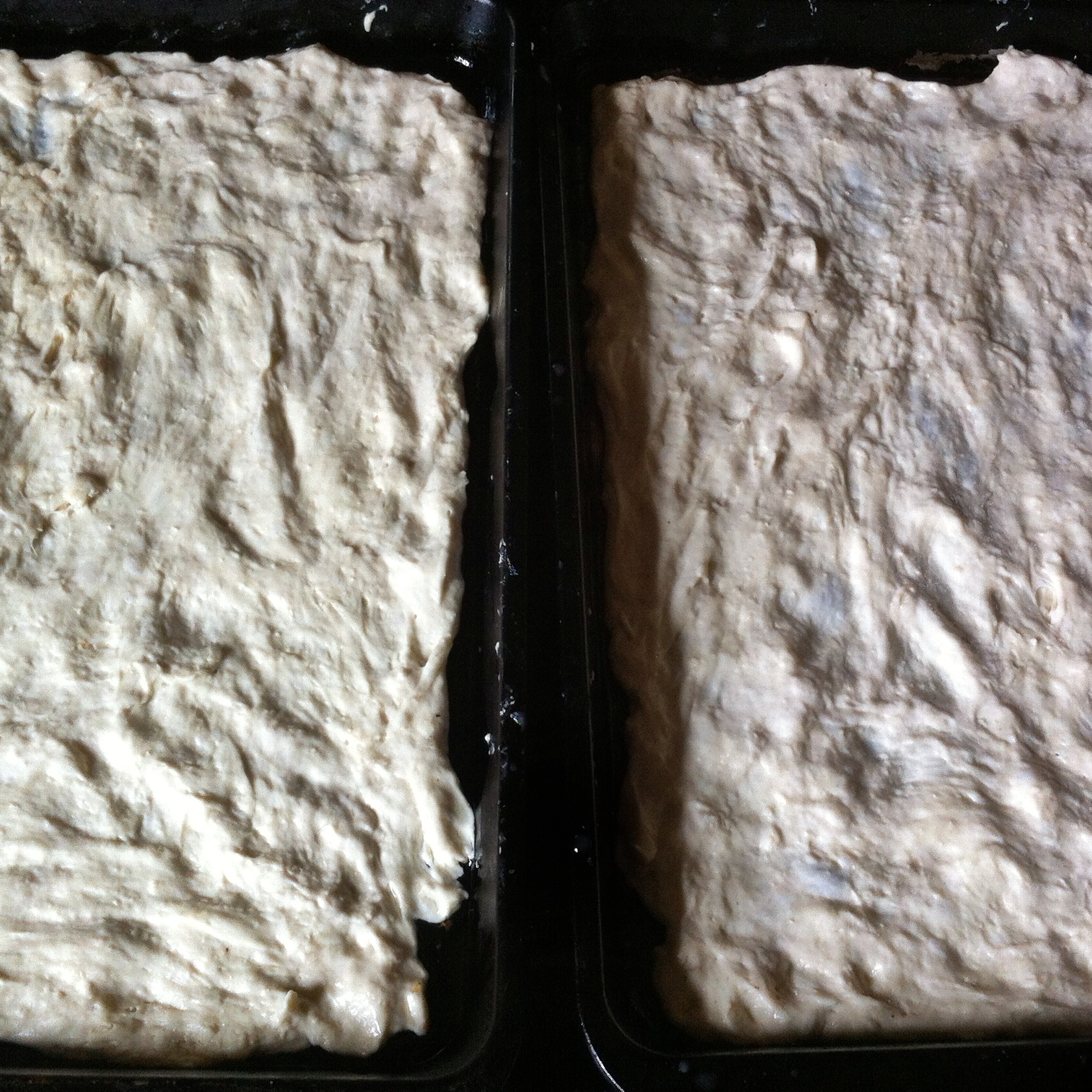 Tomato Basil Pizza
Yields two 13×18 inch pizzas.
Recipe also slightly modified from Tracy Shutterbean
Ingredients:
3 1/2 cups of your preferred tomato sauce (this is my go-to)
a few pinches of red pepper flakes
12-18 large leaves of fresh basil, chopped
24 ounces fresh mozzarella cheese
parmesan cheese for topping
optional 1 teaspoon dried oregano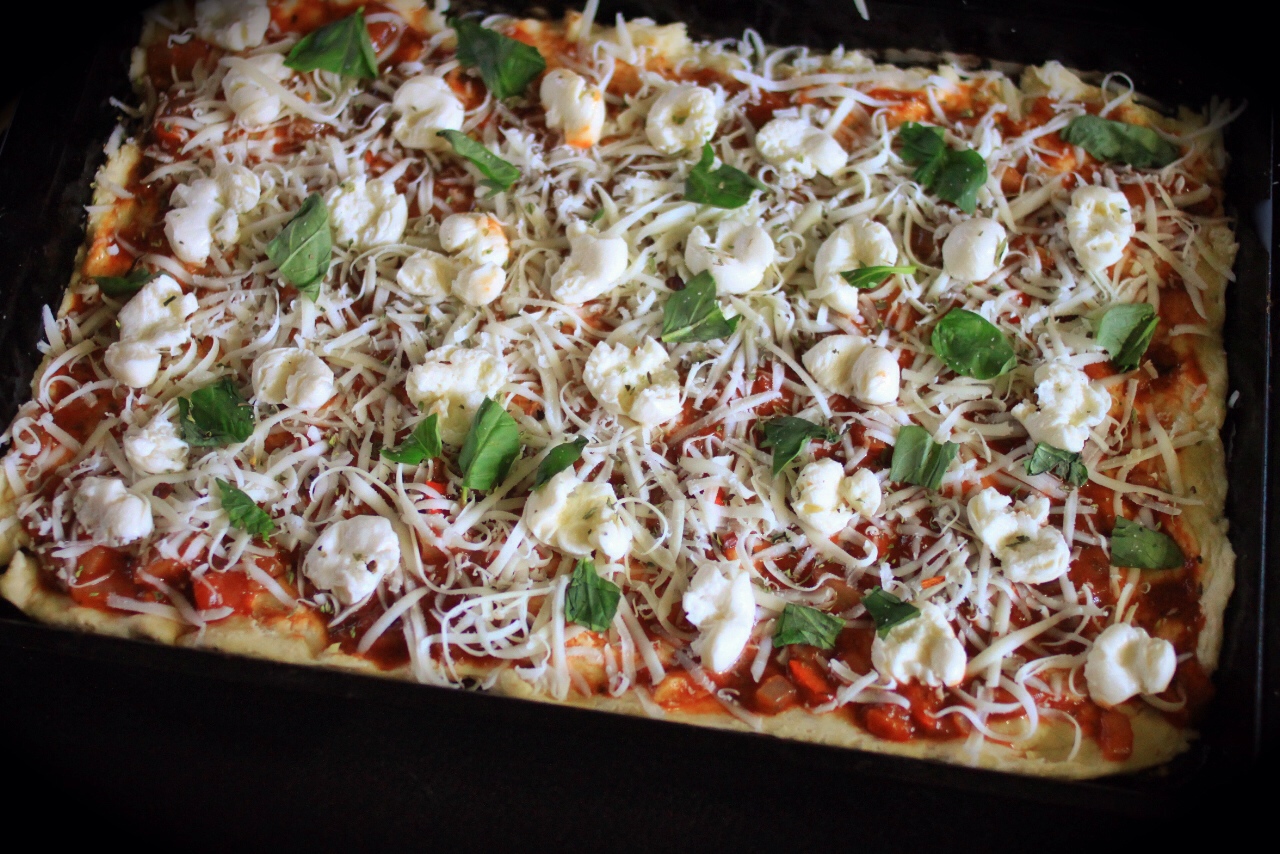 Directions:
Preheat your oven to 500° F.
Spread half of the tomato sauce evenly over each baking sheet of dough, going all the way to the edges. Be sure the sauce is spread evenly, so no sauce piles up in the center of the pie. Sprinkle with a few pinches of red pepper flakes, top each pie with the chopped basil, then tear pieces of the fresh mozzarella and scatter it over each pizza.
Bake for 18-20 minutes until the edges are slightly charred. Sprinkle with the oregano, extra basil and fresh parmesan cheese and serve hot or at room temperature.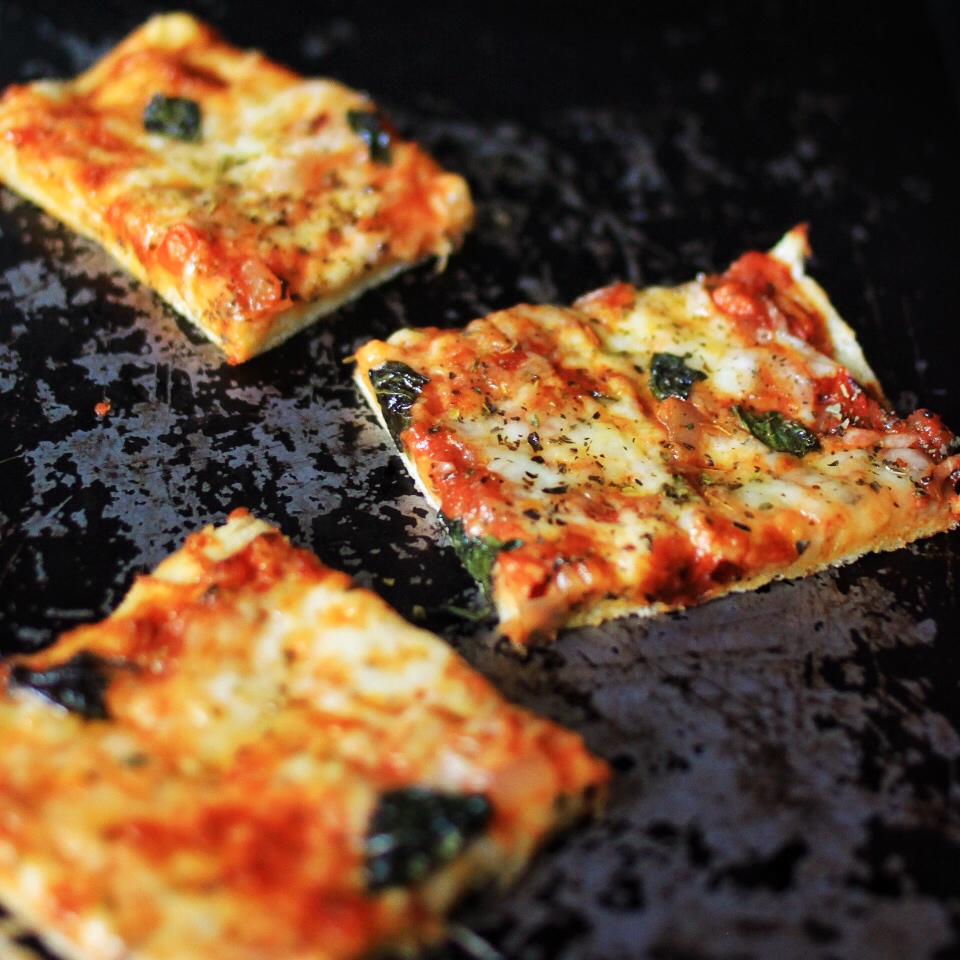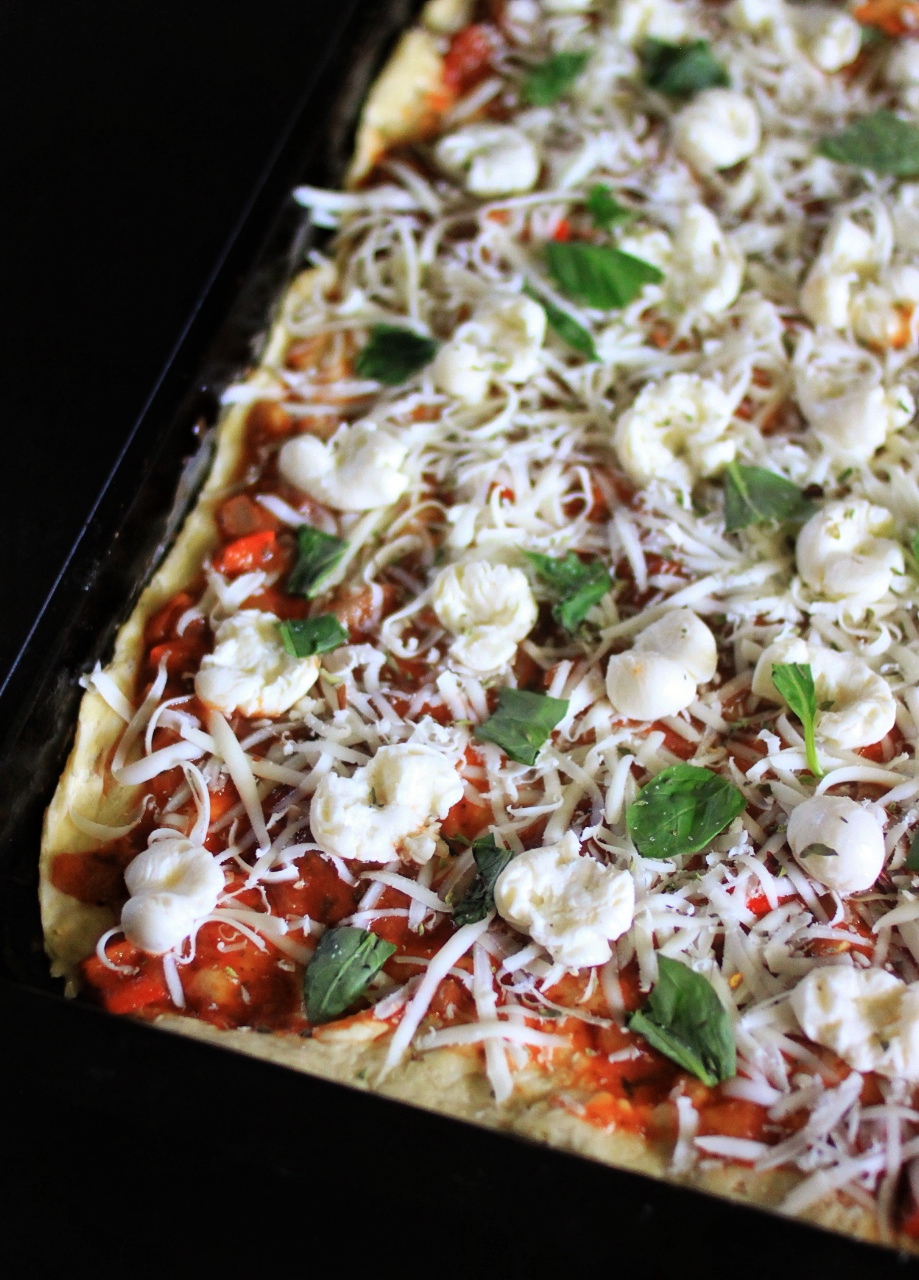 Please follow and like us: