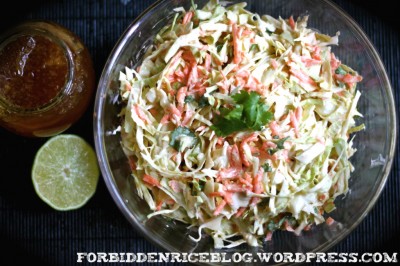 Cabbage is most certainly on my list labeled "Foods Not Enjoyed." Coleslaw? C'mon now–no thank you. I imagine it's partially because of another "food" on that same list–mayonnaise. However, as I mentioned before, I've been trying to eat more of the things I swore I couldn't possibly enjoy. (Mayonnaise isn't one of those things, but I am a fan of Vegenaise, the only product even remotely close that I use in my sandwiches and cooking.)
Aside from the chopping, this whips up pretty quickly. If you have a food processor or other chopping device, even quicker. (I prefer hand-chopping for the un-uniform pieces.) The slaw will last a few days in the fridge and actually tastes better with each day.
Creamy Honey Cumin Lime Slaw
Ingredients:
1 small head green cabbage, chopped fine (approximately 3 cups)
1 large carrot, peeled and grated fine
¼ cup cilantro, chopped
¾ cup Vegenaise
3 tbsp. fresh lime juice
2 tbsp. sour cream
2 tbsp. honey
2 tbsp. apple cider vinegar
1 tbsp. onion, grated fine
1 tbsp. stoneground mustard
1 tsp. ground cumin
salt and pepper, to taste

Directions:
In a large bowl, toss together the cabbage, carrot, and cilantro.
In another bowl, whisk together all of the remaining ingredients. Add the whisked together dressing to the cabbage mixture. Toss to combine and well coat everything.
Taste, then add more salt and pepper to your liking. Serve immediately or refrigerate until ready to be used.