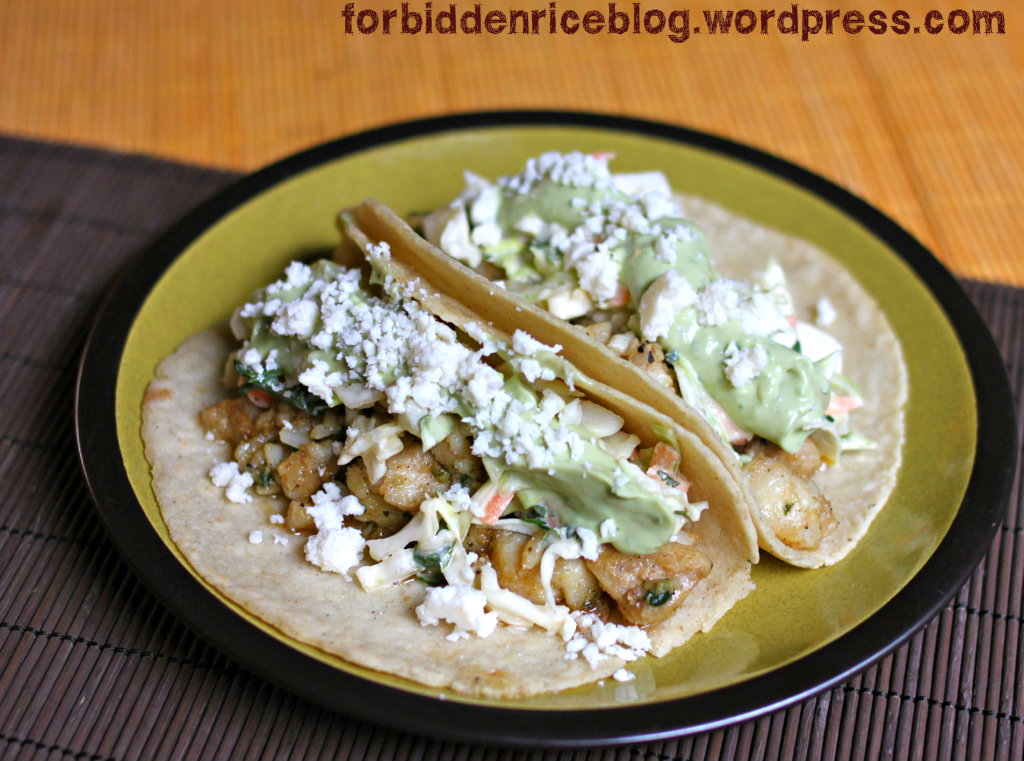 I love tacos. Not overly decorated Americanized tacos covered with mass piles of sour cream, cheese, unflavored shredded lettuce and globs of guacamole. That's not a taco. I like homemade corn tortillas (although you can find decent, authentic corn tortillas inexpensively) topped with either homemade beans (whole or refried, I'm not picky about it) and rice, or well-seasoned crispy tofu, or flaky freshly cooked fish… And then a bit of slaw, some form of homemade sauce, and maybe cheese and hot sauce. To me, the best tacos have minimal ingredients, but what they do have needs to be flavorful and well balanced.
While I thoroughly love fried fish tacos, I equally love pan seared or grilled fish tacos. The only downside of the latter is that I can eat more of them without getting greasily full after two tacos… It's a win-lose-win sort of situation. I'm not complaining.
To make the following tacos, I used my creamy honey cumin lime slaw, which is sweet and tangy (as good slaw is), but the cilantro and cumin pair well with the fish and flavor of corn tortillas. I had planned for the sauce to balance out the spiciness of the fish, but found that the jalapeno gave it a good kick of its own. In a good way. If you want to avoid the heat in the sauce, simply leave out the jalapeno. These tacos have multiple flavor levels that I enjoy in a good taco: slight sweetness in the tortilla and slaw, spiciness and citrus in the fish, creamy and cool with the sauce, a bit of saltiness with the cotija cheese. Miraculously, happily, all the flavors marry well into a delicious taco.
Spicy Citrus Fish Tacos with Creamy Avocado Sauce
Yields 10-14 tacos
Ingredients:
For the fish:
1 pound red snapper fillet(s)
zest from one lime
zest from one lemon
½ tsp. smoked paprika
½ tsp. sea salt
½ tsp. ground black pepper
¼ tsp. ground cumin
¼ tsp. cayenne pepper
¼ tsp. dried oregano
3 cloves garlic, minced
2 tbsp. oil
3 tbsp. fresh chopped cilantro
1 tbsp. fresh squeezed lemon juice
For the sauce:
1 large hass avocado
½ cup light sour cream
½ cup original vegenaise
½ cup fresh chopped cilantro
½ – 1 jalapeno, seeds and stem removed
2 tbsp. fresh squeezed lime juice
1 tsp. ground cumin
salt and pepper, to taste
For the tacos:
10-14 corn tortillas
one recipe of this slaw
¾ cup crumbled cotija cheese (mild feta would work)
hot sauce
fresh lime wedges
fresh chopped cilantro
Directions:
Prepare the coleslaw, cover, and refrigerate until needed for serving. This can be done up to 24 hours in advance.
Prepare the fish: Cut the fish up into bite-sized pieces (about 1-inch). Drizzle with one tablespoon of oil, then sprinkle with the lime zest, lemon zest, paprika, salt, pepper, cumin, cayenne, and oregano. Toss gently to coat everything evenly. (I use my hands to do this, rubbing the spices into the fish while coating.) Let the mixture sit for 10 minutes.
Heat the remaining tablespoon of oil over medium-high heat. Add the garlic and sauté until fragrant (3-4 minutes). Add in the fish, gently stirring everything together. Cook until the fish is white and flaky (8-10 minutes). Once the fish has cooked all the way through, stir in the fresh lemon juice and chopped cilantro. Keep over warm/low heat while you prepare the sauce and tortillas.
Prepare the avocado cream sauce: Add all the ingredients for the sauce to a food processor, fitted with the large chopping blade. Blend until smooth. Taste, then add salt and pepper to your liking.
Prepare the tortillas: Follow the instructions on the package to heat up your corn tortillas.
Make your tacos!: To assemble, layer in this order – tortilla, a generous amount of fish, slaw, avocado cream sauce, a sprinkling of cotija cheese, then a small pinch of fresh chopped cilantro. Serve with a slice of lime and a side of hot sauce. Eat immediately.