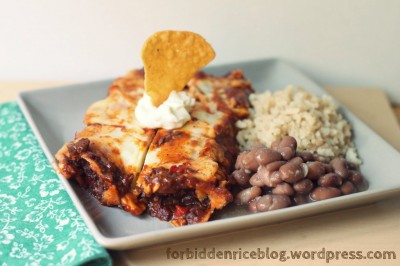 Much of the time, I would prefer using fresh and/or homemade ingredients instead of relying on canned, pre-jarred, or pre-made things. I've made enchilada sauce from scratch a few times, but we tend to keep canned enchilada sauce on hand. While I will no longer buy corn tortillas, we usually have about 20 lbs. of masa around for homemade tortillas. These things said, enchiladas are a popular dinner option around our house. Truth be told though, I get a little worn out on enchiladas. Yet on most days if I ask either of the kids what they'd like for dinner, it's a toss up between enchiladas and pizza.
Canned enchilada sauce makes things that much easier. Although we've tried various brands, my preferred type is Hatch enchilada sauce. I recently discovered their fire-roasted tomato variety, which is perfectly smoky, spicy, and tasty. Accidentally, I found Tofurky's brand of chorizo crumbles, too. The following recipe resulted from having all of these ingredients on hand. I really liked the bell pepper cooked with the Tofurky chorizo–it created a slight sweetness to balance with the spiciness of these enchiladas, and the Monterey Jack cheese is perfectly creamy.
You can easily make this into a vegetarian meal, adding your preferred type of beans and rice as side dishes. Easy to reheat, you can also multiply this recipe accordingly and either freeze a portion, or eat it the next day.
Chorizo and Cheese Enchiladas
Ingredients:
2- 12 oz. pkgs. Tofurky Chorizo Style Crumbles
1 small red bell pepper, diced
½ a sweet onion, diced
2 cloves garlic, minced
1 tbsp. olive oil
1 tbsp. fresh oregano, minced
1 tbsp. fresh cilantro, minced
2 tsp. fresh thyme, minced
salt and pepper, to taste
8 oz. Monterey Jack cheese, shredded
15-20 corn tortillas (fresh, if possible)
2 cans fire-roasted tomato enchilada sauce (Hatch brand)
Directions:
Heat the oil in a medium-sized saucepan over medium-high. Add the onion and garlic, sautéing until the onion is mostly translucent (5-7 minutes). Add the diced bell pepper and sauté for an additional 2-3 minutes, until slightly softened. Add the ground Tofurky chorizo and cook until the chorizo is slightly browned (5-6 minutes). Stir in the oregano, cilantro, and thyme, then add salt and pepper to your liking. Remove from heat.
Preheat your oven to 375°F. Pour one can of your enchilada sauce in a 9×13 inch pan. One at a time, dip a corn tortilla into the sauce, flip it over, then place about 2 tablespoons of chorizo filling and a nice pinch of shredded cheese in the center. Roll up and arrange in your pan. Repeat with all the remaining tortillas. Once all the tortillas have been rolled up, pour the remaining can of enchilada sauce evenly over the rolled tortillas. Top with the remaining shredded cheese.
Bake the enchiladas for about 15 minutes, until the cheese is melted and the sauce completely heated. Serve immediately with your favorite sides and toppings (rice, beans, guacamole, sour cream, salsa, tortilla chips, etc.).