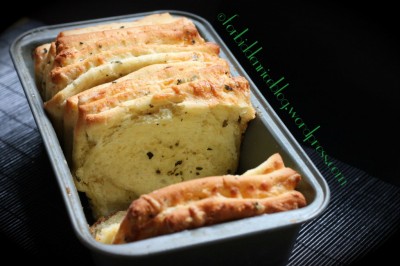 Pinterest generally has me wanting to paint everything I own in chalkboard paint, make various things from mason jars, try fifty new workout routines, and make nine thousand varieties of pull-apart breads (after I've hoarded an equal number of recipes I may or may not use someday).
I have always been intrigued by pull-apart loaves, although most varieties I've seen have been sweet, dessert-like creations. A while back, I came across Deb Perelman's (Smitten Kitchen) recipe for a cheddar, beer and mustard pull-apart bread and was instantly excited at the thought of a savory pull-apart. When I was trying to decide what to make alongside a huge batch of homemade Romesco soup, homemade bread sounded like the best option. I wanted to use things I had on hand and opted for this cheesy, herb-laden bread.
While it was baking, the loaf smelled like pizza baking up in the oven. Initially I had planned for a loaf that was very cheesy, so that when the layers were pulled apart, there would be some obvious cheese-stretch going on. While the loaf didn't wind up with those apparent cheese strings, it was deliciously cheesy without being overwhelming or greasy.
This bread is great along with a bowl of hot soup for dipping. I imagine if it were served with a pizza dipping sauce (marinara) that would be equally tasty. For the bread dough, I started off with Joy the Baker's dough recipe for this cinnamon sugar pull apart bread, but tweaked it to work for a savory style loaf. The result is a very soft, flavorful, bread that pulls apart best when still warm or hot.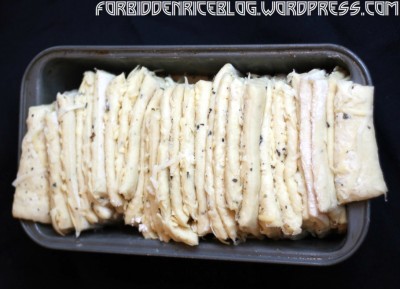 Cheesy Herb Pull-Apart Bread
Makes one 9×5-inch loaf
Ingredients:
For the bread dough:
3 cups all-purpose flour
2 tbsp. cane sugar
2¼ tsp. (1 pkg.) dry active yeast
½ tsp. sea salt
1 tsp. granulated garlic
1 tsp. dried thyme
½ tsp. dried basil
2 eggs, lightly beaten
2 oz. butter, softened (1/2 a stick)
¼ cup warm milk (85°-95°F)
½ cup warm water (85°-95°F)
For the filling:
2 oz. butter, softened (1/2 a stick)
1 tsp. granulated garlic
2 tsp. dried basil
1 tsp. dried oregano
½ tsp. ground white pepper
1 cup shredded sharp cheddar cheese
½ cup shredded parmesan cheese
½ cup shredded monterey jack cheese
Directions:
Combine the warm water, sugar, and yeast in the bowl of your stand mixer (or a large mixing bowl if you're making the bread by hand). Allow the mixture to proof (get bubbly, frothy, active).
Once the yeast has proofed, add in the salt, granulated garlic, thyme, basil, softened butter, beaten eggs, and milk. Stir to combine everything. Attach the dough hook to your mixer. Add in the flour, one cup at a time, kneading the dough on low speed until it's smooth and slightly sticky (5-6 minutes).
Lightly flour a large work surface, then turn your dough out to it. Knead 4-5 times, until the dough comes together into a ball.
Lightly grease either the bowl of your stand mixer, or a large mixing bowl. Place the dough into the bowl, turning once to coat both sides. Cover tightly with plastic wrap. Allow the dough to rise in a warm area until it doubles in size, about one hour.
Gently "punch" the dough down, then turn it out to a lightly floured surface. Roll the dough out into a rectangle about 20-inches long, about 12-inches wide. Brush the rolled dough with your softened butter. Sprinkle with the granulated garlic, dried basil, dried oregano, ground white pepper, and shredded cheeses.
Cut the rectangle width-wise into 5 or 6 equal strips. Stack the strips on top of one another, so the filling is layered between the layers of dough. Cut the strips into 4 equal-sized parts.
Lightly butter a 9×5-inch loaf pan. Stack the squares against each other, cut sides down. Lightly cover the pan with plastic wrap and set the pan aside to rise again for 30 minutes.
Preheat the oven to 350°F. Bake the bread for 30-35 minutes, or until the loaf is nicely golden brown on top. This bread is best served warm (and/or just out of the oven).