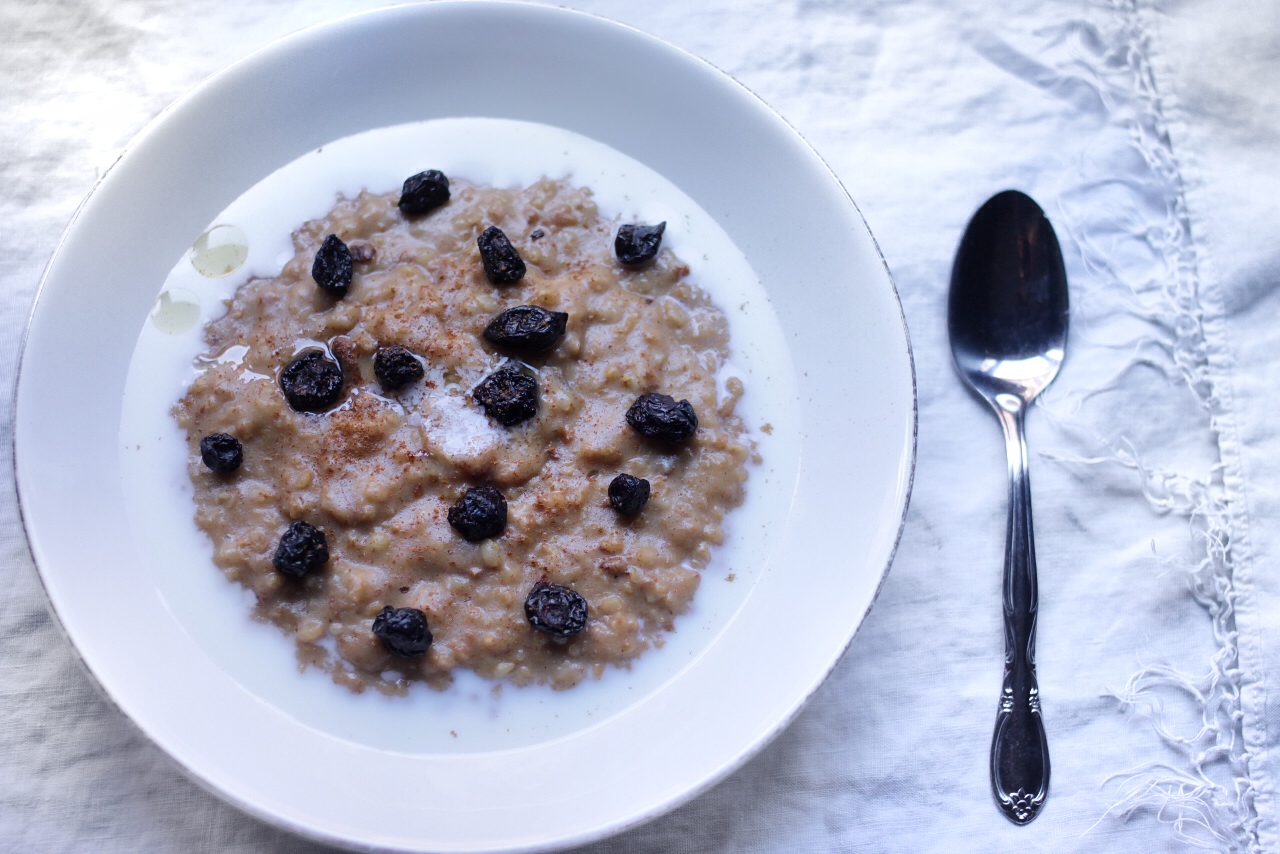 Lazy Girl Breakfasts : they are the best. This oatmeal totally falls into that category. Since I don't often eat breakfast at normal person breakfast hours, I often try to think of something that will feed everyone else but still be easily consumable somewhere near lunch-hours, when I am actually hungry. The thing about overnight oats is that all the work happens in the crock pot as you sleep and it serves both those needs – it's ready at breakfast time, but still tastes wonderful at lunch time .
Steel cut oats are generally nuttier in flavor and break down much more slowly than rolled oats. When cooked slowly in your crock pot, they become creamy and extremely flavorful, while maintaining some stability rather than turning into a pot of mush. I've posted various versions of these oats before, such as these pumpkin oats, or this version with apples, pears, and walnuts, or this blueberry nut version…
But the last few times I cooked this type of oatmeal, Silas very hesitantly ate them, saying he didn't like them. I decided to take a chance anyway because, quite honestly, I am sick of eating pancakes – the sole breakfast request from Mr. Silas Henry these days. I added more liquid this time, hoping for a creamier oatmeal come morning time. I also used mashed banana, mainly to add some natural sweetness. One ingredient we're all fans of in oatmeal these days is peanut butter… so that went into the crock pot, too.
This may have been my favorite pot of overnight oats. It's creamy, but flavorful in a completely un-overwhelming way. Plus I made Silas a bowl, topped with a little bit of butter, whole milk, and dried blueberries. He demolished the first bowl, demanded a second and then ate that as well. It was certainly kid-approved despite previous hesitations. I'm certain this flavor combination is going to stick around for a while.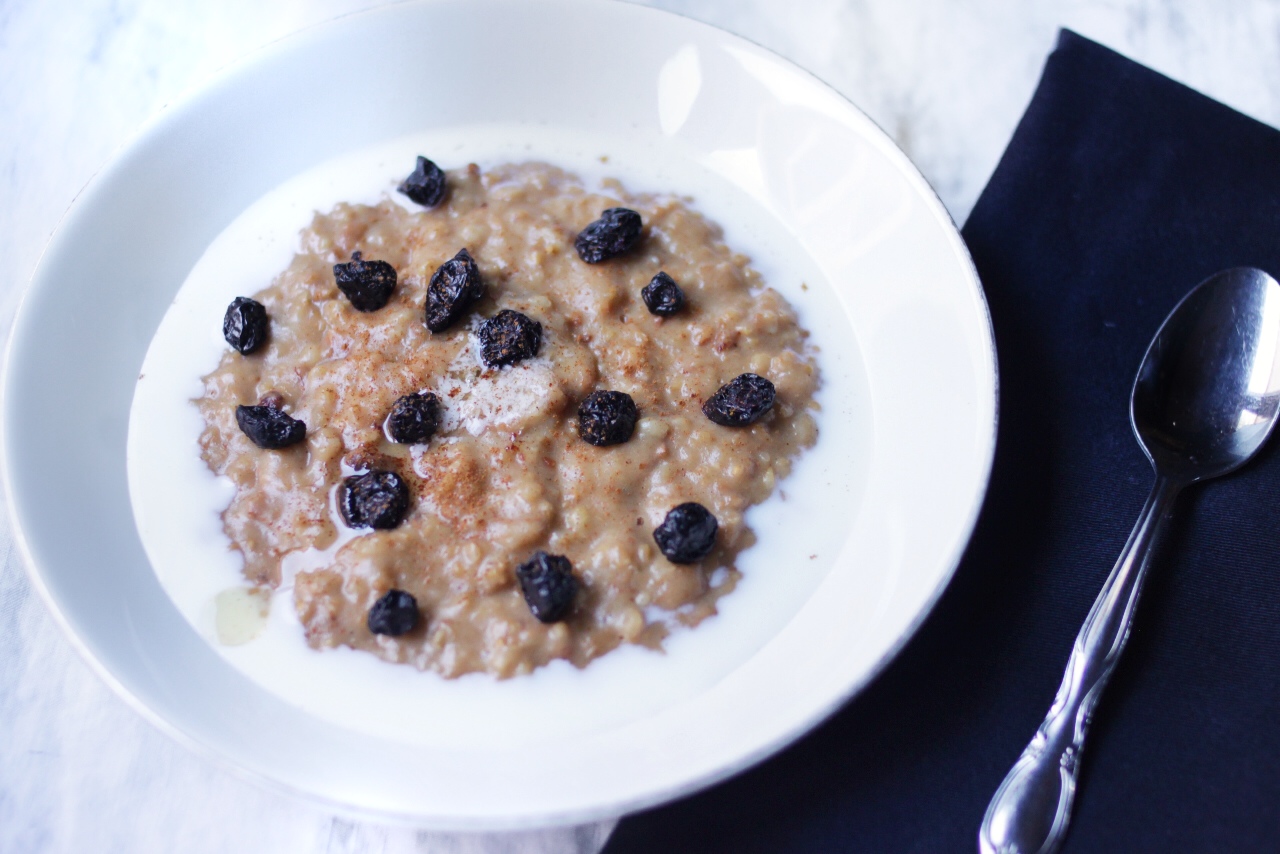 Overnight Peanut Butter Apple Cinnamon Oats
Serves 6-8 people.
Ingredients:
2 cups steel cut oats
8 cups water
1 1/2 cups whole milk, coconut milk (canned works), milk of your choice
2 cinnamon sticks
1/4 cup smooth unsweetened peanut butter
1 large banana, mashed
1 large fuji or gala apple, peeled, cored, and diced
1/4 cup light brown sugar, packed
1 teaspoon ground cinnamon
1 teaspoon vanilla extract
1/2 teaspoon salt
1/4 teaspoon ground nutmeg
optional toppings such as: dried cranberries/blueberries/raisins, shredded unsweetened coconut (toasted or plain), milk, butter, light brown sugar, maple syrup, chopped fresh apples, sliced fresh banana, etc.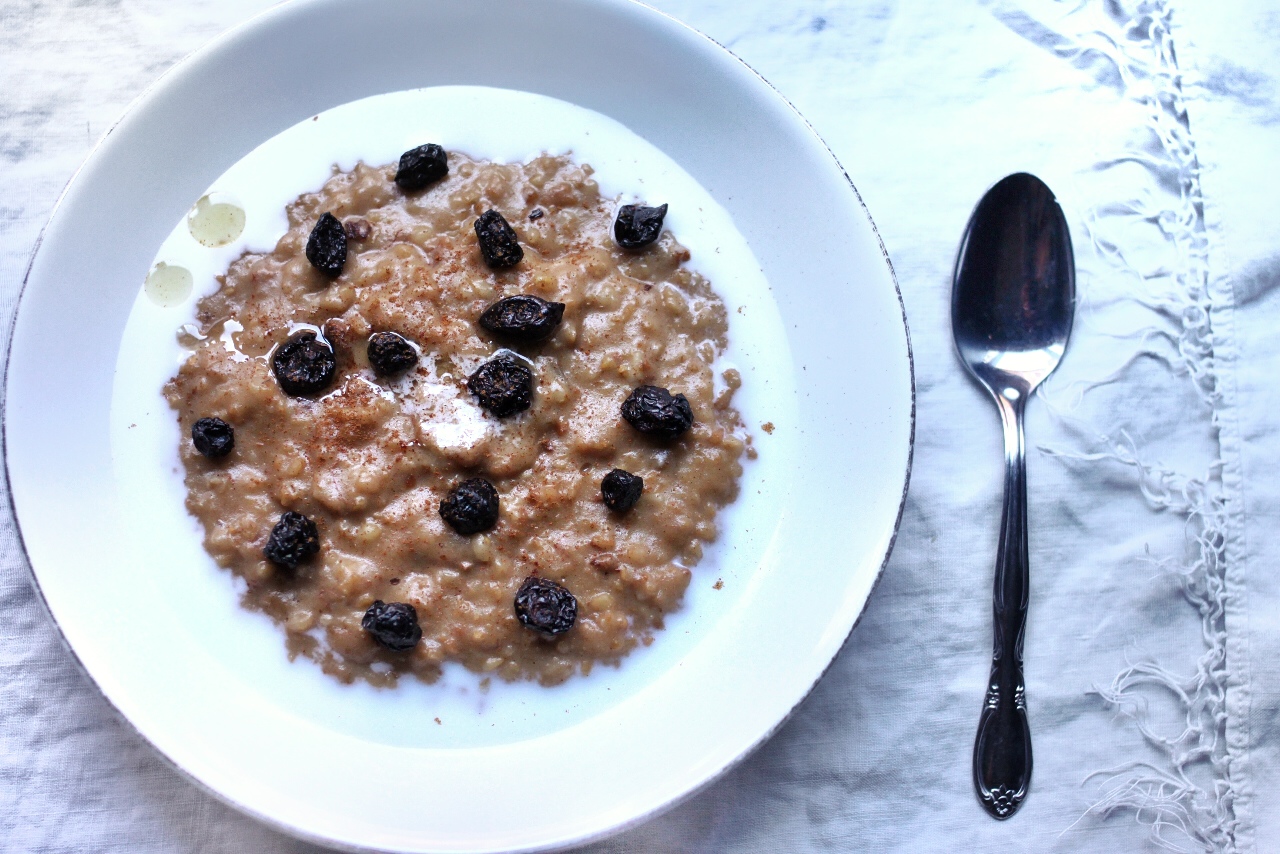 Directions: 
In your crock pot, combine the oats, water, milk, cinnamon sticks, peanut butter, mashed banana, diced apple, brown sugar, ground cinnamon, vanilla, salt, and ground nutmeg. Stir well to combine everything. Cook on low for 8 – 10 hours.
After the oats have cooked completely, uncover them and stir. If the oats are a bit soupy, simply uncover the crock pot and allow it to sit, still on low, for 15 – 20 minutes. Stir again.
Serve hot, topped with your preferred toppings. (This morning I enjoyed a little butter and dried blueberries, with a splash of milk.) Leftovers can be refrigerated for up to 3 days, simply reheat on the stove as desired.