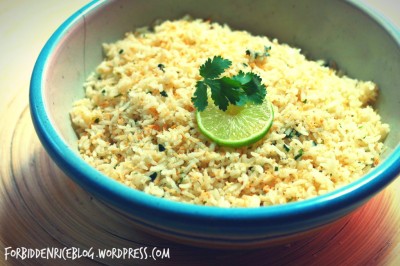 Rice was a substantial part of any meal I had for at least half of my lifetime. Plain white, sticky, rice. Breakfast at times meant sticky rice, scrambled eggs, and Portuguese sausage. Lunch – nori (seaweed) wrapped spam musubis or a scoop of white sticky rice in a bento box laden with fried chicken, or shrimp, or various other ingredients. Dinner – rice alongside nearly any ingredient. I've had a very under-appreciated relationship with the grain, despite its ever present existence in my life.
I have a new-found like for the stuff. Brown rice, cooked like pasta. Long-grain white rice served under a delicious curry or peanut sauce. Tomato-based rice with chilies or other flavors. And now, coconut rice that is tender but hints at just the slightest toastiness that keeps it from being mushy and fragranced more than flavored with hints of ginger and lime
The following rice is great on its own as a side dish. Or it can be the bed beneath a good coconut-inspired curry. Or alongside fried seafood. Its flavor can hold up on its own, but certainly won't overpower if you decide to pair it with other flavors.
Toasted Coconut, Cilantro and Lime Rice
Ingredients:
1 ½ cups coconut milk (NOT coconut water)
1 ½ cups No-Chicken stock
1 ½ cups basmati rice
½ cup toasted unsweetened coconut flakes
¼ cup cilantro, chopped
½ tsp fresh ginger, minced
the juice from ½ a lime plus its zest
pinch of salt
1 tbsp. oil
Directions:
Heat the oil over medium-high heat in a large saucepan. Add the rice, stirring to evenly coat each grain. Occasionally stir the rice, being careful to keep it from burning, until the grains are smell toasty and turn a golden brown color. Add in the coconut milk and stock, stirring to combine well. Cover, reduce heat to low, and allow the rice to cook until tender and the liquid has been fully absorbed (about 20-25 minutes).
Turn off the heat, then fluff the rice with a fork. Re-cover and allow the rice to rest for about 10 minutes. Gently mix in the toasted coconut, cilantro, fresh ginger, lime juice, lime zest, and salt.
Serve immediately.
Please follow and like us: