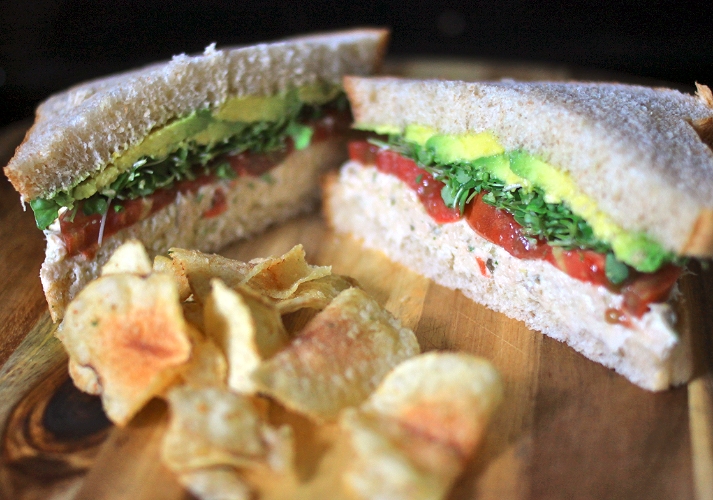 There is a sandwich place here in Ashland I have yet to visit (sad confession), although I've stalked their menu for months now, salivating at the mention of house-cured meats, tantalizing combinations of ingredients, the well-thought out meldings of ingredients…  I have the utmost respect for the owners and chefs at Sammich and plan to try their creations sooner than later. However, one item on their menu has danced circles in my head for months now. A $14 albacore tuna sandwich, with sprouts and ripe avocado, served on a brioche bun…
I grew up eating canned tuna. When I got to college, I paid more attention to the types of canned tuna available and quickly realized that for both texture and flavor, canned albacore was worth the extra $2 per can, although on a student budget I often waited until it went on sale, then considered such a purchase still splurging. But here's my newest revelation: canned tuna of any sort does not compare to fresh tuna, cooked to perfection, then turned into tuna salad as one may do with canned tuna.
Holy crap, I kid you not. I couldn't wrap my brain around a $14 tuna sandwich, even from a restaurant created by one of the neatest chefs Southern Oregon is blessed to have around, so I decided to try making a fresh albacore tuna sandwich myself when I discovered fresh Oregon albacore in our local co-op. Because that's what normal folks do, right, when they hear of a sandwich that sounds amazing, but doesn't quite fit into their budget? They make up some version of it at home? I opted for a homemade mayonnaise as well (which, is so worth the attention to detail for 10 minutes of your time – I hate mayonnaise, but this homemade version tastes a million times better than anything you'd pick up in the grocery store) to bind everything together. This tuna salad takes a little time, but it's more than worth your efforts.
After the whole process, I absolutely felt like I had a better understanding of the price of such a sandwich here in town. But I am certain it's worth it. I also am certain I'll try Sammich's original version of this sandwich, grateful for the inspiration. Just as sure as I am, that I will make this recipe again… and again… and again.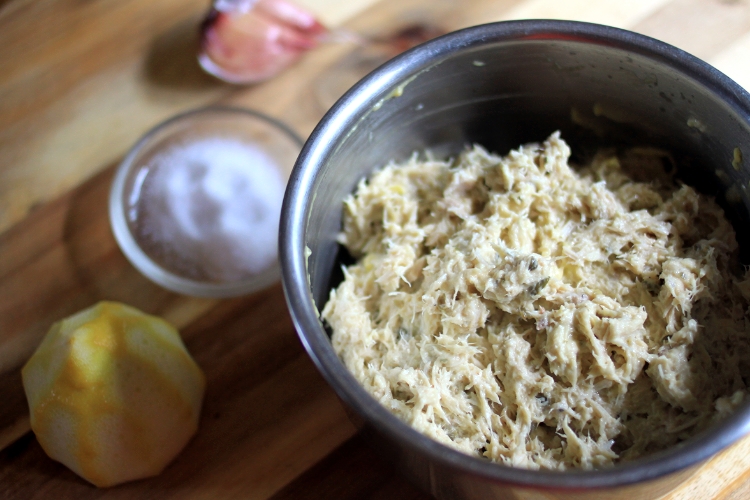 Olive Oil Poached Albacore Tuna Salad
Ingredients:
1¼ pounds fresh albacore tuna
25.4 ounces olive oil
the rind from one large lemon, cut in strips
4 cloves garlic, peeled
palm-sized handful of fresh thyme
3 small sprigs fresh rosemary
1 bay leaf
1 tablespoon whole black peppercorns
1 teaspoon whole yellow mustard seeds
½ teaspoon salt
1 egg yolk
4 cloves garlic, minced finely
1½ teaspoons fresh lemon juice
1 teaspoon distilled white vinegar
¼ teaspoon dijon mustard
½ teaspoon salt
¾ cup of the olive oil leftover from poaching
2 tablespoons capers, minced
your favorite sandwich bread
2 oz. broccoli sprouts, or your favorite sprouts
1 large, ripe, hass avocado
1 large, ripe tomato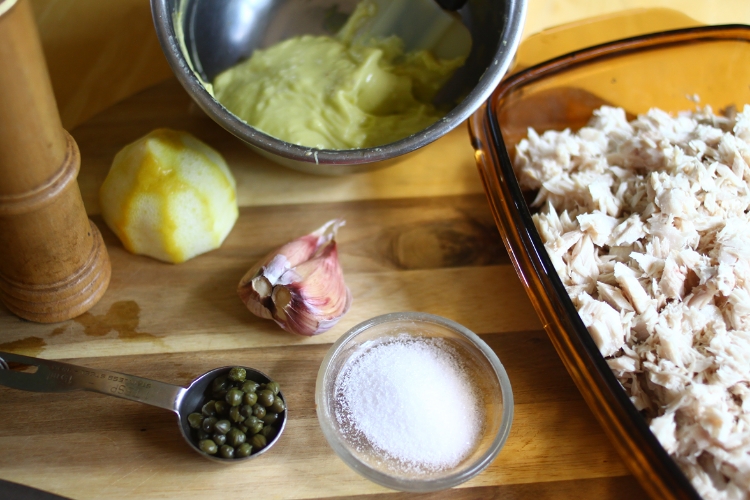 Directions:
If your fresh albacore has any skin on it, remove it. Cut the fish into 2 or 3 large chunks.
Fill a medium-large pot that will allow the oil to reach a depth of about 5-6 inches. Add the lemon rind, garlic, fresh thyme and rosemary, bay leaf, peppercorns, mustard seeds, and salt. Bring the mixture to a low boil, over medium-high heat (this took about 6 minutes on our stove). Turn off the heat and slowly lower the chunks of albacore into the oil. Cover and allow the fish to sit for 15 minutes, then flip and allow the fish to sit in the oil for another 20 minutes. Once the fish has poached for 35 minutes, it should appear light and white-ish in color, with a flaky texture (easily checked by flaking with a fork).
Remove the fish from the oil, then break it apart using two forks, or even your fingers if you want. Set aside until needed.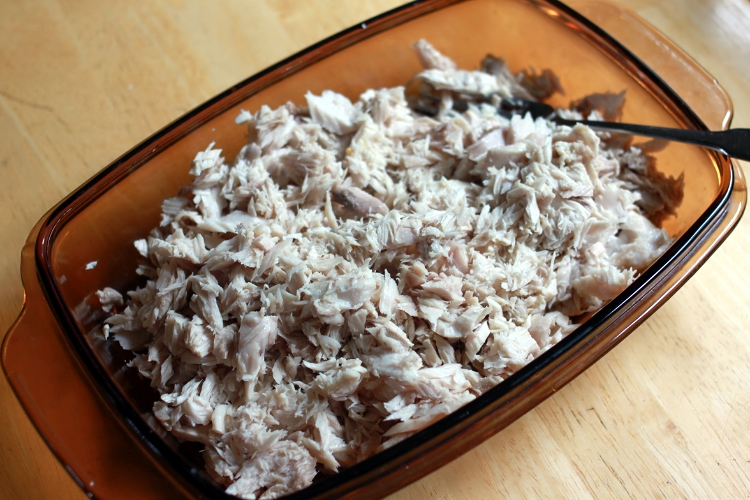 Meanwhile, strain ¾ cup of the oil, removing the herbs and spices. Whisk the egg yolk, minced garlic, lemon juice, vinegar, dijon mustard, and salt together in a medium-sized mixing bowl until light yellow and creamy (about 30 seconds). Add ¼-cup of the strained oil, adding it ¼-teaspoon at a time, thoroughly whisking each addition before adding the next one, whisking constantly. The mixture will thicken and be light yellow in color. Once that ¼-cup of oil has very slowly been incorporated, add the remaining ½-cup in a slow, steady stream, whisking the entire time the oil is being added. Keep whisking until the mixture becomes thick, about 8 minutes total.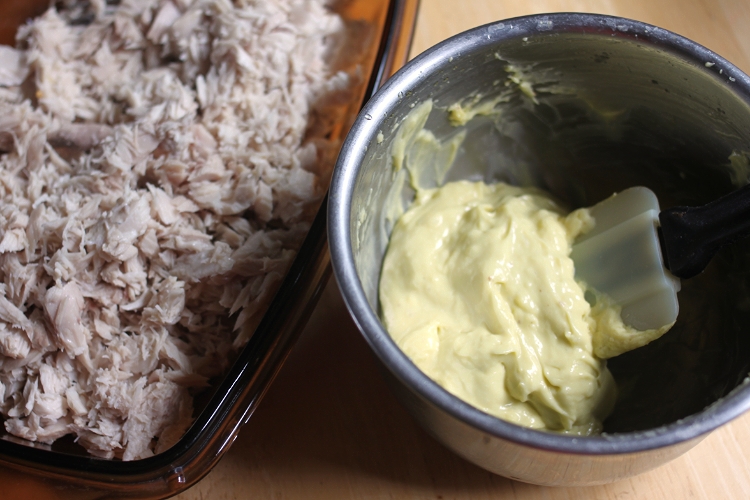 Mix the flaked, poached albacore, with the mayonnaise you just made, along with the minced capers until completely combined. Taste, then add salt and pepper to your liking. Cover and refrigerate for at least one hour to let the flavors marry.
When ready, the tuna salad can be used to make sandwiches. Combine a hefty amount of tuna, sprouts, sliced tomato, and slices of ripe avocado between two slices of bread. Enjoy with your favorite (salt and vinegar!) chips, or in whatever fashion you like a tuna sandwich.
This recipe yields enough tuna for 6-8 super well portioned sandwiches. It's also great on its own. However, eat it within 2-3 days (sooner the better).